The Actor That Over 57% Of People Think Should Play Trump In A Movie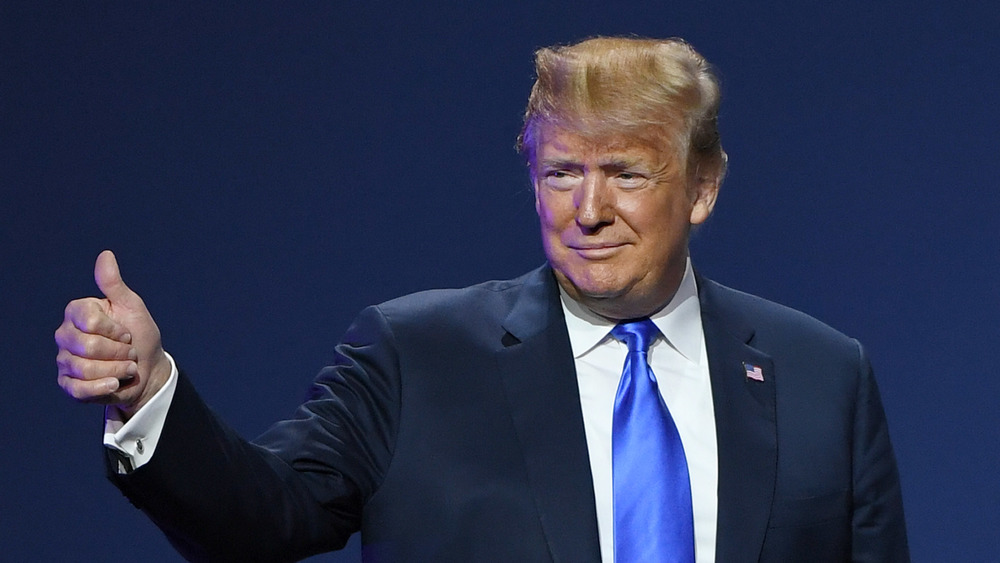 Ethan Miller/Getty Images
If there is ever a movie about Donald Trump's one-term presidency (or about 2020 as a whole), people know exactly who should play him. Nicki Swift polled 607 respondents and 349 people, or 57.5% of those surveyed, said Alec Baldwin would be the best choice when asked, "Who would be the best actor to play Trump in a movie?"
The other actors included in the poll were Leonardo DiCaprio, with 107 votes; Christian Bale, with 68 votes; and Ryan Gosling, with 32 votes. Plus, 51 respondents answered "other." A number of those who picked "other" suggested that Trump should play himself — he does come from a TV background, after all. Plus, none of the other choices in the poll exactly resemble the current president, though he is not the spitting image of Baldwin, either.
But considering the fact that Baldwin has played Trump on Saturday Night Live, he is the obvious choice. There is no guarantee that there will be a movie about Trump, or that Baldwin would want to star in it, but his name would certainly be a part of the conversation if it were to happen.
Alec Baldwin nailed his impressions of Donald Trump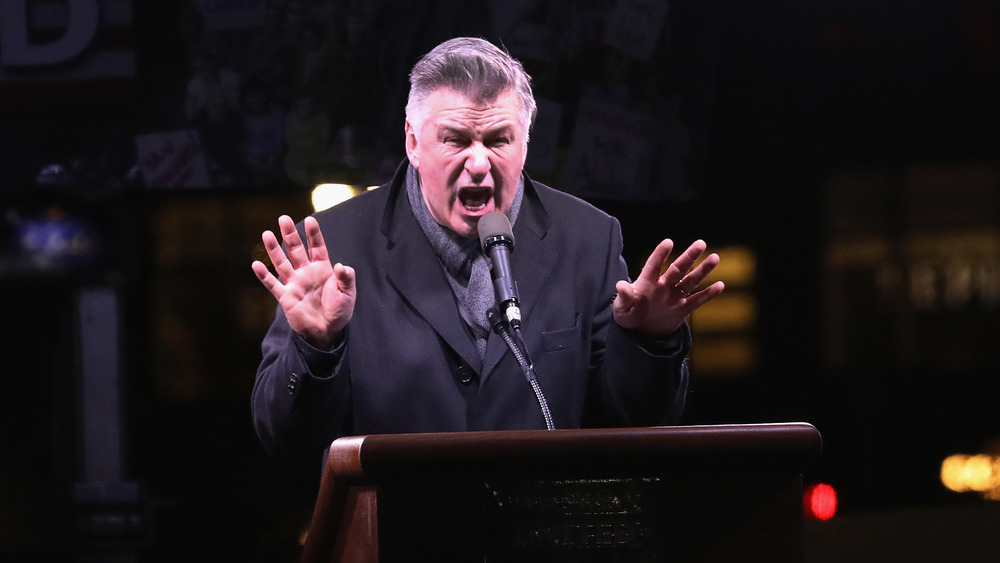 John Moore/Getty Images
From his take on President Trump's first press conference to facing off in the presidential debate against Jim Carrey's Joe Biden, Alec Baldwin knows exactly how to play Trump. The three-time Emmy winner nails Trump's voice and cadence, and Saturday Night Live's hair and makeup teams get him almost absurdly into character, too. While countless Americans have faced hardships in recent years — especially during the pandemic — making the 2020 election far from a laughing matter, Baldwin still brought joy to fans on the NBC series each week.
Still, just because he plays him does not mean Baldwin is a fan of the president. On Dec. 20, 2020, Baldwin tweeted a list of questions about what would happen to the president "if he refuses to concede" to Biden, and some of his suggestions are pretty violent. "Who arrests Trump if he refuses to concede? Who drags him out? Pepper spray? Cuffs? A knee on his neck, cutting off his oxygen? Does he wheeze 'I can't breathe,'" Baldwin wrote. "Just whale away on him like a piñata? Rodney King style? The thug who has destroyed the country. What does he deserve?"
Baldwin has shared plenty more anti-Trump tweets, too, so he might not want to play the president in any potential movies. Still, you never know what Hollywood will come up with.