Inside Meryl Streep's Surprising Connection To Carrie Fisher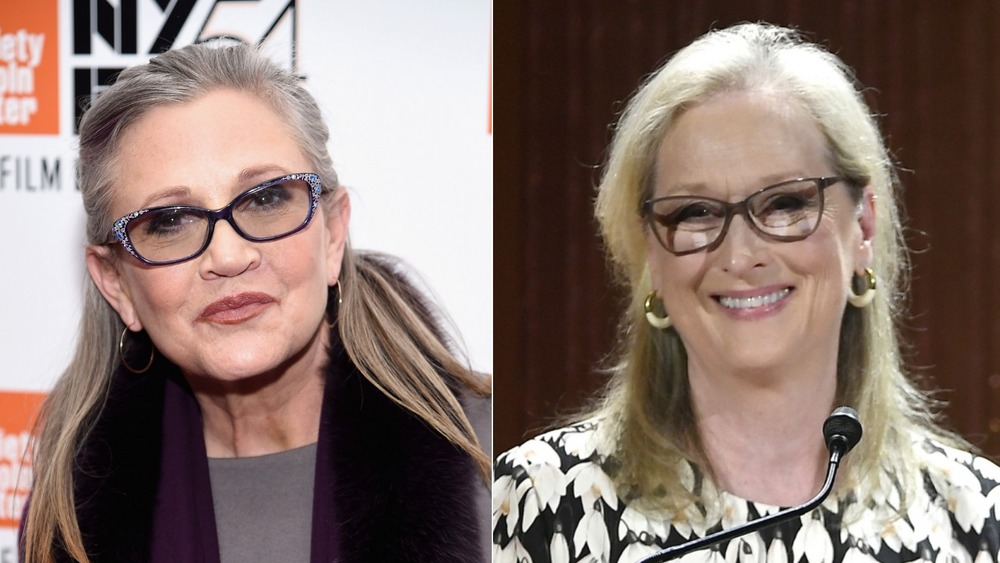 Dimitrios Kambouris, Frazer Harrison/Getty Images
The unlikely friendship between Carrie Fisher and Meryl Streep could be the plot of a Hollywood movie. The iconic actresses were best friends, even though they came from entirely different worlds.
Streep grew up with a supportive family in New Jersey. She graduated from the Yale School of Drama and became the actor with the most Academy Award nominations in history. Fisher grew up in the bright lights of Hollywood, daughter of celebrities Eddie Fisher and Debbie Reynolds. When she was a toddler, her dad left Reynolds for actress Elizabeth Taylor, causing an epic scandal (via Goalcast).
After a drug overdose in 1985, Fisher went to rehab. After rehab, she wrote the semi-autobiographical novel Postcards From the Edge and adapted the book into a screenplay. Postcards From the Edge became a movie in 1990. Streep portrayed Fisher and Shirley MacLaine played the role of Fisher's mother.
Streep's experience starring in the movie about Fisher's real life appears to have brought the two stars close. They forged a friendship that lasted until Fisher died in 2016. The actress who played Princess Leia in Star Wars died of a massive heart attack on Dec. 27, 2016.
Meryl Streep is godmother to Carrie Fisher's daughter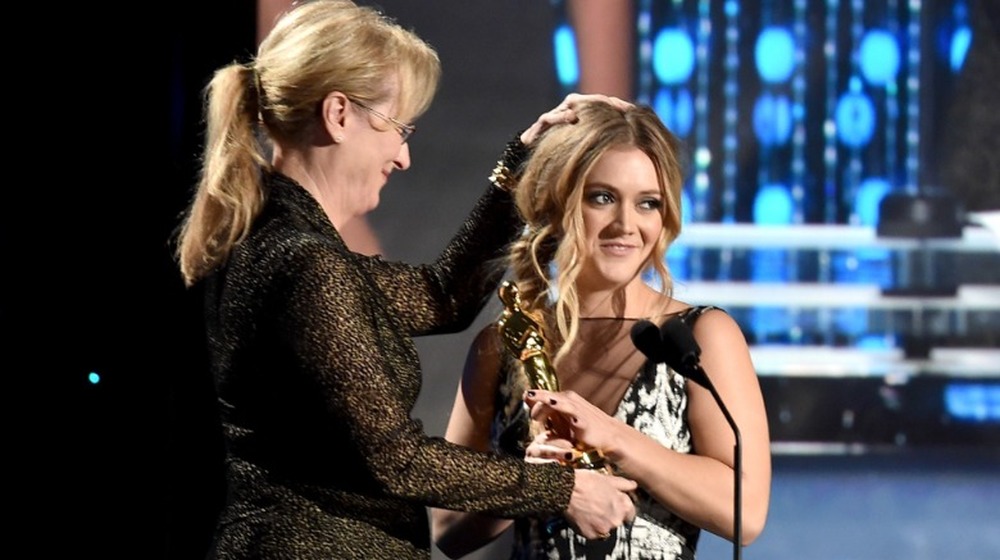 Carrie Fisher and Meryl Streep forged an extremely close friendship. Streep is even the godmother of Fisher's only daughter, Billie Lourd.
Fisher was only 19 when she starred as Princess Leia in Star Wars, elevating her to international stardom. Fisher struggled with drugs and alcohol after her sudden rise to fame in the Star Wars trilogy. Fans did not find out until 2016 when Fisher wrote her memoir The Princess Diarist that she had an affair with her co-star Harrison Ford while filming Star Wars. At the time, Ford was a married father of two kids and in his early 30s (via People).
While Fisher rose to worldwide fame, Streep nursed her dying boyfriend John Cazale as he battled cancer then married Don Gummer in 1978 (via People). Gummer and Streep share four children and have been married for decades.
When the Star Wars actress died in 2016 at age 60, her mother, Debbie Reynolds, died one day later at age 84. Fisher's daughter had a small memorial service for both of the iconic women at Fisher's house in Los Angeles (via HuffPost). According to HuffPost, Streep sang Fisher's favorite song at the memorial service and delivered the eulogy for both Fisher and Reynolds.
Streep paid tribute to Fisher at the 2017 Golden Globe awards as well. Streep said, "As my friend the dear departed Princess Leia said to me once, 'Take your broken heart, make it into art.'"