The 90 Day Fiance Star Who Was In A Movie With Gal Gadot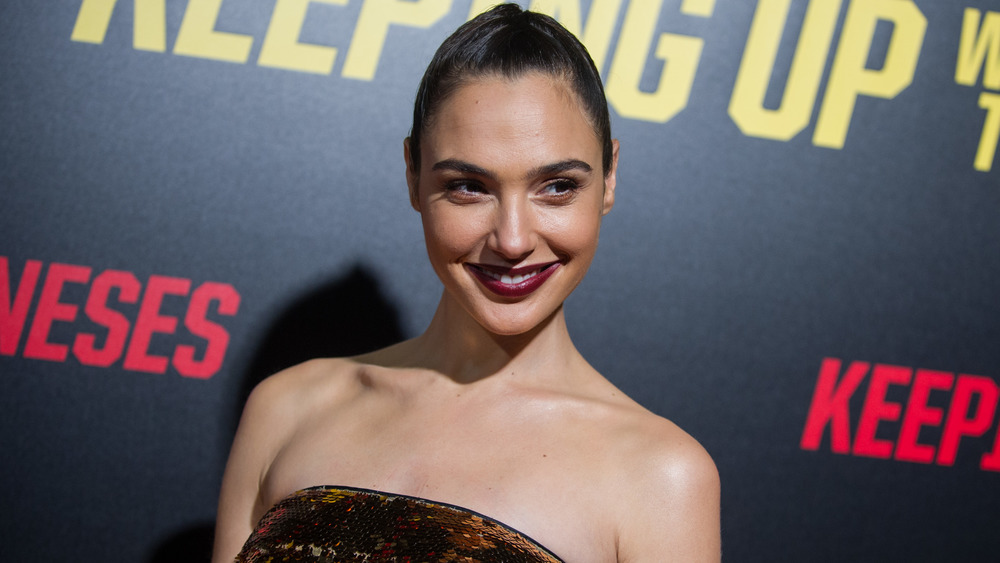 Emma Mcintyre/Getty Images
Around the time Gal Gadot gained acclaim for her turn as Wonder Woman, the Israeli actress also brushed elbows with a reality star who has a similar international background. Who would have thought TLC's hit franchise 90 Day Fiancé would have a connection to Hollywood's A-list? 
As it turns out, 90 Day fan favorite Rebecca Parrott previously appeared on the big screen next to Wonder Woman 1984 star Gadot. What, how, why?! We have all the answers. 
Rebecca returned to 90 Day fame in Season 8 to continue her love story with Tunisian fiancé Zied Hakimi. Georgia-based Rebecca was married three times prior to meeting Zied, and her last husband also moved to America on the K-1 visa. Even though the couple uncomfortably clashed over cultural differences — including Zied urging Rebecca to hide her tattoos and dress more conservatively — rumors claim the pair did tie the knot, per In Touch Weekly. 
So what's the deal with Rebecca starring in a movie alongside Gadot? Keep scrolling to find out! 
Rebecca Parrott met Gal Gadot while filming
While Zied Hakimi was left scratching his head after first meeting Rebecca Parrott, fans were easily able to spot her in the 2016 action comedy Keeping Up with the Joneses. Rebecca, who is almost unrecognizable in her self-admitted photoshopped and filtered selfies, per Soap Dirt, was still identified by viewers as an extra in the Gal Gadot-led film. 
Keeping Up with the Joneses features a suburban couple (Zach Galifianakis and Isla Fisher) who start to suspect their new sleek neighbors (Gadot and Jon Hamm) are actually secret agents. While the film opened in October 2016 to middling reviews, the script allowed for Gadot to flex her comedic skills — a useful tool for her deadpan "fish out of water" humor in the Wonder Woman trilogy. Mixing fight scenes with thoughtful quips, Gadot was even nominated for a Teen Choice Award for the film in 2017. 
As it turns out, it was easy for Rebecca to appear as an extra in the film. With more and more productions moving to Atlanta, Ga., Rebecca did not have to travel far to catch a glimmer of the spotlight. Rebecca confirmed via Instagram that she was a "featured extra" in Keeping Up with the Joneses and "played one of Isla Fisher's friends" on-screen. Rebecca also shared a behind-the-scenes clip featuring the core cast and director Greg Mottola. The 90 Day star was even blonde at the time, per Screen Rant. Talk about a chameleon!