Travis Tritt Slams Beyonce's CMA Awards Performance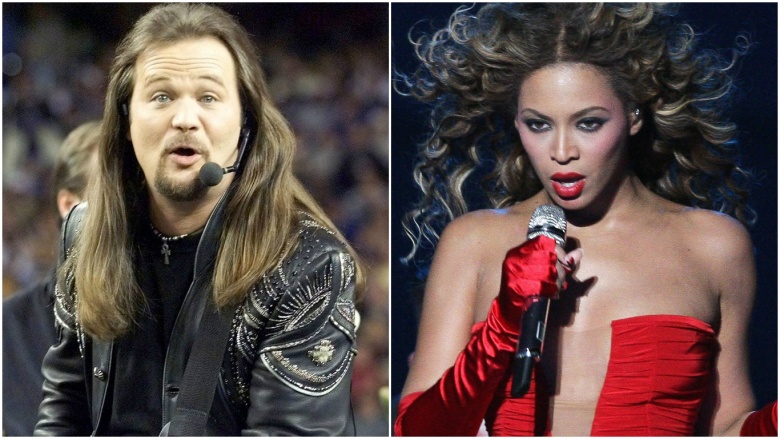 Getty Images
Beyoncé's Country Music Awards performance is still causing controversy.
The singer performed her country-tinged track "Daddy Lessons" with country superstars the Dixie Chicks at the CMA Awards on Wednesday, Nov. 2, 2016. The following day, another country legend, Travis Tritt, took shots at Queen Bey on Twitter.
"Thanks to everyone who came out to see us in Bowling Green, KY tonight. Sorry we weren't able to do any Beyoncé for all the country fans," he tweeted, adding, "FYI – My band and I are gonna try to work up Beyoncé's 'All The Single Ladies' for all you die hard country fans who love traditional music!" He concluded, "I want to know when the BET or SoulTrain awards are gonna ask a country artist to perform on their awards show?"
Of course, the Beyhive had to sting.
One user replied (via Us Weekly), "Why don't you do a collaboration with Beyoncé? You might generate more hits." Another noted, "If you hate pop music influencing country that's fine. Singling out Beyonce is not. 'Daddy Lessons' actually fits the genre."
When confronted with his own perceived hypocrisy, Tritt, 53, wrote, "As I see it, country music has appealed to millions for many years. We can stand on our own and don't need pop artists on our awards shows. I love honest to God country music and feel the need to stand up for it at all costs. We don't need pop or rap artists to validate us."
Tritt's remarks weren't the only backlash Bey, 35, faced. As Nicki Swift previously reported, sources claimed that the Country Music Association deleted footage and social media messages related to the performance after a deluge of racially charged comments came in. The CMA denied the allegations, insisting, "CMA has not erased any mentions of Beyoncé's performance on the CMA Awards. In advance of the broadcast, CMA removed a 5-second promotional clip from ABC.com and CMA's Facebook page."