Joe Jonas Cozies Up To Sophie Turner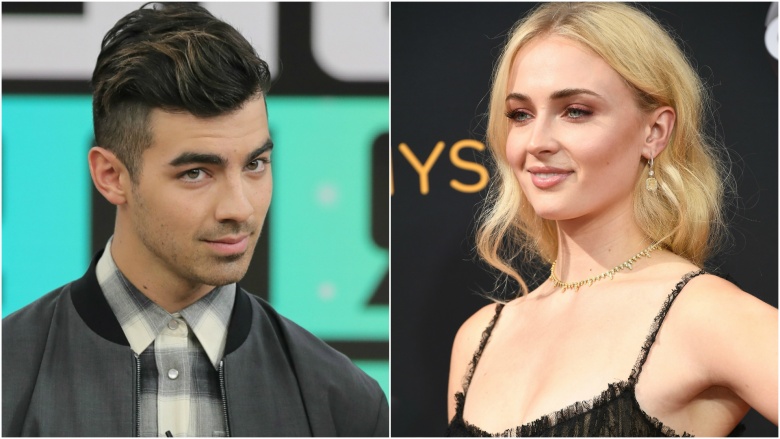 Getty Images
Does pop star Joe Jonas have a new muse? The DNCE singer, 27, was spotted getting awfully cozy with Game of Thrones (2011-) and X-Men: Apocalypse (2016) star Sophie Turner.
A spy told Us Weekly the couple was acting adorable at a Kings of Leon concert before the MTV Europe Music Awards in Rotterdam, the Netherlands, on Nov. 6, 2016. "Joe and Sophie arrived together before the show started," the witness said. "He had his arm around her as they walked in, and then he was holding her before the show. Joe and Sophie kissed a few times and were talking and drinking soda." The witness added, "When the lights went down and Kings of Leon started they were dancing together and singing along. Joe would kiss her cheek as they danced next to each other. They left together just after the last song and looked very cute. They seemed like a couple and appeared very into each other."
Another concert-goer told People, "They were really close together...The two or three times I was watching they were kissing. She was all smiley and he looked really sweet. They seemed pretty comfortable. That's what surprised me."
That wasn't the first time Jonas and Turner were spotted together. The couple was also snapped on Instagram celebrating Halloween with pals, with Jonas dressed as a dalmatian and Turner as a bunny.
Hopefully, Jonas doesn't break the actress' heart. A source told People, "She has had a crush on Joe for a while, but Joe isn't going to be a one-woman guy right now." Jonas himself previously told Us Weekly, "I'm dating, but nothing serious. I'm really trying to just focus on myself and the music. Overall, I'm doing me right now and I think that's important."