Inside The Time Iggy Azalea And DeAndre Hopkins Were An Item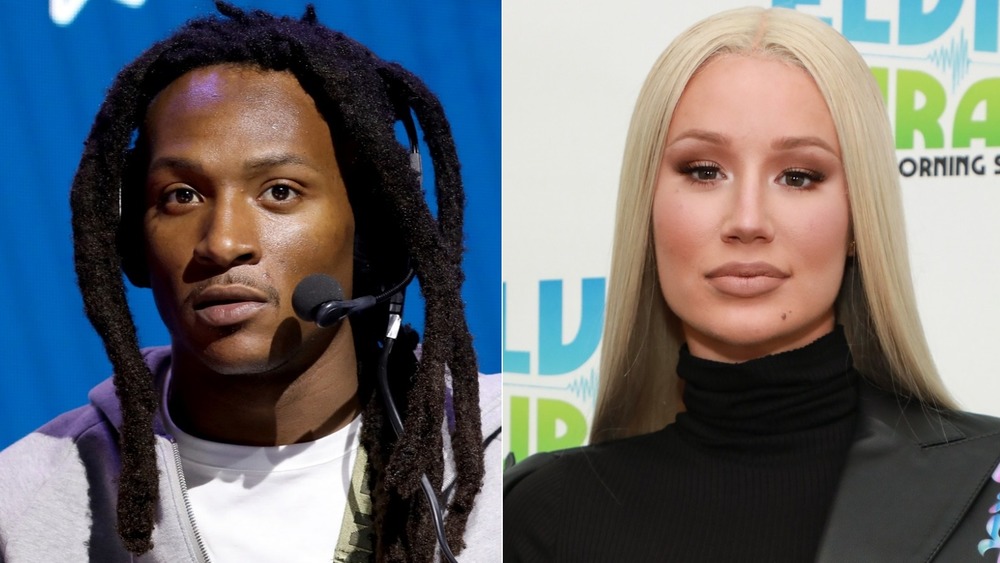 Cindy Ord, Jason Mendez/Getty Images
In the rollercoaster world of celebrity relationships, stars often break up and make up in the time it takes us to butter our toast in the mornings. Rapper Iggy Azalea is one such star who has unfortunately had a bit of a rough go-around with love. The "Fancy" singer, who has been linked to several of her fellow rappers, famously ended her engagement with basketball star Nick Young in 2016, after unearthing security cam footage that proved he had cheated on her (per USA Today). 
Fast forward to 2020, and Azalea once again weathered a cheating scandal, this time with rapper Playboi Carti. CheatSheet reports that the pair began dating in September 2018 and welcomed son Onyx in May 2020 before splitting for good five months later. "You lost a real 1," Azalea wrote on Instagram, according to The Shade Room. "People take loyalty for granted & that's why I'd rather be alone." 
Based on her cryptic post, it seems like something went down between the two — and indeed, Azalea later put Carti on blast after revealing he had skipped Christmas with his son to spend time with his "side chick," Brandi Marion, per HITC. Because Young and Carti are two of Azalea's most notable (and dramatic) relationships to date, it can be easy to forget that Azalea had a brief fling in between. But she did! Here is a look inside the time Azalea and Arizona Cardinals wide receiver DeAndre Hopkins were an item.
Iggy Azalea and DeAndre Hopkins broke up a day after announcing their relationship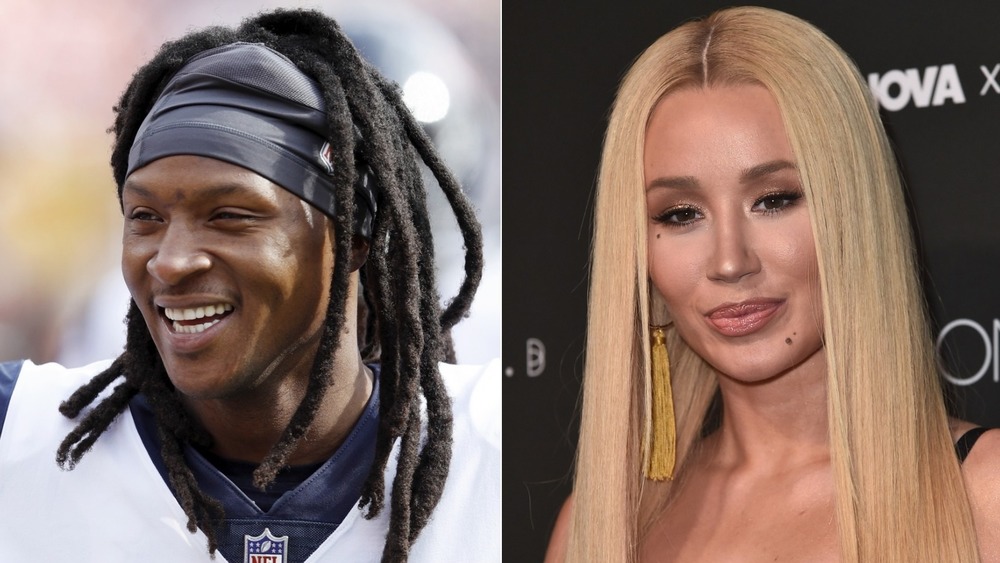 Joe Robbins, Alberto E. Rodriguez/Getty Images
Iggy Azalea and DeAndre Hopkins wasted no time in defining, and then calling time on their short-lived fling. In fact, one day was all it took! In 2018, Azalea revealed on Miami's Y100 radio station that there was a new man in her life, according to USA Today. "Yea, we're in a relationship," she said on-air, responding to a question about whether or not she and the NFL star were dating. Just a few days earlier, Hopkins and Azalea lit up Instagram, after he posted a photo of himself with the caption, "My Aussies call me Legend" (per People). Fans went wild when Azalea coyly commented, "I can think of a few other things to call you."
But the couple never made it past the honeymoon phase, as Azalea tweeted just hours later that she was single. Hopkins also took to Twitter (in a since-deleted post) to give fans an update. "Y'all know I can care less about social media, but ya boi is SINGLE," he wrote, per USA Today. But how did it all go south so fast?
What went wrong between Iggy Azalea and DeAndre Hopkins?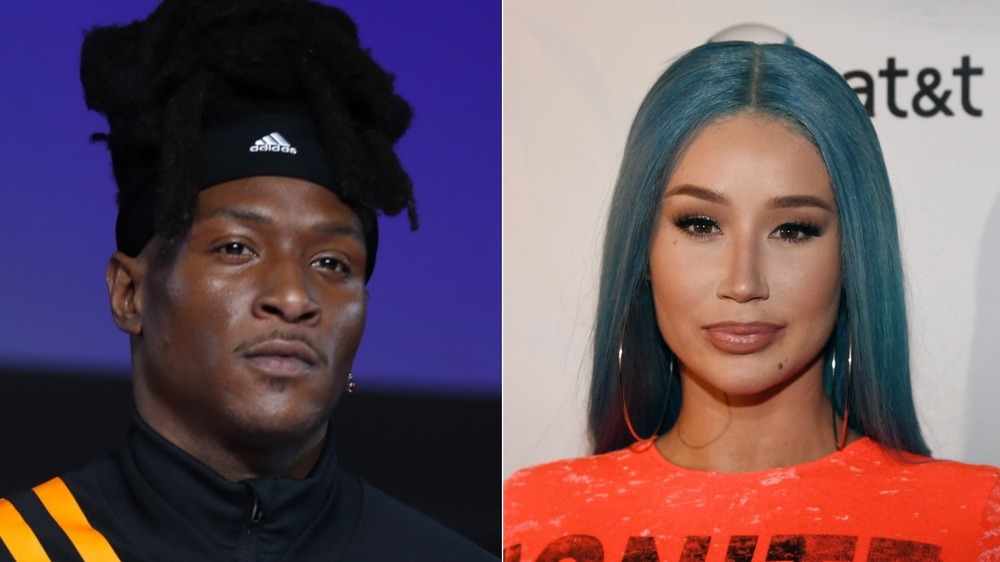 Michael Owens, Ethan Miller/Getty Images
As to what really happened between Iggy Azalea and DeAndre Hopkins, it is still unclear. However, some of Azalea's tweets that were posted just ahead of the breakup may provide fans with a little bit of insight. Hours before announcing she was single, Azalea tweeted, "Sometime you gotta pick your poison." The rapper added, "When you're put in a s**t position the lesser of two evils is often the only option. If anyone can't understand that – stay the f**k from round me." Judging from this, maybe saying goodbye to Hopkins was "the lesser of two evils" that Azalea was referring to... whatever those evils might have been.
Later, the "Black Widow" singer appeared to come to terms with the split, sharing that she was at peace with her newly single status. "I have come to the conclusion I am going to be alone forever. I am completely fine with that," she tweeted. "I have a routine now. I watch movies alone in the shower n s**t." Hmm, somehow, we have the feeling Azalea will not be alone for long. In any case, her days of playing the field are not over yet!