Russell Brand Is A Dad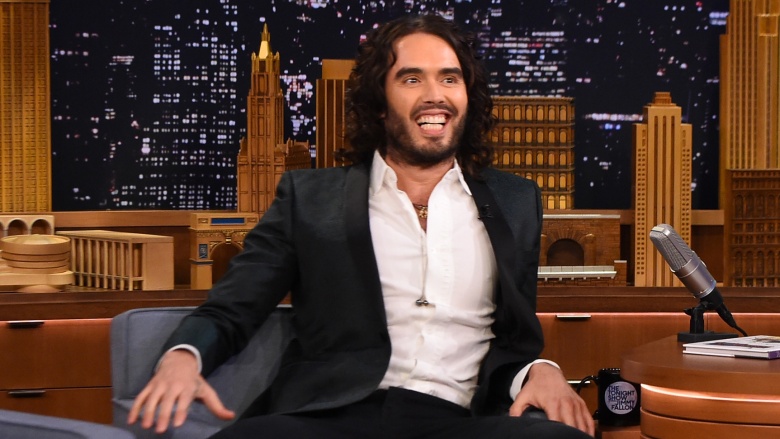 Getty Images
Congratulations to new dad, Russell Brand! The British funny man and his fiancée, Laura Gallacher, have welcomed their first child together.
A Brand fan told the Mirror that the Get Him to the Greek announced the happy news during a standup comedy performance.
"He didn't confirm if it was a girl or a boy," the audience member said. "He was conscious of the clock and made sure he was off stage by just approaching 9 p.m. as he 'needed to get down the f***ing M21 [a highway in London] as my girlfriend has just had a baby.'"
Brand, 41, previously told the London Evening Standard magazine that he was looking forward to fatherhood and enjoying domestic life.
"I feel lit up by the idea," he said. "I'm very excited about becoming a dad and I'm preparing myself. I am just getting ready to be with a new little person and see what it is they want...[Life] is very calm. I look at the chickens, they hatch some eggs. Basically I'm like a village idiot — just looking at livestock," he said of his life with Gallacher on a farm. "I'm so much happier over the course of the day to see one or two people and a few chickens, that's a good way of living."
A source told the Daily Mail, "It's all about Laura and becoming a dad now. They have been living as a couple for the past six months and are determined to make a go of their relationship. It feels like a new chapter in their lives and the couple are enjoying every moment, including discussing baby names." The insider added, "Russell is absolutely made up. Most of his closest friends have children and he was desperate to start a family."
Brand gushed about his impending parenthood on the Jonathan Ross Show in October 2016, revealing that he and Gallacher, 27, might raise their baby to be gender neutral.
"We don't know the gender...I may not even ever impose a gender upon it, let the child grow up and be the whatever the Hell it is, never tell it there is such a concept," he said. He added, "[I am enjoying monogamy] because there is a baby coming....I've accepted the idea that that person will be more important than me."
When asked what he planned on naming the tyke, the cheeky Brit replied, "Jesus Three." Of course.