The Real Reason Ariana Grande Hates Her Song Put Your Hearts Up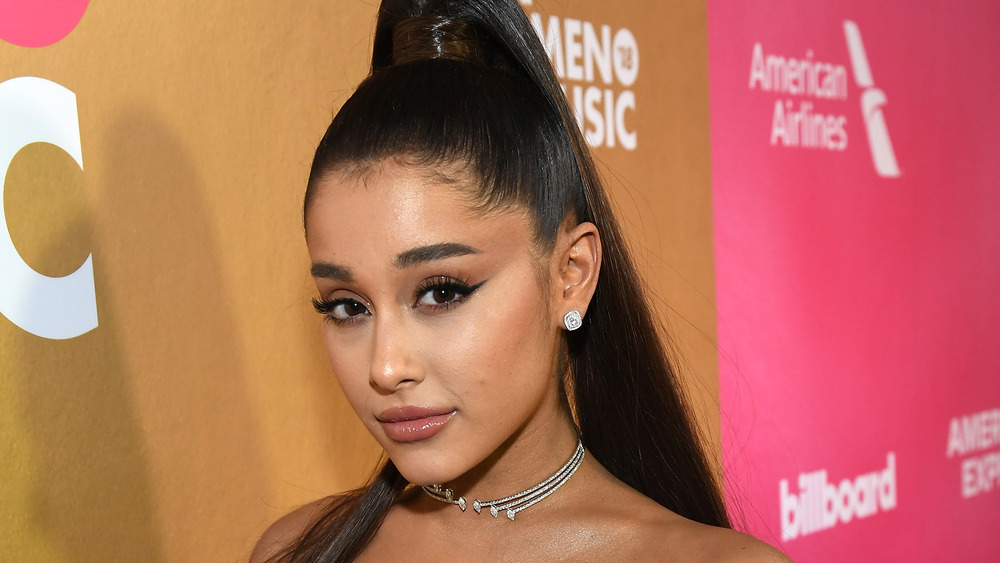 Kevin Mazur/Getty Images
Watch any one of today's popular singers strut their stuff on-stage, and it is easy to believe that they have been entertaining crowds for their whole lives. In some cases, that's true, but for others, a successful career doing what they love has been a long time in the making. Take Ariana Grande, for instance. The Grammy-winning, multi-platinum singer, who became the first artist to hold the top three Billboard Hot 100 spots since The Beatles in 1964, is one of the biggest pop stars of our generation thanks to her powerhouse vocals and ability to connect with her army of fans. 
But Spotify's most-streamed female artist of the past decade did not start her career as a songbird. From 2010 to 2013, Grande played Cat Valentine on the Nickelodeon sitcom Victorious, in addition to appearing on the spinoff, Sam and Cat, per Billboard. Although the star did record some tween-centric music throughout her time on TV, she's not too fond of the tracks. In fact, hardcore Grande fans know that she straight up hates her 2011 single "Put Your Hearts Up." But why is that the case?
Ariana Grande feels the song is 'inauthentic and fake'
In 2013, Ariana Grande was signed by Justin Bieber's manager, Scooter Braun, but her professional music career did not exactly get off to a flying start. This is partly due to 2011's "Put Your Hearts Up," a bubblegum-pop debut that did not reflect her true style. In a 2015 interview with Zach Sang & the Gang, the singer revealed that she wishes she could go back in time to scrub it from her track record, adding that she rushed into things because she wanted to make music so badly. "I feel like 'Put Your Hearts Up' would've been Cat's single," Grande explained, alluding to her Sam and Cat character. "I really wanted to do music, but I couldn't wait. So I was stuck in this weird world where it was like, 'I'm Cat, but I'm ... me."
Grande is also haunted by the bop's accompanying music video, telling Rolling Stone in 2014 that it was the "worst moment" of her life. "It was geared towards kids and felt so inauthentic and fake," she told the outlet. "For the video, they gave me a bad spray tan and put me in a princess dress and had me frolic around the street. ...I still have nightmares about it, and I made them hide it on my Vevo page." It looks like Grande has come a long way since this debut single!