Zendaya Shrugs Off Racist Spider-Man Trolls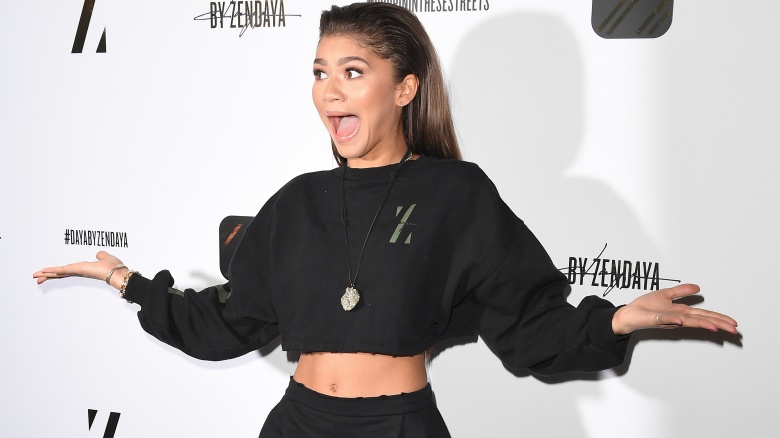 Getty Images
Zendaya isn't letting critics and angry fanboys get the best of her. The 20-year-old Disney darling told The Hollywood Reporter that she's unfazed by the hate she's gotten online for having the nerve to star in Spider-Man: Homecoming (2017), specifically as—maybe—Mary Jane Watson, who is a Caucasian redhead in the comics.
"People are going to react over anything. But nothing [about who she is playing] is fact. It's like, you guys are just making s**t up at this point and then reacting to it," Zendaya said. "But of course there's going to be outrage over that, because for some reason some people just aren't ready. I'm like, 'I don't know what America you live in, but from what I see when I walk outside my streets of New York right now, I see lots of diversity and I see the real world and it's beautiful, and that's what should be reflected and that's what is reflected so you're just going to have to get over it."
One way the Dancing With the Stars champ combats online ignorance is through educating her followers on social media. "I like to post selfies and fun things that I'm working on. But recently my Snapchat has become like a history class," she told The Hollywood Reporter. "I have become an African-American history professor. I thought, 'People are going to be so irritated.' A lot of kids don't even learn some of this stuff in school. Like how is it that some of my fans are learning more about black history on my Snapchat in second increments than in school? I feel like if you have a platform, it's your obligation to talk about how you feel," she continued. "To me there's no excuse to be ignorant anymore. Everything is at your fingertips. You can't pretend like you're not seeing innocent black men being killed. We have videos, and they're circulating all over the internet. Or you can't pretend you're not understanding things about politics or hearing what people are saying who are our presidential candidates. It's an interesting time. And I feel like it's allowing us millennials to really take over."
Even though Zendaya doesn't mind her online followers voicing their opinions, there are some people who irk her: industry insiders. "It's very controlling and weird and manipulative," she said. "People want to take from you. People lie. To people in Hollywood, [lying] is like drinking coffee, it's crazy."