Azealia Banks Mocks Katy Perry And Lady Gaga For Supporting Hillary Clinton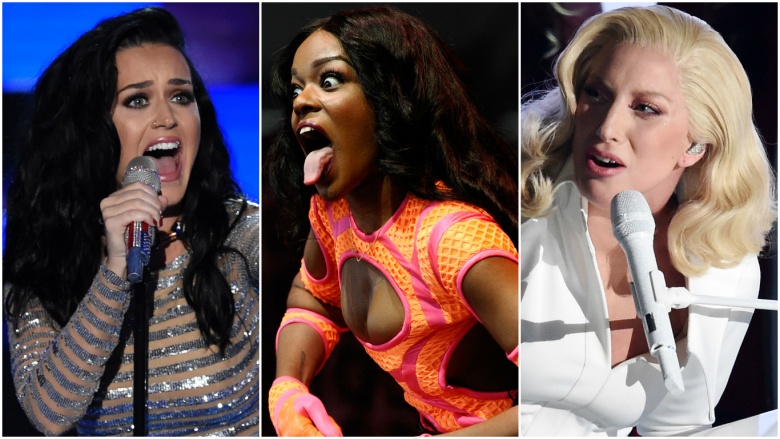 Getty Images
Rapper Azealia Banks is stoking the feud flames once more, this time attacking Lady Gaga and Katy Perry for supporting Democrat Hillary Clinton.
Gaga delivered a speech for Clinton on Election Day, while Perry performed for the Democratic nominee throughout her campaign, including at the Democratic National Convention in July 2016.
Banks, 25, has been a vocal supporter of Republican Donald Trump throughout his campaign and celebrated his victory on her Facebook page—one of the few social media platforms that hasn't banned her yet. "America deserves a WAAAAAAAY better first female president then trash a** Hilary [sic]," she wrote just after the election results were announced early on Nov. 9, 2016. "Now that the cow has lost for the SECOND time, let's set her back out to pasture...Y'all NEVER listen to me. LOL."
"They said Katy [Perry] and [Lady] Gaga was [sic] backstage crying I would have laughed real hard and loud right in their faces LMFAOOO," she continued. "All these celebrities thought their dry a** celebrity power was gonna sway the people but this is just proof of how stupid the American people are NOT. TRUMP BEAT THE MEDIA. THIS IS DEEPER THAN POLITICS. HE BEAT THE F**KING MEDIA. HE IS MY F**KING HERO RIGHT NOW. I AM ELATED."
It's not the first time Banks has attacked the pop stars. In June 2015, Banks dissed Perry, 32, for her use of the term "trap house," tweeting (via BET), "The 'trap house' though? Why do all white girls wanna be wiggers? I really don't get it."
Banks also has a history with Lady Gaga, 30. The pair were set to collaborate on a track called "Red Flame," but Gaga scrapped it and later said Banks has "a bad attitude." Banks also accused Gaga of stealing her mermaid motif and alleged Gaga's ARTPOP album stole its title from Banks' self-proclaimed genre "Witch-Hop."