The Truth About Bella Thorne's Sister Dani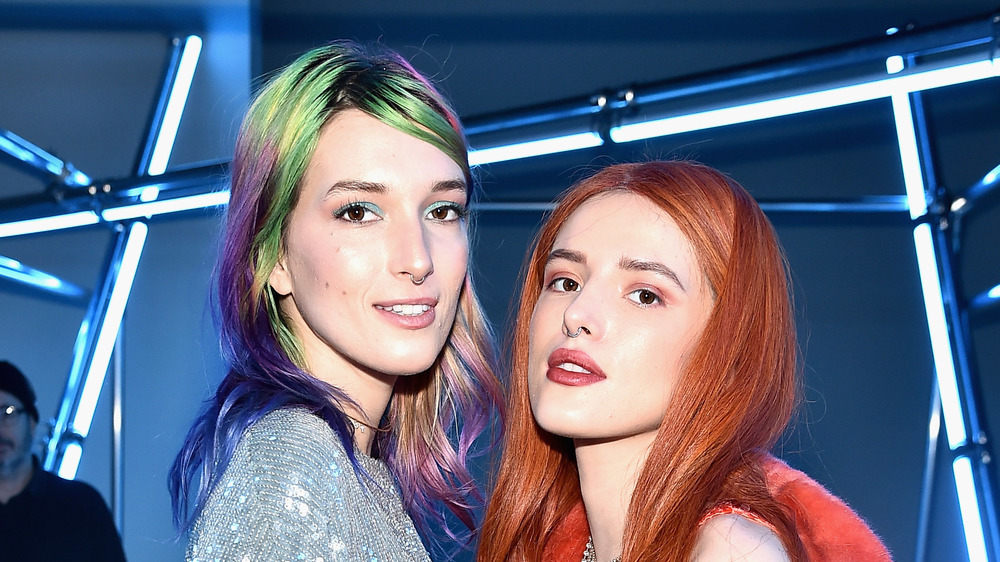 Theo Wargo/Getty Images
No stranger to controversy, 2020 added more drama to actress Bella Thorne's headline-grabbing lifestyle. From making over $2 million in just one week on OnlyFans (per The Guardian) to her reported feud with fellow former Disnsey star Zendaya, Thorne has turned plenty of heads this past year. One supporter who always has her back? Thorne's big sister, Dani Thorne. 
Scandals aside, Dani and Bella have always been close, even during Bella's rise to fame as a child. Their parents, Delancey and Tamara Thorne, had four children — Bella, Kalli, Remy, and Dani — and when Delancey suddenly lost his life in a motorcycle accident in 2007, the family had to grapple with tragedy. Even Bella told Seventeen in 2015 that she was wary of receiving her driver's license after the accident. 
Tamara, the matriarch-turned-manager, originally encouraged Bella to pursue singing, as reported by Harper's Bazaar in 2017, and although Bella released an album in 2014, her acting chops proved victorious. So where does sister Dani fit into the multitalented family? Keep scrolling to find out more about Bella's big sis! 
Dani Thorne was also an actress like sister Bella Thorne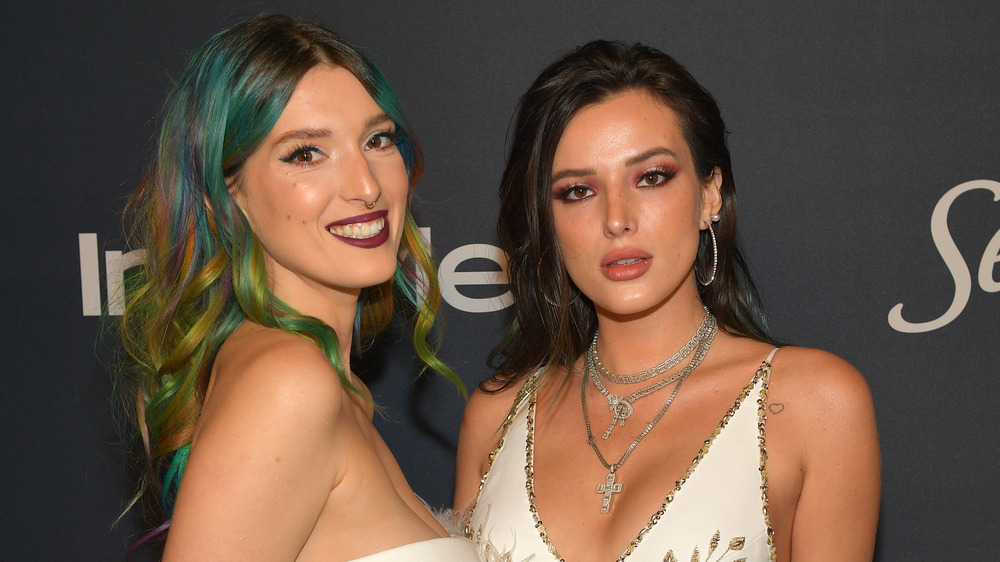 Matt Winkelmeyer/Getty Images
Bella Thorne wasn't the only sibling to be in the limelight. Big sister Dani Thorne reportedly began working as a model and commercial actor at just 4 years old, per The Things. After Bella shot to fame with the Disney Channel series Shake It Up!, the Thorne family's financial strain was alleviated. 
Following their father's passing, the family reportedly feared homelessness, according to Refinery29. Bella opened up about her experience on an episode of the MTV podcast Happy Sad Confused in 2017, saying that they lived off of Stouffer's coupons for food. "That may not sound like a big deal to everybody, but when you're a single mom raising four kids with debt and you have nothing to your name, it's f*cking sh*tty," Bella told host Josh Horowitz (per Refinery29). 
While Bella appears in films, sister Dani chose to leave the acting world behind. Today, Dani works as a music producer and DJ under the name COM3T. While they are four years apart, the sisters share a special tattoo reading: "IF LOST, FIND TWIN." 
Dani told PAPER in 2017 that she was blessed to have a sister similarly navigating fame. "Not only have we been through everything together but now we're taking on something that if you're alone in this industry could really affect you," Dani explained. "It's awesome that we can do that for each other."