The Truth About Dr. Dre And 50 Cent's Relationship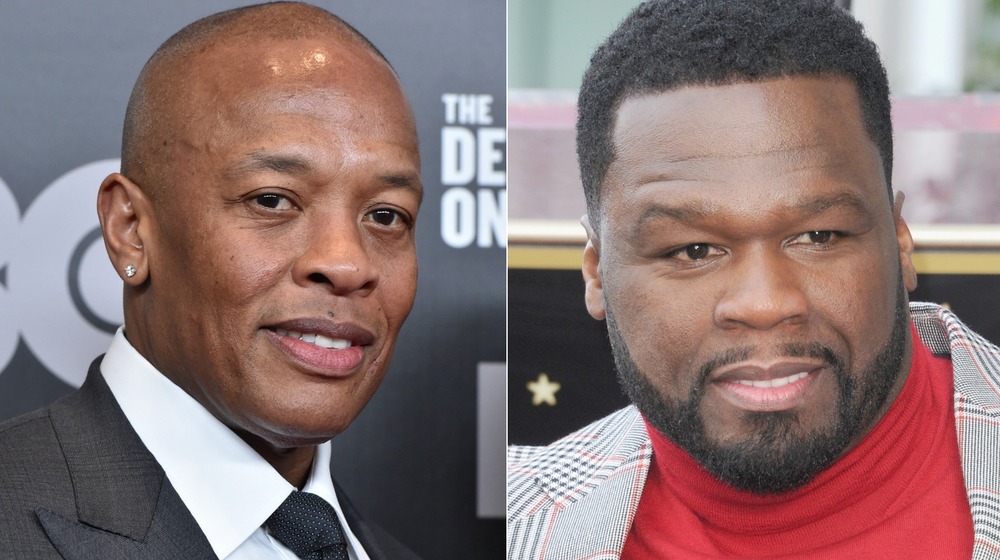 Michael Loccisano, Albert L. Ortega/Getty Images
Since news of Dr. Dre's hospitalization for a brain aneurysm broke on Jan. 5, 2020, fans and fellow music artists have been rallying for the rapper on social media. Everyone from Busta Rhymes to Missy Elliott to Ice Cube have sent well wishes to the rap mogul. Even 50 Cent — who has had a tumultuous relationship with his one-time mentor — posted an Instagram photo of them together to share his well wishes and urged him to take care of himself and rest.
"Get well dre," 50 Cent captioned the post with a face palm and embarrassing emoji. "Stress kills relax."
50 Cent's post came as a surprise to many fans as he has had an up and down relationship with Dr. Dre in the last decade, stemming from 50's fallout with Dr. Dre's Aftermath record label, as per MTV, which was in partnership with Interscope records and caused 50 to end their friendship.
Dr. Dre and 50 Cent had a strained relationship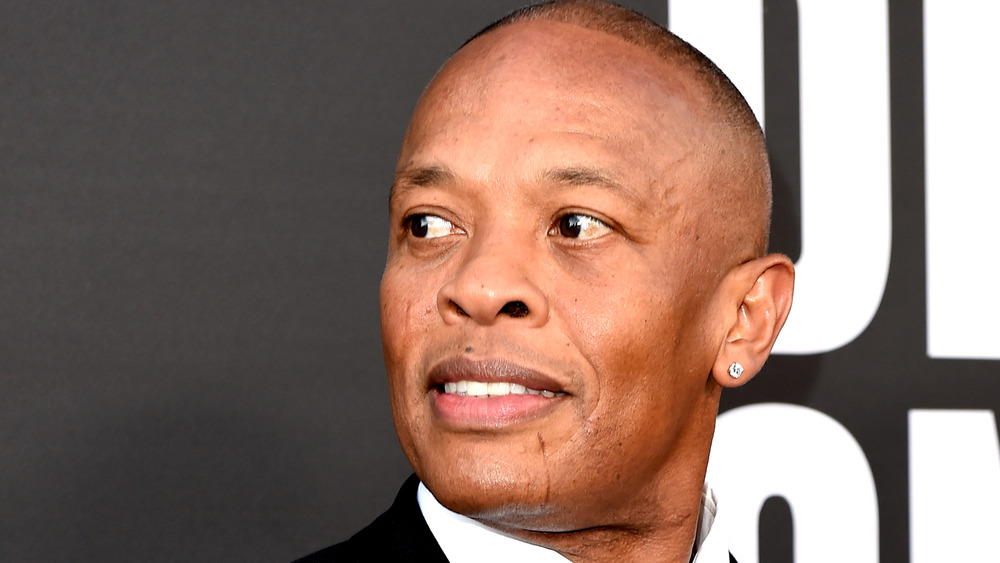 Kevin Winter/Getty Images
In an interview with Power 105.1's The Breakfast Club in March 2015, 50 Cent told the hosts that his relationship with Dr. Dre was transactional. "I don't call to talk to him for no reason," 50 said via Vibe. "I think that relationship was business. For a long time, I was a New York Knick player in the middle of a L.A. locker room. You have to realize, Interscope was the West Coast when it was of East Coast-West Coast going on."
According to Forbes, 50 did not like how Aftermath Records, which is owned by Dre, gave him little freedom to release music. "It's freedom to invest in your own ideas," 50 told the outlet. "If I had a horse that I was betting on at the track, I'd like to be the horse. Let it be me, g**dammit, because I'm going to run as hard as I can."
Despite transitioning to a new label, 50 did not find much success with his music releases, as per Vibe, but he did eventually mend his relationship with Dre in 2020.
Dr. Dre supported 50 Cent at his Walk of Fame ceremony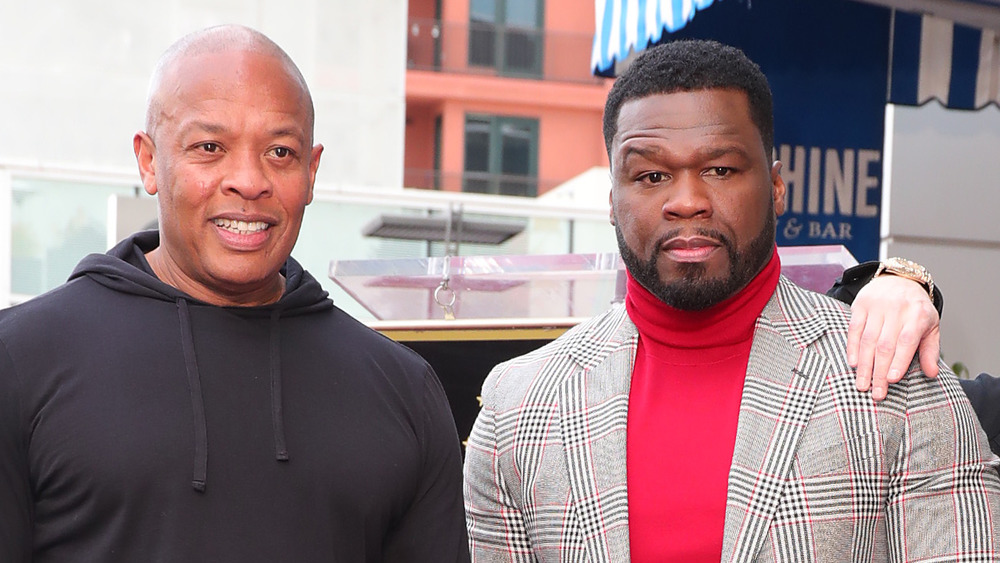 Leon Bennett/Getty Images
On Jan. 2020, Dr. Dre and Eminem appeared with 50 Cent at his Hollywood Walk of Fame ceremony, which marked an end to their feud.
Although Dre left the congratulating duties to Eminem, 50 did speak highly of the mogul during his speech. "I'd like to thank both Em and Dre. I don't honestly think my career would have been what it was without their support," he said on stage. "Dre is a mentor for the whole squad because he's been doing it long before that and was able to guide us in different ways without even knowing that he's doing it." 
It's good to know that Dre and 50's relationship is back on good terms. Both of them have come a long way since the music mogul signed 50 to his label in 2002 (as per XXL), and we're glad to see them support one another.