The Truth About Trump And Mike Pence's Relationship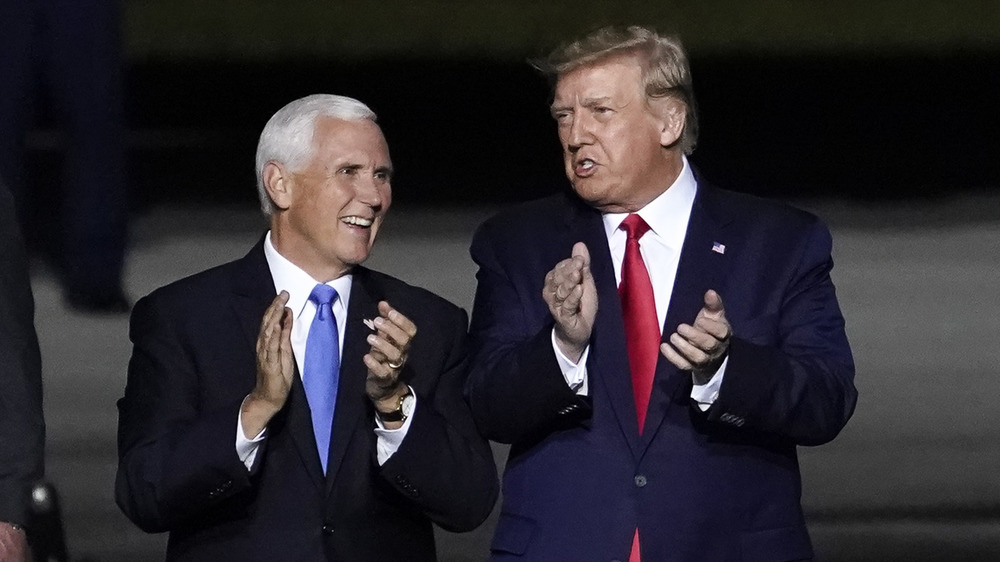 Drew Angerer/Getty Images
Truth be told, President Donald Trump has a lot of enemies — and that includes people who have previously worked for his administration. Fortunately for him, however, the president surrounds himself with people who support both him, his rhetoric, and his policies, like his immediate family members — many of whom work for the White House in some capacity. Then there's also Vice President Mike Pence, who largely sides with Trump on pretty much every issue. (After all, that's kind of his job.)
Though Trump and Pence's relationship — for the most part — has been civil (they've both praised each other numerous times), the cracks are now starting to show. Specifically, there has been some serious drama over the vice president's role in calling the 2020 presidential election for Trump, as per CNN. (President-Elect Joe Biden was announced the victor in November 2020.)
The president had reportedly grown frustrated with Pence, "confused as to why Pence can't overturn the results of the election on Jan. 6, [2021]," the outlet noted. According to CNN, the vice president "presides over the proceedings" of the electoral college — though this "role is more of a formality and he cannot unilaterally reject the Electoral College votes."
Donald Trump calls out Mike Pence on Twitter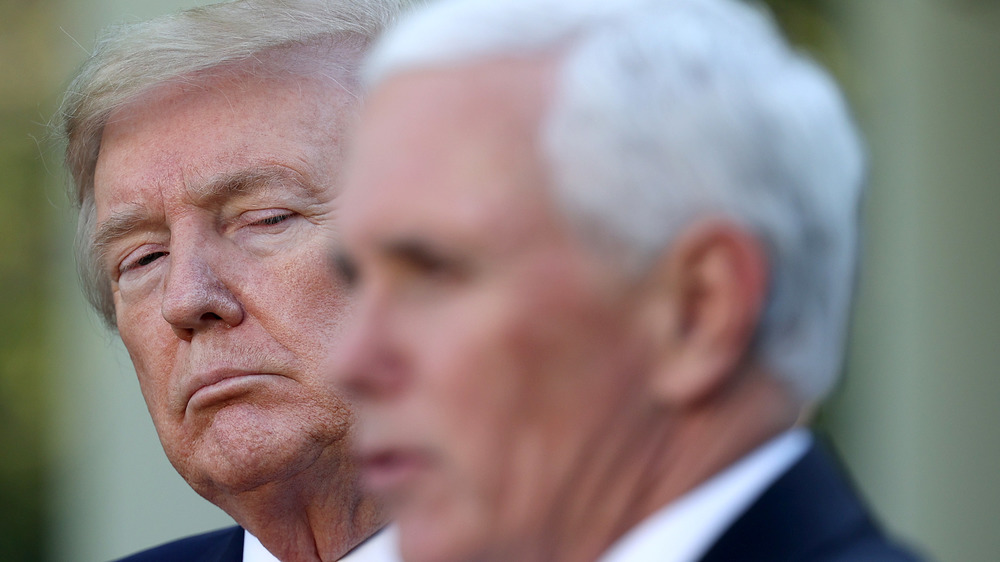 Win Mcnamee/Getty Images
On Jan. 6, 2021, Vice President Mike Pence wrote a letter to Congress in which he stated that he would not be defending President Donald Trump's desire for him to preside over the electoral college presidential vote.
"It is my considered judgment that my oath to support and defend the Constitution constrains me from claiming unilateral authority to determine which electoral votes should be counted and which should not," Pence said. Just two hours afterwards, Trump took to Twitter to directly slam his VP.
"Mike Pence didn't have the courage to do what should have been done to protect our Country and our Constitution, giving States a chance to certify a corrected set of facts, not the fraudulent or inaccurate ones which they were asked to previously certify," he wrote. "USA demands the truth!"
In the midst of this, thousands of Trump supporters stormed the U.S. Capitol to contest the electoral college vote, according to The Hill.