Inside Joe Biden's Victory Speech
Drew Angerer/Getty Images
Democratic nominee Joe Biden came out on top in the 2020 presidential race on Nov. 7, 2020, and he'll oust President Donald Trump from the White House come January 2021. The results came amid Trump's false claims of voter fraud, with Biden securing the win after taking Pennsylvania, Michigan, Wisconsin, and Nevada, to name a few key states. One supporter tweeted about the victory, "So happy Biden won but more importantly, FIRST WOMAN VP!!! Big win for the ladies."
Although Trump hasn't conceded as of this writing, Biden gave a victory speech in Delaware after his running mate, California Sen. Kamala Harris, delivered a rousing address to their supporters. Biden said in part, "Folks, the people of this nation have spoken. They delivered us a clear victory. A convincing victory. I pledge to be a president who seeks not to divide but unify, who doesn't see red states and blue states, only sees the United States."
Curious to hear what else Biden had to say about his win? Keep reading to find out.
Joe Biden urges Americans to embrace unity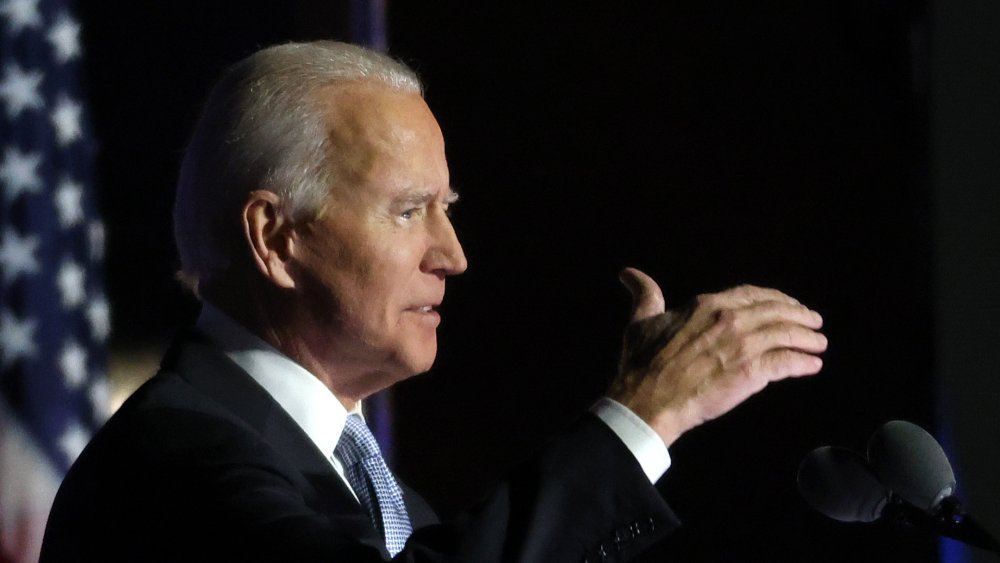 Win Mcnamee/Getty Images
Before former Vice President Joe Biden won the 2020 election, he reminded his followers via Twitter to "keep the faith." He also encouraged his supporters during a speech on Election night, stating, "It ain't over until every vote is counted, until every ballot is counted." Biden ended up securing those last crucial votes in Pennsylvania, tipping him over the 270 electoral college count. 
Biden maintained his optimism during his victory speech, telling his enthusiastic supporters, that he was moved by his supporters' "outpouring of joy, of hope, renewed faith in tomorrow to bring another day." He also praised his wife, Dr. Jill Biden, telling the audience, per CNN, "Jill's a military mom, an educator. She's dedicated her life to education, but teaching isn't just what she does. It's who she is. For American educators, this is a great day for you all. You going to have one of your own in the White House. And Jill will make a great first lady. I'm so proud of her." 
Most of all, Biden emphasized the importance of unity. "It's time to put away the harsh rhetoric, lower the temperature, see each other again, listen to each other again, and to make progress, we have to stop treating our opponents as our enemies. They are not our enemies. They are Americans."
Considering how tight the presidential race was, it's probably safe to say Biden felt a great sense of relief and pride when delivering his victory message.