Are Gwen And Blake Planning A Huge Wedding In May?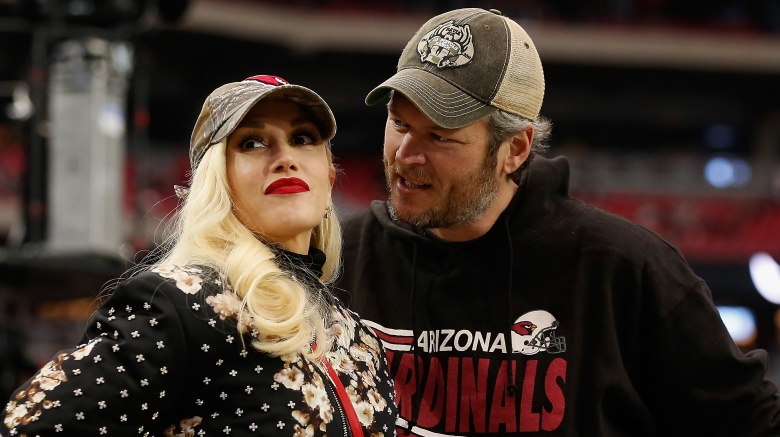 Getty Images
Blake Shelton and Gwen Stefani are reportedly getting ready to walk down the aisle together, but they can't seem to agree on how they want their big day to go.
A source told Radar Online the Voice coaches plan on marrying at the Church of the Good Shepherd in Beverly Hills on May 5, 2017. "They can hardly agree on anything! Gwen wants to go big on this—and Blake wanted to make it an informal affair down home in Tennessee or their new place in Oklahoma—but he's not willing to go to the mat against her," the source said. "Gwen knows Blake's out of his depth here with all this glam, so she's agreed to foot the bill for the wedding while he will pick up the tab for the honeymoon!"
The source added, "Gwen's guest list was 700 people alone. She also wanted to have a bunch of celebrity music stars perform—but he didn't want to turn the wedding into Woodstock." The source noted that Stefani and Shelton actually plan on performing a duet of Bon Jovi's "Blaze of Glory." Say what? The insider noted that the guest list was "whittled down to 400," and it's still star-studded: Jennifer Aniston, Justin Theroux, Courteney Cox, Johnny McDaid, and Katy Perry are all on Stefani's side, while Shelton plans on inviting Keith Urban, Nicole Kidman, Luke bryan, and Brett Eldredge, who may serve as his best man.
Here's where it gets really interesting: the source said, "They're seriously considering inviting Gwen's cheating ex, Gavin Rossdale, and Blake's former wife, Miranda Lambert. They're making sure to invite them with a plus one."
Sources also told People, "Rumors are circulating in their circle that they've begun preparations for a wedding...they're planning ahead and having fun talking about it. Everyone is expecting it to happen at some point, but Gwen is touring and busy. The time just hasn't been right."
In terms of the less fun aspect of wedding planning, the duo reportedly plan on getting a prenuptial agreement. One source told Radar, "They'd be crazy not to. Gwen's worth about $100 million, and that's about $60 million more than Blake."