The Untold Truth Of Betsy DeVos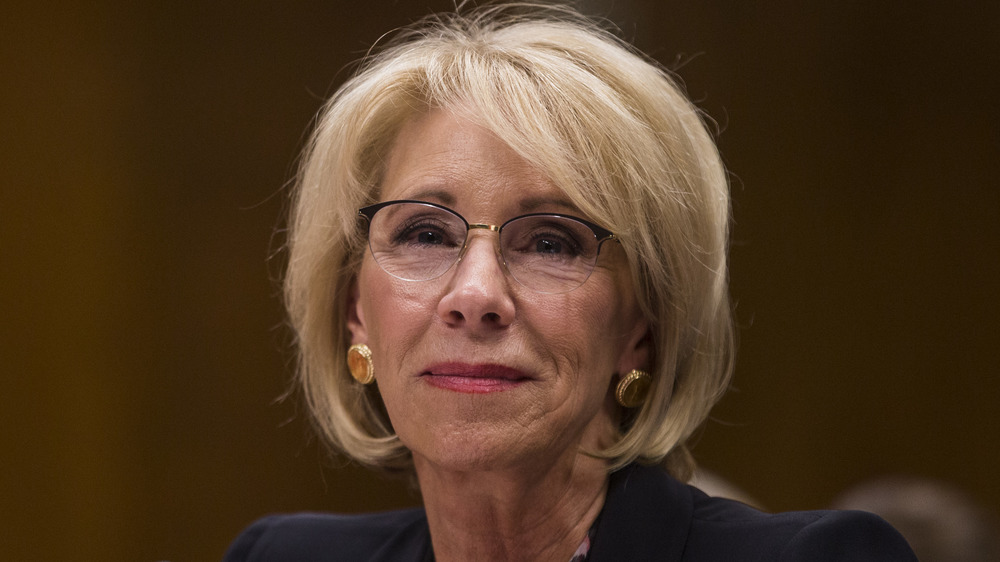 Zach Gibson/Getty Images
Betsy DeVos, who served as the secretary of education in the Trump administration, submitted her resignation on Jan. 7, 2021, just 13 days before President-elect Joe Biden's inauguration. In her resignation letter, she cited President Donald Trump's enabling of the storm on the U.S. Capitol building as her breaking point, writing (via The New York Times), "We should be highlighting and celebrating your Administration's many accomplishments on behalf of the American people. Instead, we are left to clean up the mess caused by violent protesters overrunning the U.S. Capitol in an attempt to undermine the people's business."
She continued, "That behavior was unconscionable for our country. There is no mistaking the impact your rhetoric had on the situation, and it is the inflection point for me." In her resignation letter, DeVos also praised Trump for his COVID-19 response in regards to reopening schools, writing, "history will show we were correct in our repeated urging of and support for schools reopening this year."
Ahead of her resignation, DeVos had written a letter to Congress imploring members to reject future proposed education measures such as free tuition, writing (via Inside Higher Education), "I hope you also reject misguided calls to make college 'free' and require the two-thirds of Americans who didn't take on student debt or who responsibly paid off their student loans to pay for the loans of those who have not done the same." 
Betsy DeVos' critics aren't sad to see her go
Drew Angerer/Getty Images
On Jan. 7, 2021, Betsy DeVos joined the list of members of President Donald Trump's cabinet who quit after Trump supporters stormed the U.S. Capitol building on Jan. 6, 2021. Elaine Chao, the secretary of transportation, announced her resignation on Jan. 7, 2021, writing in a statement that she posted on Twitter: "Yesterday, our country experienced a traumatic and entirely avoidable event as supporters of the President stormed the Capitol building following a rally he addressed. As I'm sure is the case with many of you, it has deeply troubled me in a way that I simply cannot set aside." 
First lady Melania Trump's chief of staff Stephanie Grisham, press aide Sarah Matthews and White House social secretary Anna Cristina Niceta also resigned in the wake of the violence, per CNN. 
DeVos' resignation is considered too little, too late by a lot of her critics. Becky Pringle, the president of National Education Association, tweeted: "Her complicity, cowardice, and complete incompetence will be her legacy #DoYourJob." Meanwhile, Randi Weingarten, the president of the American Federation of Teachers, also issued a statement, tweeting "#GoodRiddance".