How Meghan Markle's Dad Really Feels About The New Explosive Tell-All Book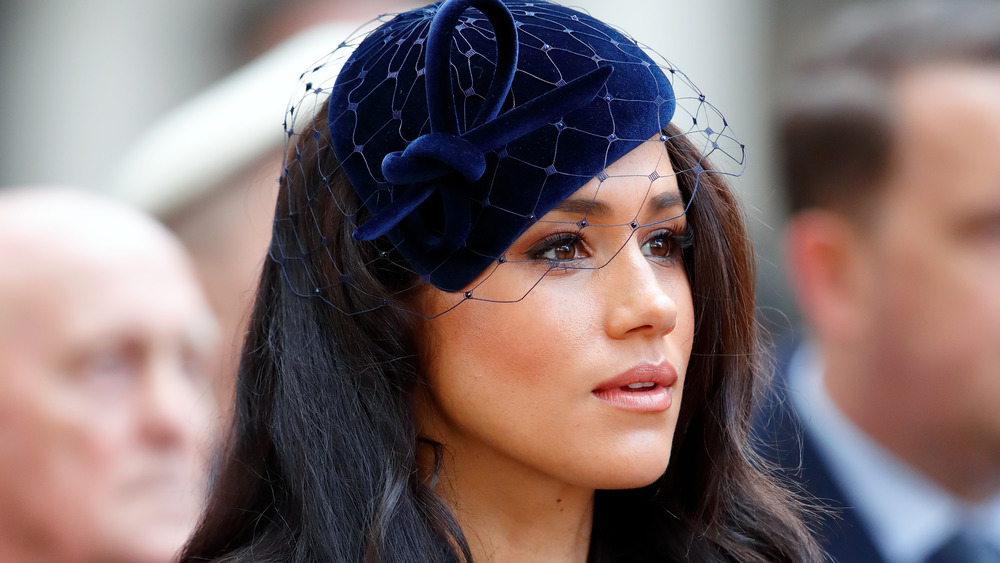 Max Mumby/indigo/Getty Images
We may receive a commission on purchases made from links.
It's no secret that Meghan Markle's happily ever after has been seriously complicated by her relationship with her family. Meghan and her father, Thomas Markle, have been estranged since 2018 when she wed Prince Harry, and it is widely believed that her massive fame contributed to the breakdown of their relationship. 
Not long after Meghan and Harry went public with their relationship, the press began invading Thomas' personal life, and less than a week before Harry and Meghan said "I do," he was caught staging fake paparazzi photos. While Meghan initially stated that her father would not be attending the wedding because he needed to "focus on his health," a spokesperson for the Duchess of Sussex later revealed that the incriminating photos were the real reason behind his refusal to be there on her big day, per Insider.
All that being said, Thomas isn't the only one in the Markle clan with whom Meghan shares a difficult relationship. Her half-sister — and Thomas' oldest daughter — Samantha Markle, has repeatedly attacked Meghan via social media and television appearances. In 2017, Samantha announced her plans to pen a tell-all memoir that would reportedly describe her dysfunctional relationship with the Duchess of Sussex, whom she blamed for freezing out their father. Now, it appears that the bombshell book is finally here. Titled The Diary of Princess Pushy's Sister Part I, the memoir promises the "truth about [Samantha's] life and family against all odds and ultimatums." 
So, how is Meghan's family reacting to the book launch?
Thomas Markle is 'pleased' with Samantha's book
Ever since Thomas Markle's fallout with Meghan Markle over his controversial paparazzi photos, he hasn't held back from badmouthing her to the press. "I'm very upset with Meghan and Harry right now," Thomas told TMZ in February 2020, criticizing her decision to step back from the royal family."I don't think they have a right to use the word 'royal.' I don't think they have a right to speak to the queen the way they're talking to her. I think that it's an insult to the queen and to the British people." 
Given the ill will, it's no surprise that Thomas is looking forward to his other daughter Samantha Markle's explosive tell-all memoir, which promises to shed light on Meghan's background. "I'm just very pleased that she's accomplished this book," Thomas shared with Us Weekly in January 2021. "Let's let her talk to you about the book."
For her part, Meghan doesn't seem too fazed — at least, publicly — despite Samantha's claims that the book will make her feel "uncomfortable" (via The Sun). According to Omid Scobie, who wrote the Sussex biography Finding Freedom, Meghan doesn't feel that Samantha will have much to share about her, given the pair's strained relationship. "I find it quite hard to believe that Samantha will have anything interesting to say about her relationship with Meghan as there simply wasn't one," Scobie told the Evening Standard. 
Samantha's book is set to hit shelves in the United States on Jan. 17, 2021.