Pink Expecting Baby No. 2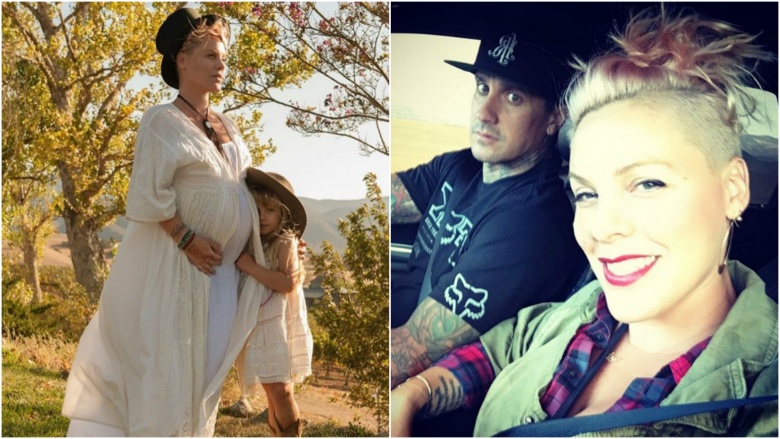 Congratulations to Pink! The "Just Like Fire" singer and husband Carey Hart are expecting their second child. Pink, 37, announced the news with an Instagram photo on Nov. 12, 2016. Posing with her baby bump on display and her 5-year-old daughter, Willow Sage, at her side, Pink captioned the snap, "Surprise!"
Pink and Hart, 41, have been married since 2006, though they've taken two "breaks" during their relationship, one lasting a year and the other 11 months—and both before Willow was born. In May 2016, Pink joked that they're "due" for another break, in part because Hart is such a great father that they can't get enough adult alone time.
"He always falls to sleep putting Willow to bed," Pink told Ellen in July 2016. "The other night I said, 'Are you going to stay up tonight?' And he said, 'I would like to.' I said, 'I don't really know what that means. Should I light candles and open wine and put on a show? Like, are we going big here, or are you going to fall asleep again?' He sucks," she laughed. "No, he's good. He doesn't [suck]. He's very, very handsome...He's an incredible dad. That's why he falls asleep, because [Willow] wants him to stay."
The Grammy winner gushed to Good Morning America in May 2016, "I love being a mama. I made a choice a long time ago that I was going to have a successful family and that is my absolute No. 1 goal in life."
The reformed wild child also told People how healing parenthood has been for her, having come from a family of divorce. "I have lived a lot of life in a very short time, and you get hardened a little bit—you get jaded, you build up walls. And when you see this little kid, and you get to watch them through infancy to toddler to little person, it's amazing," she said. "You see how you were. When you watch this bundle full of love and light that's untarnished and untainted by heartache and any of the numerous things that change you, it's very healing. It's a miracle."
Though Pink's pregnancy came as a surprise to most of the world, in September 2016, she hinted that she may be expecting when she joked on Twitter, "I love that every time I find a box of Girl Scout cookies I'm pregnant. Guilty: I'm having a Thin Mint."