The Truth About Olivia Rodrigo And Joshua Bassett's Relationship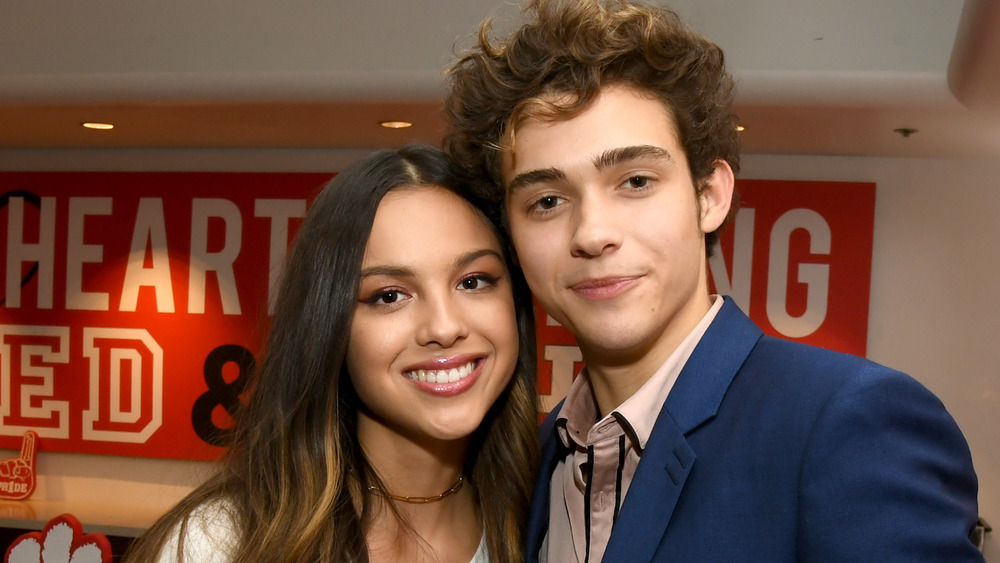 Kevin Winter/Getty Images
It might sound like a generalization to say that everyone's failed high school romance was also probably their messiest romance, but come on, it's also probably true. Now, imagine being a teen in love and also playing a teen in love on TV at the same time. Maybe we should back up for a minute, though. In case you were born before 2005, allow us to fill you in on High School Musical: The Musical: The Series (try saying that three times fast), a Disney+ show about well...high school, and based on the original Disney movie, High School Musical.
Since hitting the streaming platform, the kids at the fictitious East View High School have become instant celebrities among the younger generation. And why not? They're pretty, cool, and oh boy, can they sing. They also bring the drama...on and off-screen. What drama, you might ask? Well, the kind of drama that can only be described as very high school. 
A rumor that surfaced in January 2021 involves Olivia Rodrigo and her co-star Joshua Bassett and a rumored love triangle (because, of course). Read on to get the scoop on what's really going on between the teen superstars.
Did Olivia Rodrigo drop hints in her music?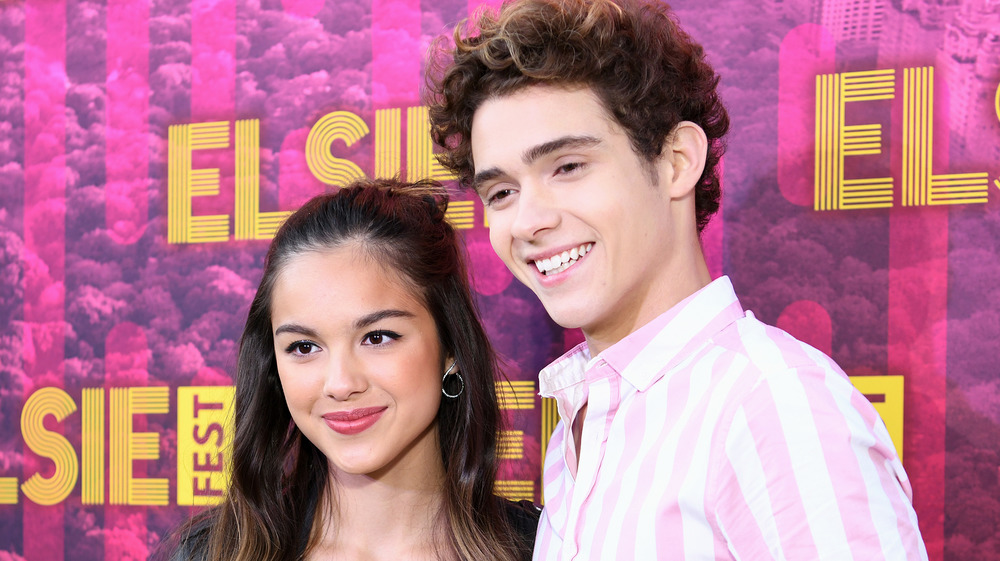 Jenny Anderson/Getty Images
Fans of High School Musical: The Musical: The Series were beyond excited in January 2021 when Olivia Rodrigo dropped a single and accompanying music video called "Drivers License." Devoted fans seemed to think that the angsty new song confirmed her long-rumored relationship with co-star Joshua Bassett. Bassett and Rodrigo's characters date in the series, but many believe their on-screen chemistry carried over to their private lives as well. They also seemed to inspire each other, as Bassett — a fellow musician — told ET Online that Rodrigo's frequent songwriting reminds him to "get on" his "game."
However, things seemed to have gone south when, in August 2020, Rodrigo posted a TikTok about failed relationships. Not long after, Bassett began spending more time with Sabrina Carpenter, another HSMTMTS co-star, though they have both denied the relationship, per Cosmopolitan. Here's where it gets interesting, though. When Rodrigo dropped her single in January, she made several references to an older blonde girl (Carpenter is three years Rodrigo's senior and is blonde) and an ex-boyfriend, crooning, "I guess you didn't mean what you wrote in that song about me... you're probably with that blonde girl... She's so much older than me." Because when you're a teenager, three years is a big difference.
Although it looks like there might be some truth to the rumors, Rodrigo hasn't admitted to the song being about anyone in particular. One thing is for sure, though — high school never gets any easier.