The Real Meaning Behind 'Starting Over' By Chris Stapleton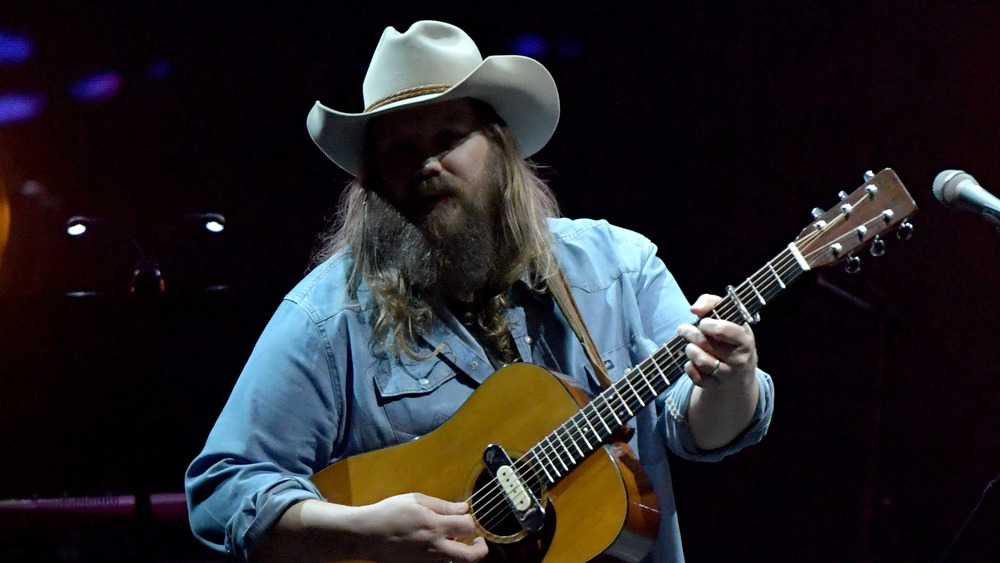 Jason Kempin/Getty Images
There is a saying that country music is "three chords and the truth," and country icon Chris Stapleton reinforced the accuracy of that statement with the launch of his 2020 single "Starting Over." The Grammy-winning singer-songwriter, who spent time with bands like the Steeldrivers before striking out on his own, is known for his ability to marry real-life experiences with killer country melodies. "Starting Over" is the first single and title track of Stapleton's fourth studio album, and it reflects his life perhaps more than any other. In part, this is because the album took over two years to make, not because Stapleton worked continuously on it, but because "life kept conspiring to get in the way," according to Country Now. 
"I learned on this record that you can't always just show up and have it happen," the "Broken Halos" hitmaker told Country Now. "Previously, I'd been real fortunate in that I've gotten to show up and have it happen." From a power outage that wiped out the singer's town, to a sinus surgery that changed the way his vocals sounded, there always seemed to be an imminent disaster conspiring to halt Stapleton's creative process. It is fitting then, that "Starting Over" carries a message that can resonate with anyone, no matter their situation in life. So, what is the meaning behind the lyrics?
Chris Stapleton's 'Starting Over' carries a timely message for all of us
Terry Wyatt/Getty Images
With lyrics like, "It don't matter to me / Wherever we are is where I wanna be" and "Let's take our chances and roll the dice / I can be your lucky penny / You can be my four-leaf clover," "Starting Over" paints the picture of a man pleading for his lover to come with him so that the pair can make a fresh start. Broadly speaking, the song is a reminder that no matter what misfortunates may befall us, we always have the opportunity to start over, as long as we have the ones we love by our side. 
The message of "Starting Over" is an especially timely one for 2020 and beyond, but the song takes on an extra-special meaning because Chris Stapleton's wife and real-life love, Morgane, is featured on the track. While Chris' star may shine brighter, Morgane is an accomplished singer-songwriter in her own right, and penned "Don't Forget to Remember Me" for Carrie Underwood and "You Ain't Right" for LeAnn Rimes (via Discogs). While Morgane has previously lent her pipes to her husband's songs, the romantic undertones here drive home the point that we will always get where we are going if we have love on our side. The road ahead may be long and winding, but "someday we'll look back and smile," as Chris sings, "and know it was worth every mile."