Demi Lovato And Luke Rockhold Make It Official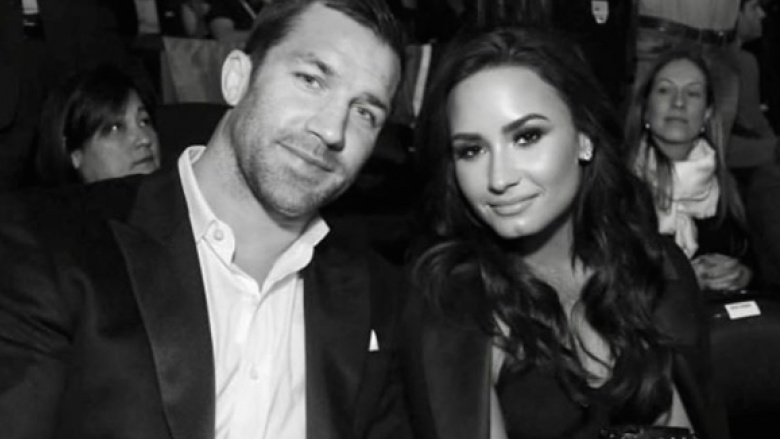 Demi Lovato has officially moved on from Wilmer Valderrama—with a guy who fought hard for her heart!
The "Confident" singer and new beau Luke Rockhold made it Instagram official this weekend, when they both posted the same cute photo from the UFC 205 match in New York on Nov. 12, 2016. The couple were photographed outside Madison Square Garden holding hands, and once inside, they smiled together on the Jumbotron and didn't hide their romance at all.
It was the second public outing for the new couple. TMZ reports that Rockhold, 31, and Lovato, 24, attended a Los Angeles Rams football game on Sunday, Nov. 6, 2016, where they cozied up and posed for photos together.
TMZ first reported on the pair's connection in August 2016, when they hit it off at the Unbreakable gym in Los Angeles, where they "clicked right away." They even got matching smiley face tattoos on their pinkies to send each other secret messages via social media. Cute!
Insiders noted that Lovato wanted to take it slow with her UFC fight beau, because they met just after her split from Wilmer Valderrama, who she'd been dating for six years—and even spoke about marrying someday.
Over the summer, a source told E! News, "Demi is hanging out with Luke. It's pretty new and fun at this point. She likes being around him. She just got out of a serious relationship [with Wilmer Valderrama] so she is not looking for something that serious, but if something evolves naturally over time she is willing to go with it and explore it." The source added, "She thinks Luke is a cool dude and he makes her smile. She is the kind of girl that takes [things] day by day and just lives in the moment."
An insider previously told People, "They met through friends a couple months ago. He also attended her concert in Anaheim...They like each other, but they're not exclusive. They're both open to dating other people."