The Real Reason YouTube Blocked Donald Trump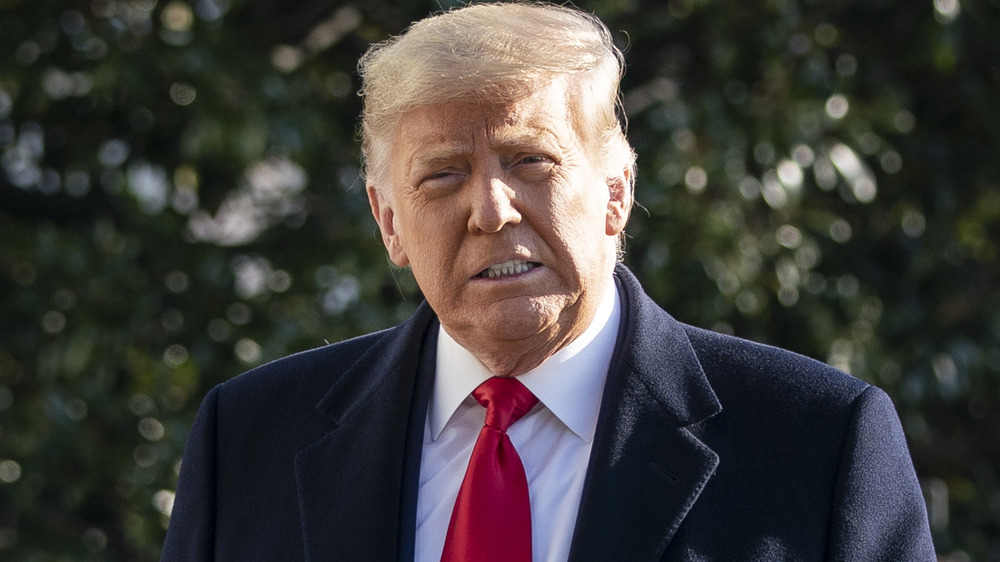 Drew Angerer/Getty Images
Following a pro-Trump rally that turned violent and culminated in an assault on the Capitol, social media companies have been keeping a close eye on President Donald Trump's platforms. Many have responded by banning his accounts or limiting posts. As of this writing, Facebook has indefinitely banned Trump, Twitch has disabled his account and Twitter has banned him for good after he posted two tweets that ultimately violated the company's policy against the "glorification of violence."
On Jan. 12, 2021, YouTube became the latest social media company to follow suit. Previously, the platform had removed a video where Trump called Capitol rioters "very special," though did not otherwise restrict his posts. However, it looks like Google-owned YouTube is now taking a harsher stance. In a statement, a YouTube spokesperson said (via CNN): "After careful review, and in light of concerns about the ongoing potential for violence, we removed new content uploaded to the Donald J. Trump channel and issued a strike for violating our policies for inciting violence."
The spokesperson added that as a result of those violations, "the channel is now prevented from uploading new videos or livestreams for a minimum of seven days — which may be extended." Let's take a closer look into YouTube's reasoning.
Donald Trump has been blocked from YouTube for a minimum of one week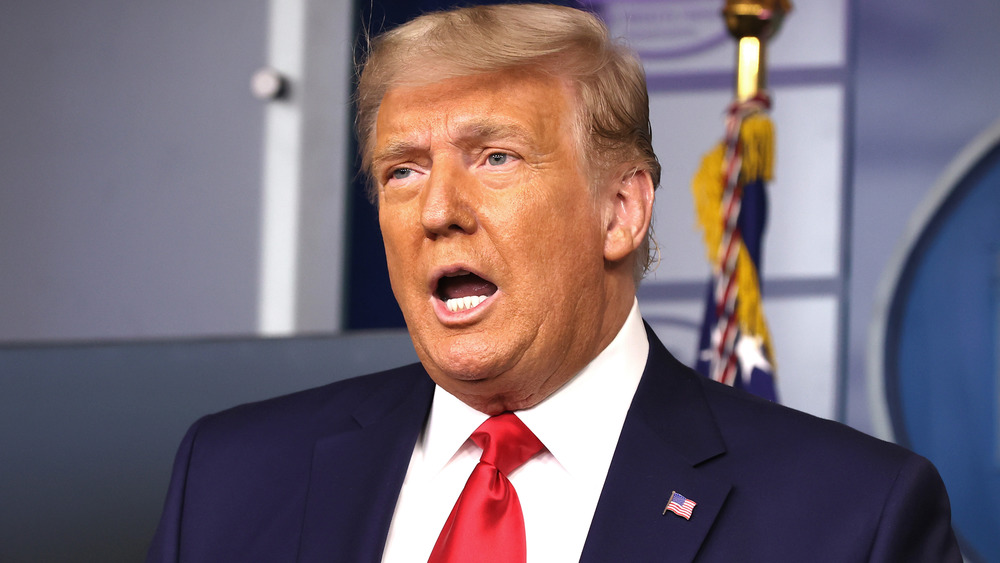 Chip Somodevilla/Getty Images
Like Twitter, Facebook, Twitch (and even Shopify), YouTube cited (via CNN) the "ongoing potential for violence" behind its decision to temporarily ban President Donald Trump from the platform. Now, it appears there may be good cause behind the move. On Jan. 12, 2021, New York Times reporter Davey Alba tweeted concerns about a since-removed video from CSPAN, in which Trump made statements like "there is always a countermove" and "we have support." Alba added screenshots of some of the video's comments, which repeated Trump's statements. 
It seems YouTube may also be feeling pressure to make a stand among reports of heightened security and fears over President-elect Joe Biden's safety ahead of Inauguration Day on Jan. 20, 2021. Though, as of this writing, the YouTube suspension is only temporary, there's a chance it could be made permanent. According to YouTube's community guidelines, the company operates under a "three strike" policy. First-time violators (like Trump) are barred from uploading new videos for a week, while a second strike leads to a 90-day ban and a third strike results in the channel's permanent removal from YouTube. 
Will this be a case of three strikes, you're out? Only time will tell.