Carrie Fisher, Harrison Ford Hooked Up During Star Wars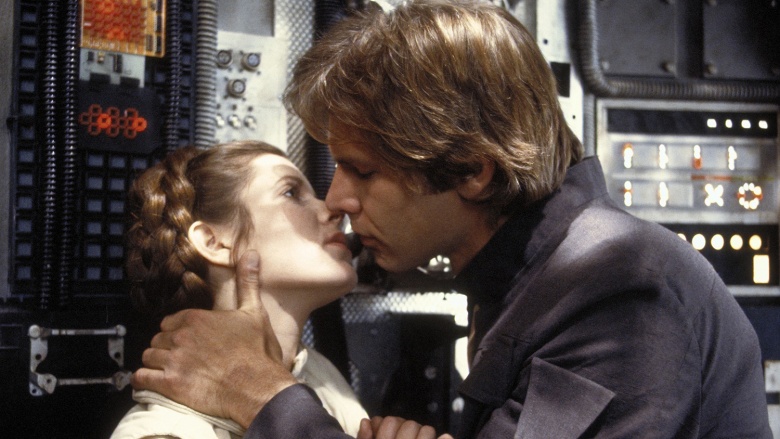 Who knew? When Harrison Ford and Carrie Fisher filmed the first Star Wars (1977), Han Solo and Princess Leia reportedly took their romance off-screen.
"It was so intense. It was Han and Leia during the week, and Carrie and Harrison during the weekend," Fisher told People. "I was so inexperienced, but I trusted something about him. He was kind."
In excerpts from Fisher's book The Princess Diarist, obtained by Radar Online, Fisher revealed that during filming, she hooked up with Ford—when she was 19 and he was a 34-year-old married father of two. Fisher, now 60, says Ford offered to drive her home when she was "wine sodden" one night, and they ended up in bed together. She claims Ford called her a "bad kisser," and she wasn't particularly impressed with his own prowess, but forgave him because "he really was handsome."
Fisher couldn't provide many details about their time together, which she blames on "the brutal strength of Harrison's preferred strain of pot." Still, she was deeply smitten with the hunk, and wrote that she tried "relentlessly" to make him love her and even daydreamed of him someday giving her a wedding band inscribed with "Carrison." (Brangelina who?)
She eventually realized he may have been too much for her insecurity at the time, writing (via Vanity Fair), "I looked over at Harrison. A hero's face—a few strands of hair fell over his noble, slightly furrowed brow. How could you ask such a shining specimen of a man to be satisfied with the likes of me?"
Though Ford and his wife, Mary Marquardt, divorced in 1979, Fisher claims the breakup had nothing to do with her. He tied the knot with second wife, the late Melissa Mathison, just four years later.