The Worst Things Samantha Markle Has Said About Meghan
Every family has their issues, and the royal family is no different. In addition to Prince Charles' relationship with the late Princess Diana once being the subject of headlines, we've seen Princes William and Harry have a feud with one another in the public eye. As of January 2021, the two brothers are working on their relationship since Harry's royal split, and even plan to reunite in both England and California. Plus, "there were phone and video calls over the Christmas and New Year holiday and the Sussexes sent presents to the Cambridges and vice versa," royal expert Katie Nicholl told Entertainment Tonight.
Things seem to be going well for the Duke of Sussex and the Duke of Cambridge. However, Meghan seems to be having family issues of her own. The Duchess of Sussex and her half-sister Samantha Markle have been publicly at odds since the former's engagement to Prince Harry was announced in 2017. And now Samantha will be releasing a tell-all, titled The Diary of Princess Pushy's Sister Part 1, about their home life, in January 2021. While Samantha boasts that the book will feature "the good, the bad, and the ugly" of the Markle family (via Us Weekly), it wouldn't be the first time Samantha has spoken out about her estranged half-sister.
Samantha Markle says Prince Harry shouldn't have married Meghan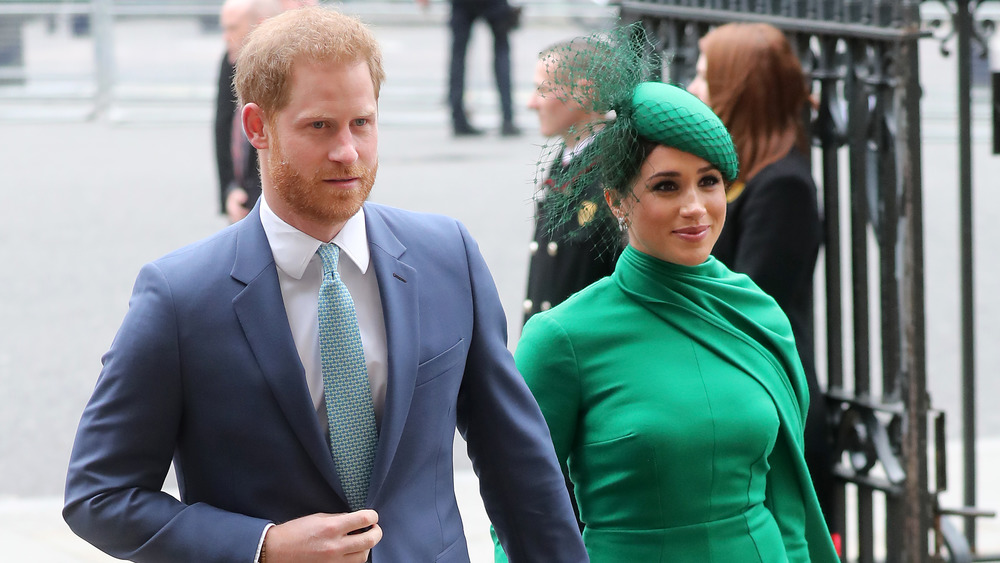 Chris Jackson/Getty Images
A little shady banter is expected among siblings, but Duchess of Sussex Meghan Markle and her estranged half-sister Samantha have a quite interesting relationship. In July 2018, Samantha took to Twitter to share a lengthy rant about her younger sister and Prince Harry, where she took some pretty harsh digs at the both of them. "Harry is a wuss to allow the Duchess of Nonsense to mistreat everyone who has been close to her, especially her family," the mother of three tweeted, per The Sun. "Diana would be ashamed. Stop wearing Meg's skivvies and bra and take your pants off of her!"
In another eyebrow-raising tweet, Samantha says Harry should've married his ex-girlfriend Cressida Bonas because "she is much more like Diana" compared to Meghan, the outlet reported. If you thought Samantha hadn't taken it far already, she even blamed Meghan should their father Thomas Markle Sr. die, according to TMZ. Hurtful much? 
Samantha Markle claims Meghan is jealous of this royal family member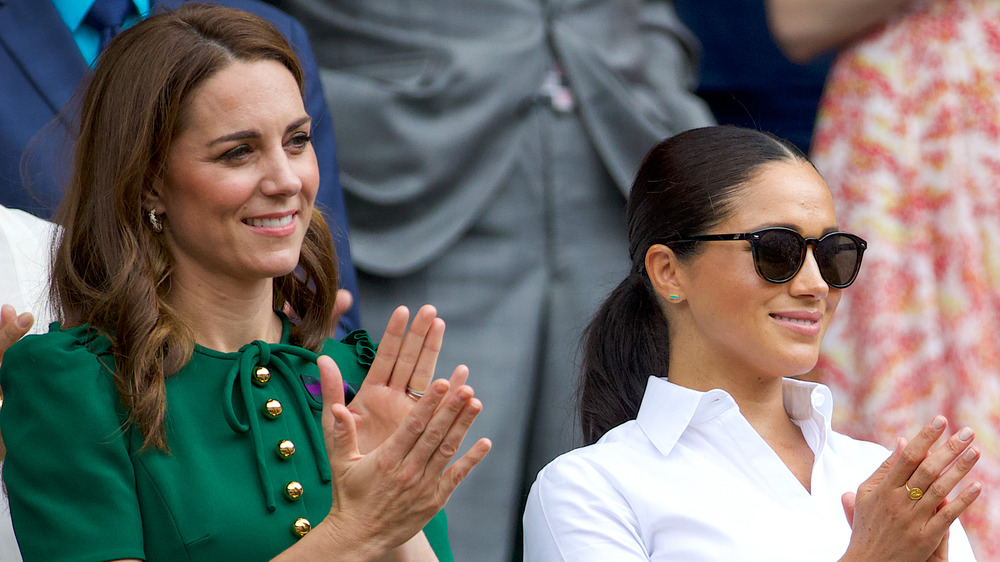 David Gray/Getty Images
Samantha Markle is known for venting her frustrations with her sister Meghan Markle over social media — though her Twitter account has been suspended, according to Cosmo. (Her Instagram is still active.) And in addition to dragging Meghan's name through the mud, Samantha doesn't cut the royal family any slack either. In April 2019, Samantha accused Meghan of being jealous of her own sister-in-law, Duchess of Cambridge Kate Middleton. According to Samantha, the former actress uses her designer wardrobe to remain the "center of attention" in comparisons between the two wives. In TLC's 2019 documentary Meghan and Harry: A Royal Baby Story, Samantha said (via The Sun): "I believe that there is a jealous streak in Meg, she does like to be the center of attention and I feel like that is what is going on now."
Even worse, Samantha also questioned Meghan and Prince Harry's sincerity in their charity work, via ET Canada, and claimed to not see any "racism" going on in the British press toward her estranged sister, which was one of the reasons the Duke and Duchess moved to California (as per Insider).
Considering the heavy amounts of shade Samantha keeps throwing at Meghan, it seems that there may not be a resolve for the siblings as of this post. In regards to Samantha's book release, it seems to go without question that Meghan isn't happy about it.