Joe Tessitore's Net Worth: How Much Is The Famous Newscaster Worth?
Joe Tessitore is revered in the sports broadcasting world as "one of the top game-callers" and someone with "versatility," a "distinctive voice," strong enthusiasm for his work, per ESPN. Tessitore has proven just how versatile he is during his time with the major sports network alone. Since starting with ESPN in 2002, he has covered everything from professional football, collegiate football (which ESPN notes as "his true passion"), and college basketball to wrestling and horse races. He also has extended his talents to executive producing for ESPN's 30 for 30 docuseries, hosting ESPN New Year's Eve specials and the 2017 Battle of the Network Stars reboot, and writing for ESPN.com.
On top of his various announcing positions, Tessitore has an impressive list of awards under his belt. In 2010, the Boston College graduate was inducted into the Connecticut Boxing Hall of Fame. Right around that time, he was given an Eclipse Award from the National Thoroughbred Racing Association (NTRA) for his Belmont Stakes telecast in 2009 and received the "prestigious Sam Taub Award for Broadcast Excellence from the Boxing Writers of America."
With such a diversified and successful career that has received praise from fans and peers alike, it begs the question if his paychecks match his level of notoriety. Keep reading to learn how much is the famous newscaster worth.
Joe Tessitore is a hardworking guy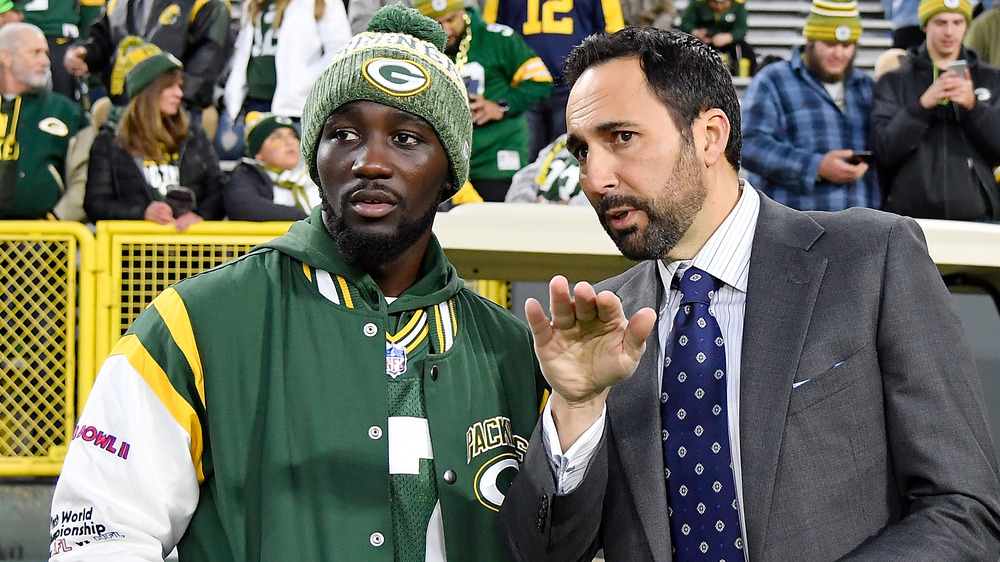 Quinn Harris/Getty Images
Fans were surprised when in 2020, it was announced that Joe Tessitore would be leaving Monday Night Football, which is arguably the most popular show in the game. "I will miss the crew greatly; they were incredible personal relationships that were developed," he told Awful Announcing upon his departure. "I will no longer be on Monday Night Football, but I will be extremely busy at the network in the coming months and years to come." Tessitore was set to "be extremely busy" with Holey Moley, a Steph Curry-produced mini-golf competition hosted by Tessitore and comedian Rob Riggle.
Through his decades-long, award-winning career that seems to keep giving, it would make sense that Tessitore is worth a solid chunk of change, then. According to Celebrity Net Worth, the sports broadcaster is worth $5 million. 
Of course, this is nothing compared to the hefty bank accounts of the sports stars who he reports on, but Tessitore has done quite well for himself by putting in the effort. ESPN Senior Vice President of Event and Studio Production Stephanie Druley told Times Union in 2018 of Tessitore's work ethic, "Not only does Joe have a passion for football, he has an unbelievable work ethic and is an unbelievable teammate."