The Truth About Joe Tessitore's Family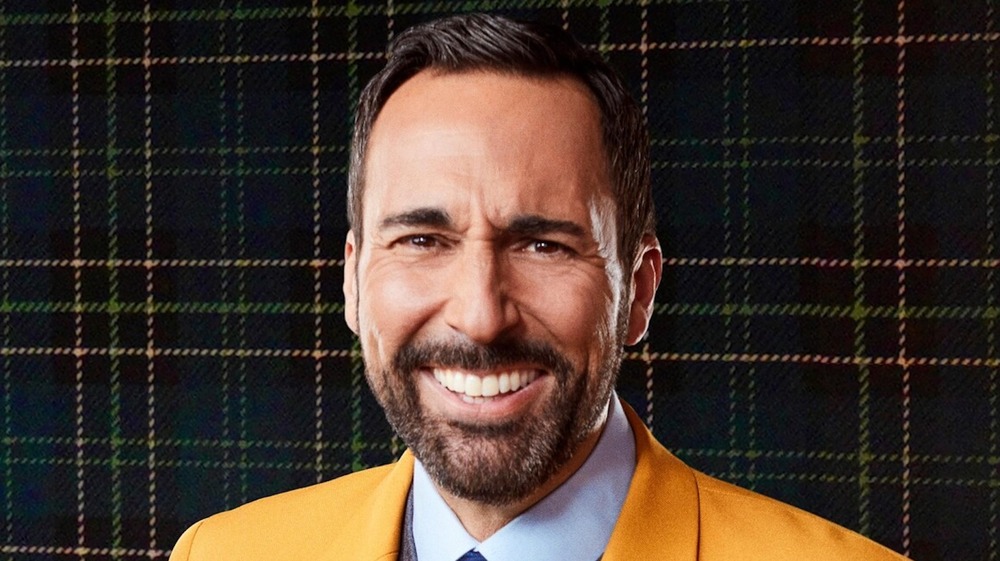 Holey Moley/ABC
If you're a fan of Monday Night Football, you know sportscaster Joe Tessitore all too well. Known for his "Tess effect" broadcasting style, the reporter is beloved on ESPN and now on ABC as he joins Rob Riggle on the family-fun show, Holey Moley. Speaking of family, the broadcaster might be a staple in homes across the country, but he chooses to keep the cameras out of his house. However, the dad can't help but gush over his athlete son, John Tessitore, who plays football for Boston College. The father-son duo made headlines in November 2020 when Joe was giving a play-by-play of Boston College's game against Clemson, who's No. 1 in the league. John was able to fool the team with a tick play and Joe got to narrate the whole thing, "It's a fake! Tessitore is under center on fourth and 2, and he got them to come offsides. John Tessitore came up and played quarterback at the last second, and they may get a first down out of this," he said. "How about that, on fourth and 2? He has played every position growing up, from prep quarterback, receiver, he's pulled off multiple fakes, and he did it here."
The TEAM played well.
Was special to share a father/son BC 🦅legacy moment. . .we cherished the visit postgame and discussing with Molly! pic.twitter.com/jVfbEYPNb8

— Joe Tessitore (@JoeTessESPN) November 4, 2020
The feeling-good clip was very significant to the Tessitore family. "It was a nice father-son moment," the father told Boston.com. "Very sweet, and I think special for a lot of reasons beyond just converting a fourth down on a trick play." Keep scrolling for more details about the sportscaster's family.
Joe Tessitore's family lives a private life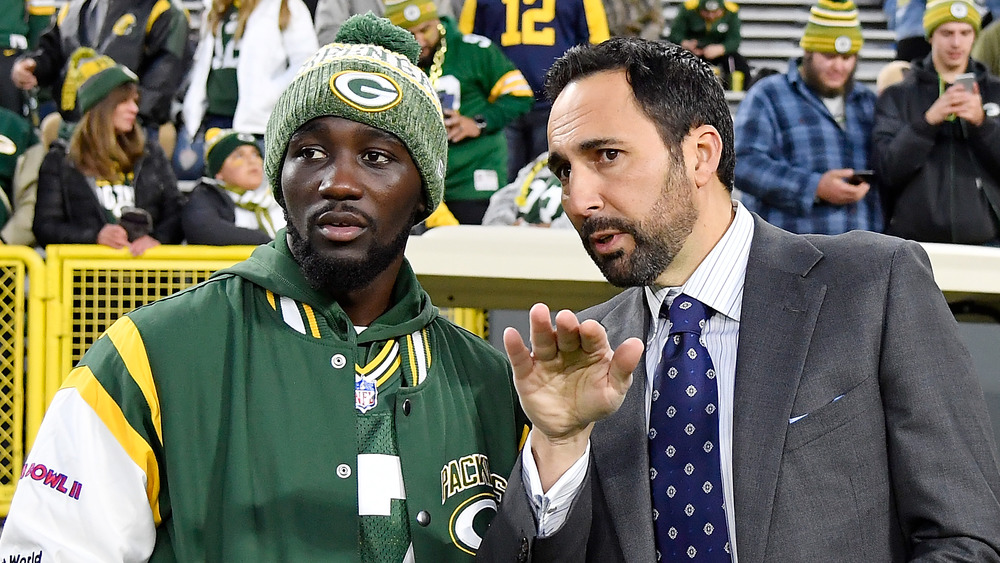 Quinn Harris/Getty Images
Aside from the iconic moment with his son, Joe Tessitore (pictured above with a player) prefers to keep his family life separate from the public eye. Although we don't know too much about his life at home, we do know he's happily married to Rebecca Tessitore and the couple shares a daughter, Nicolina, in addition to their son John, per PlayersBio.com. According to the website, the parents were a couple for years before they tied the knot in an intimate wedding ceremony, and these days they live a quiet life at their Connecticut home. 
As for Joe's relationship with his kids, he appears to be close with his daughter and sometimes takes to social media to gush about their days spent cooking Italian cuisine. His relationship with his son seems to be one of a kind. "He's my coach, he's my dad, he's my biggest fan," John told Boston.com following their viral father-son moment. "I was so happy that he got to share that moment with me and I got to share that moment with him."
The moment will definitely be cherished by Joe as well, telling the outlet, "It was something that took my breath away when he signed with BC, that he was going to go to my alma mater and go to the school that he grew up rooting for. You can't dream up what happened the other day." It sounds like Joe is living every dad's dream.