Andy Cohen Dishes On Taylor Swift's Katy Perry Shade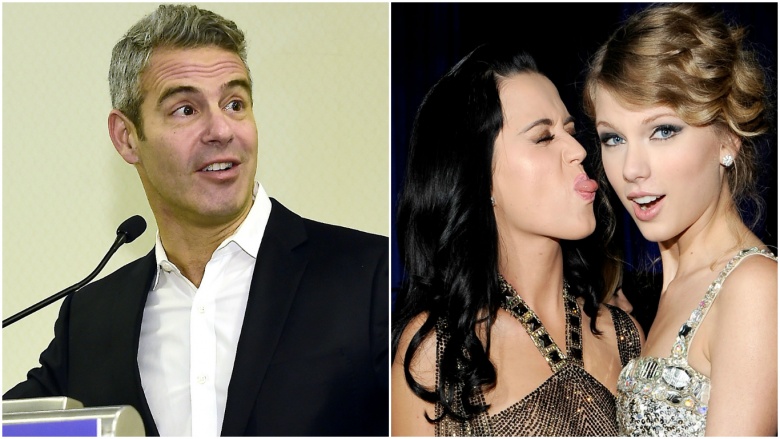 Getty Images
Andy Cohen may be on Taylor Swift's list of personas non grata. The Watch What Happens Live host revealed in his book, Superficial: More Adventures From the Andy Cohen Diaries (via E! News) that he may have royally ticked off the singer by accidentally referencing her feud with Katy Perry at the 2016 Met Gala.
"Why I felt I needed to get involved I will never know (maybe I was auditioning for her squad?), but I innocently said exactly the wrong thing to her, which was: 'Your friend Katy is sitting in the corner and there's plenty of room around her,'" Cohen wrote. "She asked, 'Katy who?' and I said, 'Perry,' at which point she clearly let me know that she's the exact opposite of her friend."
He continued, "I kind of gasped, realizing she was in the most famous feud of all the feuds. I said at least now she knows where not to go, which I thought was a nice button on the conversation and made it all a laugh. She didn't agree...The capper is that she now thinks I'm a d**k and I wasn't even trying to be shady," he said. "I was just sticking my nose where it didn't belong. And I saw Katy Perry alone in a really good area! I failed my squad-ition!"
It didn't end there. Cohen claims Swift started "commanding me not to say a word about this on my show, and said that she's watching. She's watching? Is that a threat? And is she watching?" he wrote. "That made me feel good momentarily...until I realized there might've been a 'f**king' thrown in there before 'your show,' or was that my scared imagination? (If she's watching my 'f**king' show, that makes it a little less exciting.)"
"I sputtered that I had no plans to say a word about it on my show—as a matter of fact, I silently vowed to stop playing into the hype that she created around her song 'Bad Blood.' Hadn't I beaten it to death anyway?"
Still, Cohen found a loophole to Swift's demands. "She didn't threaten me about putting it in my book," he sassed. "So here we are."