The Truth About Sean Payton's Fiance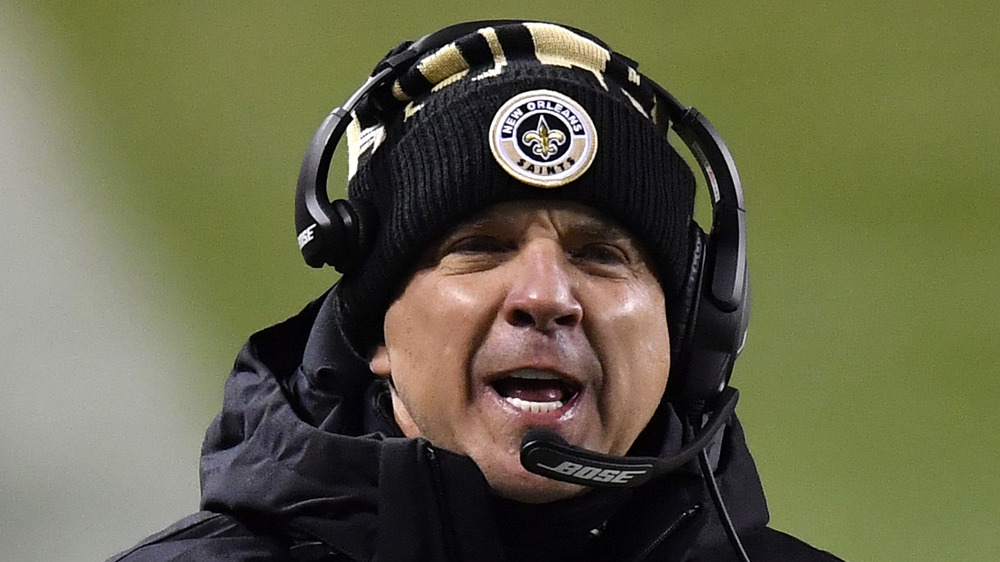 Quinn Harris/Getty Images
Who says there's no romance in football? In November 2019, the New Orleans Saints' head coach Sean Payton surprised his longtime girlfriend, Skylene Montgomery, with a proposal. According to Nola.com, Payton displayed "The Future Mrs. Skylene Payton" on the Mercedes-Benz Superdome Jumbotron during a timeout. 
At the time, Montgomery said, "I thought they were moving in on Vince Vaughn" who was seated right next to her during the game. However, this was not her only surprise. She was later proposed to properly with her family and friends watching. Payton dropped to one knee, dressed in all black as "Johnny and June" played in the background. 
When the ring was displayed, country singer Heidi Newfield said, "That's big enough to fry an egg on." Skylar's mother added, "We were in on it, and Sean had asked our blessing."
But what do we know about the soon-to-be Mrs. Payton? Keep scrolling after the jump for more details.
Skylar Montgomery is a former beauty queen
With the New Orleans Saints being "the heart of New Orleans," the pending nuptials of Sean Payton and Skylene Montgomery is expected to be the celebration of the season. With the tentative New Orleans-style wedding set to happen sometime in March 2021, per Nola.com, the people are growing interested in the backstory of the future Mrs. Payton. 
According to PlayWives.com, Montgomery was Miss West Virginia back in 2008, which may explain her winning smile. In her younger years, she was described as competitive in sport, as her mother Darlene recalled, which Montgomery cosigned. 
She revealed, "I had a bowl-cut haircut and was that kid in messy baggy shorts and a Nike tee who played baseball" — a far cry from her later beauty pageant years. However, her personality was always at the top of her class. "She always gravitated toward the new kids in school," Darlene shared, "to make sure they felt comfortable." 
Sounds like Payton has a winner on his hands. Congratulations to the happy couple!