The Truth About Connie Britton's Experience With Adoption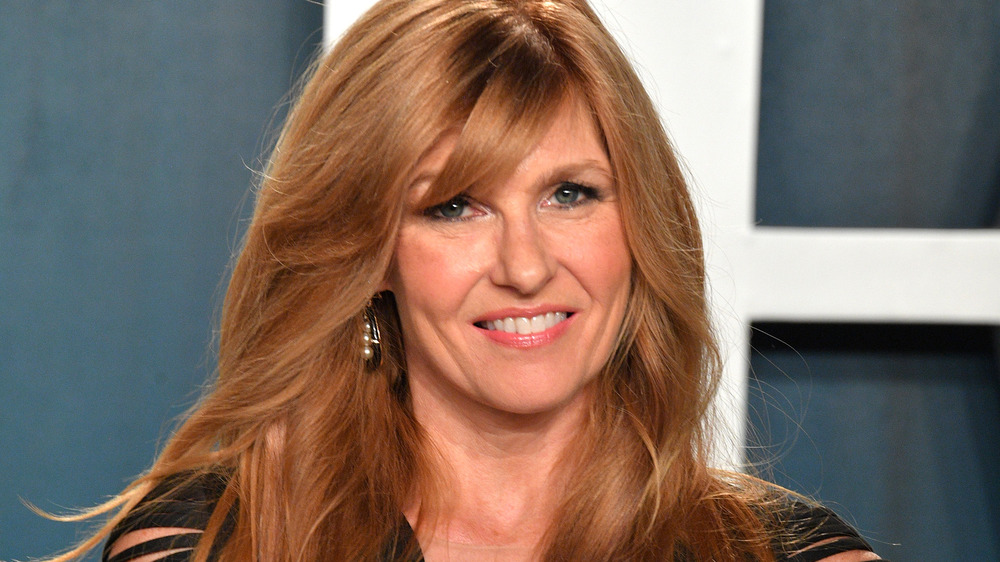 George Pimentel/Getty Images
Some actors are well suited to blockbusters and big screens, while others gravitate towards TV. Connie Britton, who has been acting since the 90s, is the latter. Beginning with her early days on Spin City, all the way up to her time on Bravo's 2018 true-crime series Dirty John, Britton has blessed us with a host of unforgettable characters that we have come to know and love over the course of many seasons.
Among her storied small screen career, Tami Taylor remains one of Britton's most beloved characters she has ever brought to life. From 2006 to 2011, the actress embraced her role as a determined mother and devoted wife in the cult series Friday Night Lights, even nabbing a pair of Emmy nominations in 2010 and 2011. Perhaps because Britton was such a natural on-screen mother, fans assumed that the star was also a mom IRL — but the truth is a little more complicated than that. 
Before her acting career really took off, Britton wed her college sweetheart in 1991 (per Brain-Sharper). According to the outlet, the pair promptly divorced in 1995, and in the 25 years since, Britton never remarried. For the Emmy-nominated star who "knew she'd always wanted to be a mom," according to People, adoption seemed like a natural pathway forward. But what does the FNL alum have to say about her experience with adoption?
Connie Britton was inspired to adopt after her parents passed away
In every tragedy, there is often a silver lining. For Connie Britton, the death of her parents inspired her to expand her own family, as she revealed on a January 2021 episode of Watch What Happens Live. "Both of my parents had passed away within three years and suddenly I was like, 'Oh no, my family is no more,'" Britton opened up to host Andy Cohen (via People). "And I wasn't in a relationship that felt like it was going to be a marriage relationship and so I was like, 'What am I waiting for?' I know I want to adopt, I can do this!"
Ultimately, the decision proved to be one of the best she ever made. After adopting her son Yoby from Ethiopia in 2011 (following a three-year process), Britton has been "thanking [her] lucky stars every day," per People. "It was such a wonderful moment of completion," the Emmy nominee added. "I thought I was going to collapse into a puddle of tears. I was just grinning from ear to ear."
Connie Britton is inspired by her son
Ever since she chose to adopt Yoby, Connie Britton has been inspired by her son's open mindset and love of life. "From the beginning... he has had such an open and curious heart and love of life," the single mom opened up to Andy Cohen on Watch What Happens Live (via People). "He's very into learning and seeing what's happening and seeing what people are doing. I just love that about him. And it immediately opens me up as well."
Britton pays forward that inspiration by doing everything she can to teach her son about the world and where he came from, in particular. Speaking to Us Weekly in 2019, Britton explained that the pair make an effort to return to Africa whenever they can. "We've basically been back every other year since I adopted him, and I'm really committed to that," Britton shared. "We just try to be as vocal about his experience and where he came from as possible in our daily lives. I just want him to know what that world is."
Given her amazing adoption experience with Yoby, does Britton have any plans to adopt a second child? "Yes and no," the Dirty John alum coyly told Us Weekly. We guess that means we will have to wait and see!