Dog The Bounty Hunter Once Bailed Nicolas Cage Out Of Jail. Here's Why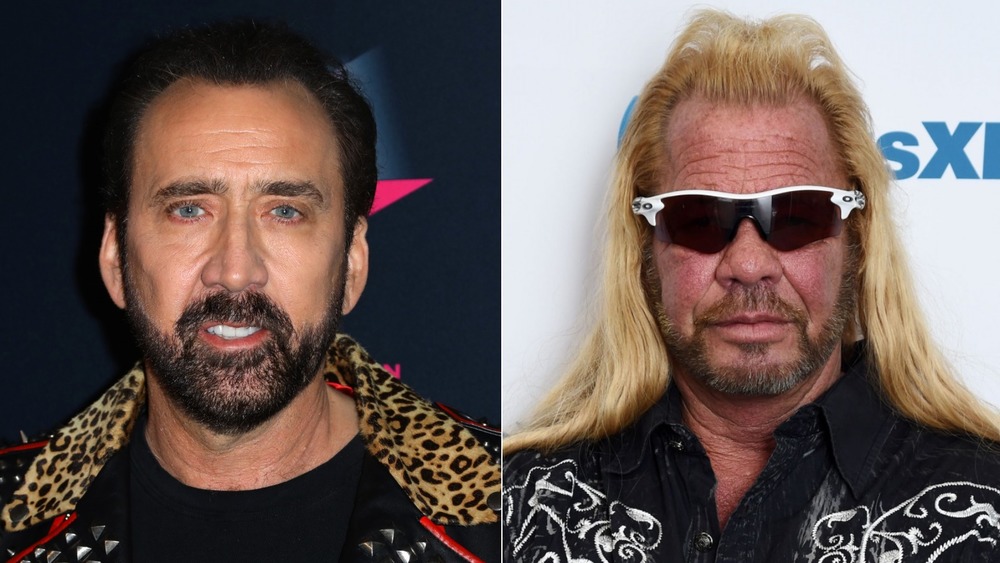 Jc Olivera, Ilya S. Savenok/Getty Images
When you think of Academy Award-winning actor Nicolas Cage, you do not necessarily think of reality TV star Dog the Bounty Hunter, but the two do share an interesting connection.
In fact, it was Duane "Dog" Chapman who helped out the National Treasure star during a particularly difficult time back in 2011. Cage had been arrested in New Orleans for an alleged drunken outburst against his now ex-wife Alice Kim. According to ABC News, the Con Air actor was seen grabbing Kim's arm and dragging her to what he believed was their rental property in the French Quarters. A local street performer told People, "Apparently he had mistaken the house of my neighbors for the other house up the block that he is actually renting. His wife was trying to persuade him from disturbing the elderly couple who do in fact live in that house."
Cage then allegedly struck a bunch of nearby cars before trying to get into a cab and yelling after he was confronted by police. TMZ reports that, while cops tried to tell the actor to go home, Cage repeatedly said, "Why don't you just arrest me?" He eventually was arrested on domestic violence, disturbing the peace, and public drunkenness charges. Yet, despite being taken into custody, an inmate says the actor was never behind bars. "He was drunk. He wasn't in a cell, he was behind the counter with all the other officers."
Yet, the Ghost Rider star still needed to make bail — and that's when Dog stepped in.
Dog the Bounty Hunter bailed Nicolas Cage out of jail because he's a fan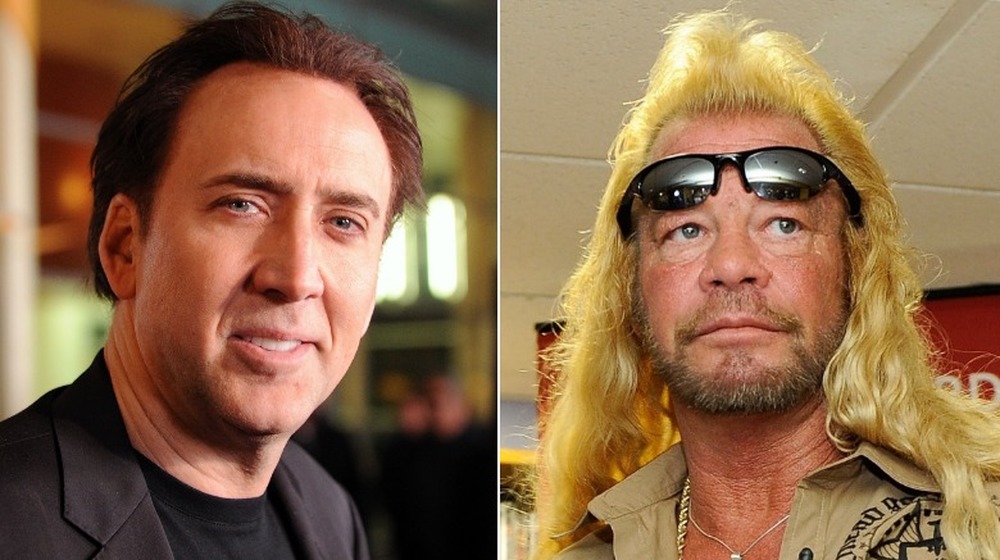 Jason Merritt/term, Jemal Countess/Getty Images
Dog the Bounty Hunter star Duane "Dog" Chapman said he bailed out Leaving Las Vegas actor Nicolas Cage because he is a "truly dedicated fan." And he was apparently dedicated enough to not only post Cage's $11,000 bond, but to also "respect his privacy."
In a statement to E!, Dog said, "I am a truly dedicated fan of Mr. Cage and will not be granting any interviews about my client as I wish to respect his privacy. I performed my duties as a bail bondsman and not in connection with our show." Dog went on to explain more about why he bailed out Cage, saying, "This is what I do for a living. There are two sides of my job: I release my clients after they have been arrested; and pick them up if they don't show up in court."
Following Cage's release, Dog's now late wife Beth Chapman tweeted (via E!), "My guy just walked out of the jail damn new Orleans 8 hours holy cow that's a lot of time toProcess one guy." Cage remained mum. According to BBC, his lawyer later explained, "We are pleased that the process led to the correct result, despite the inaccurate media reports, and that Nick has been cleared and all charges have been dropped."
While it is unclear if Dog and Cage ever even met before, it appears the actor will always have the popular bounty hunter on his side.