Melania Trump Broke This First Lady Tradition For The First Time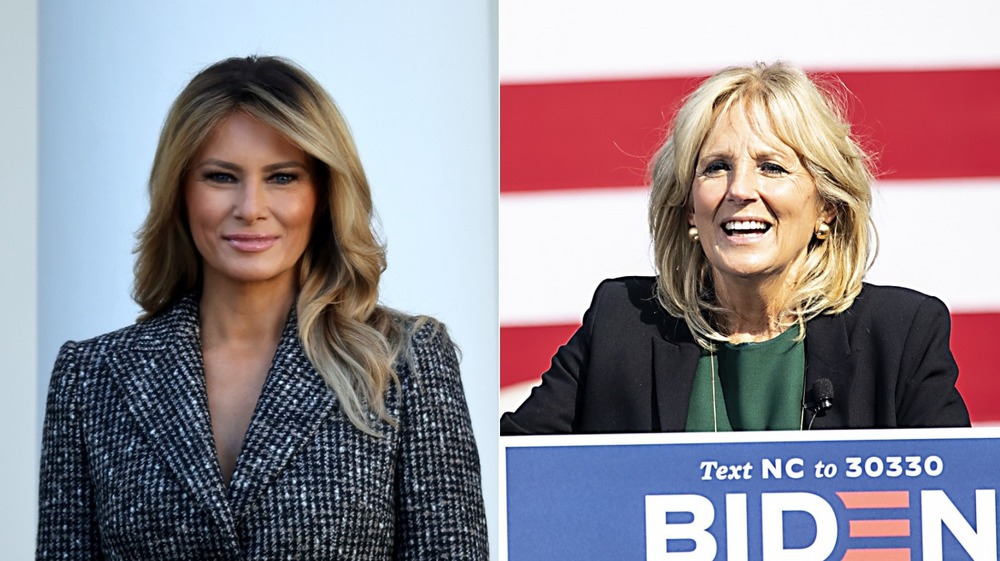 Chip Somodevilla, Jeff Hahne/Getty Images
Melania Trump has broken a long-standing first lady tradition by not inviting Jill Biden for a tour of the White House. As reported by CNN, Melania has snubbed the incoming first lady by not giving her a walk-through of the private living quarters on the second and third floors of the White House.
This first lady tradition is meant to serve as a sign of respect between the two presidencies by welcoming the incoming first lady to her new home. It usually happens after the current president invites the incoming president to a meeting in the Oval Office, however, President Donald Trump has not yet invited President-elect Joe Biden. According to the Daily Mail, Melania and Jill last saw each other at the final presidential debate in October 2020 — but didn't interact.
There have been some notably disastrous events in recent weeks, including the attempted Capital coup by pro-Trump supporters and President Trump's Twitter ban. But even so, the first lady tradition has always pulled through — until now. But it's not to say that the unwritten custom has always been smooth sailing between the two ladies.
The 68-year-old tradition continued under other politically tense times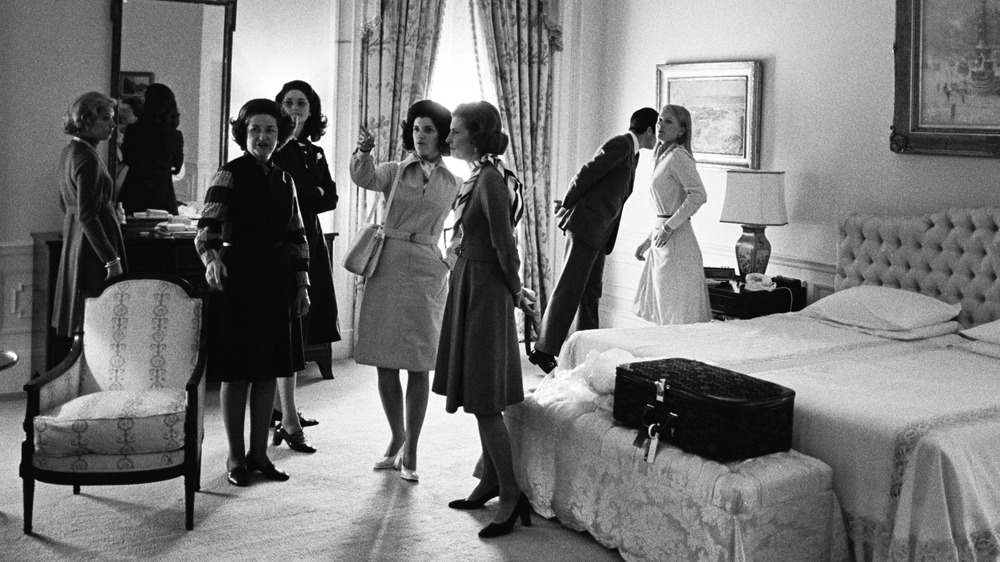 David Hume Kennerly/Getty Images
This first lady tradition began when Bess Truman, the 33rd First Lady, hosted her successor Mamie Eisenhower back in 1952, per Business Insider. Since then, 11 first ladies have been shown around the White House. While some of these occasions allowed close friendships to form, like when Laura Bush invited Michelle Obama for two tours (one privately and another with both her daughters and the Obamas), others have been more awkward.
Notably, when Betty Ford gave her tour for Rosalynn Carter after the 1976 election. Ford was so furious when her husband lost the election that she initially canceled her first lady tour for Rosalynn twice, saying she and her husband "didn't deserve to be there," according to CNN. However, Ford eventually pulled through, providing — according to Rosalynn — a "brief, but cordial" walk-through. Similarly, in 1980 when Jimmy Carter controversially lost to Ronald Reagan, Rosalynn still dutifully chaperoned Nancy Reagan around the private quarters, even showing off the White House's American paintings. 
And when it came to President Donald Trump's transition into office, Michelle Obama invited Melania Trump to the White House, even after Donald questioned Barack Obama's citizenship. Despite some difficult transitions and tours, every president and first lady accepted the election outcome — unlike the Trumps. Like Melania being the first first lady to not provide a tour of the White House, President Trump will also be the first president to not attend his successor's inauguration in 150 years when Biden gets sworn in on Jan. 20, 2021.