Inside Betty White And Ryan Reynolds' Friendship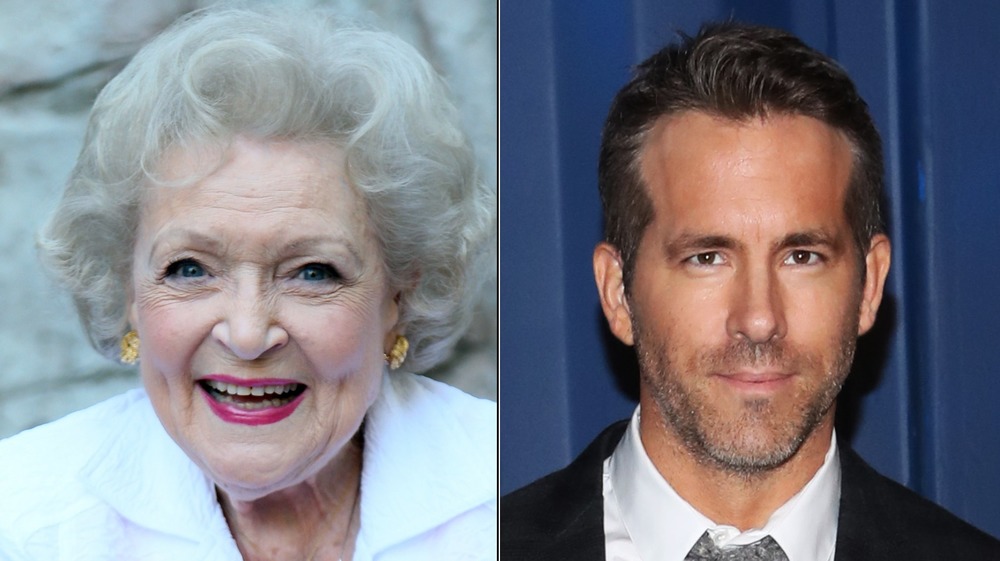 David Livingston, Cindy Ord/Getty Images
Hollywood superstar Ryan Reynolds is known for his self-effacing social media antics with his friends (see: him and Hugh Jackman). In January 2021, the Deadpool star was at it again when revealed his playful kinship with screen legend Betty White's by wishing the Golden Girls star a Happy Birthday in an Instagram story, reported the Daily Mail.
Reynolds shared a tongue-in-cheek behind-the-scenes "clip" from The Proposal, the 2009 comedy in which he co-starred with White and Sandra Bullock, in which he appears to be downright irate with White. 'What is Betty doing here? She's got an issue with me,' he deadpanned to Bullock, who replied in a very chipper Sandra-Bullock tone, "What is your problem with Betty? She's like the nicest person on the planet." After Bullock leaves, White and Reynolds awkwardly sit before he snaps suddenly, "'You seem like an adorable, sweet old lady on the outside, but on the inside, you're like this seething demon. You hear me? Why don't you suck a hot c***? That's right everybody, I told Betty White to go such a hot c***!"
Reynolds, of course, captioned the video with the sincere wish, 'We made this 12 years ago. Betty turns 99 today. But she is [100 emoji] the funniest person on the planet."
Reynolds and White, however, have a history of social media "feuding" long prior to this video's release. Read on to find out more about the comedic pair's real-life chemistry.
Ryan Reynolds loves joking with Betty White on her birthday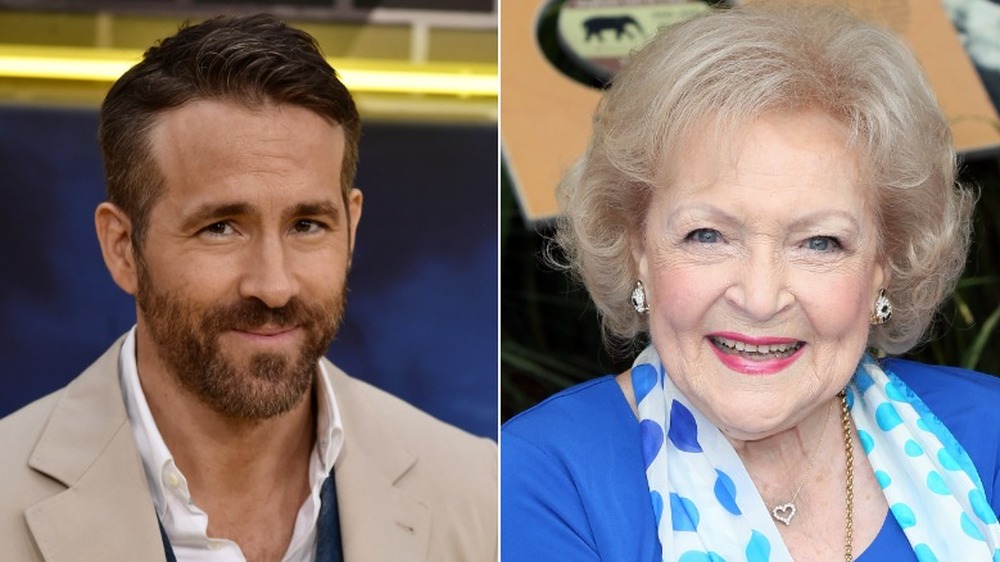 Steven Ferdman, David Livingston/Getty Images
"I don't usually post about ex-girlfriends. But Betty's special. Happy Birthday to the one and only, @bettymwhite," Ryan Reynolds wrote on his Instagram in January 2019 for Betty White's 97th birthday. The celebrated icon is no stranger to Reynolds' brand of sardonic humor directed at friends. When Reynolds' mega-anticipated superhero vehicle Deadpool premiered in 2016, White took to her Facebook page to share a few expletive-laden thoughts she had after viewing the film.
"Hello, I just saw the most anticipated movie of the year," White said in her Facebook video. "It was glorious. Once in a generation, a movie comes along that your whole family will love. If your family is a [expletive] group of [expletive]-kissing inbreds," she jocularly asserted and added a choice observation about her friend's physique, musing "Plus, Ryan Reynolds looks so f***ing handsome in his red leather suit."
In January 2020 for her 98th birthday, Reynolds and Bullock gathered to sing White "Happy Birthday" in a Twitter video, an effort that derailed into bickering over which one cherished White more and Reynolds eventually in tears. "What does Sandy do for you every year?" asked Reynolds, noting, "Does she like, show up and hand-deliver flowers to you wearing nothing but black socks and a dozen gold bracelets, just like you requested? Doubt it." It sure sounds fun to be a friend of Ryan Reynolds and Betty White!