Who Are Betty White's Ex-Husbands?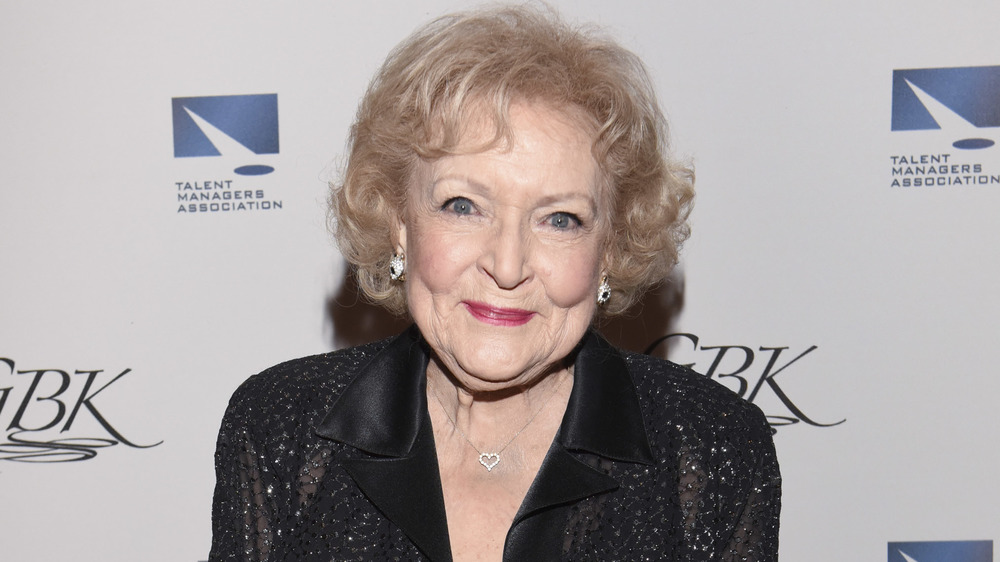 Vivien Killilea/Getty Images
With more than eight decades in Hollywood, Betty White has had a career and life that many only dream about. Being born in Illinois, but raised in Los Angeles helped set the stage for White's entrance into showbiz in the 1930s, Biography reported. By the 1950s, she became the first woman to produce a sitcom when she starred on her show Life with Elizabeth, via Distractify. She continued to grow her celebrity by appearing on a number of talk, game, and variety shows of that era.
In the 1970s, she continued to represent the small percentage of women dominating television when she co-starred on The Mary Tyler Moore Show. The show was the first of its kind to follow the life of a single working woman making a life on her own, via IMDb. In her later years, she continued to rise to fame in the late 1980s and early 1990s as one of the loveable characters on The Golden Girls. On the cusp of her 90s, White joined the cast of Hot in Cleveland in 2010 at age 88. In 2014, and with more than 70 years in showbiz under her belt, White earned the Guinness World Record for Longest TV career for an Entertainer (Female). But dedicating so many years of her life to her career came with a big sacrifice to her personal life.
Of Betty White's three marriages, Allen Ludden was the love of her life
David Livingston/Getty Images
Betty White has no children despite being married three times. Her first marriage was in 1945 to WWII veteran pilot Dick Barker, Distractify reported. But, after getting bit by the "show biz bug" in high school (via National Public Radio), White knew life on Barker's Ohio chicken farm was not how she wanted to live. After a few months, she left the farm and filed for divorce the same year. 
Her second marriage was more up her alley career-wise. White eloped with Hollywood agent Lane Allen in 1947. But after two years of marriage, they went their separate ways. In the 1960s, White was earning a living through regular TV appearances. It was during her time on the game show Password when she struck up a romance with the show's host, Allen Ludden. After turning down his proposal twice, she accepted and the two wed in Las Vegas in June 1963. While she never had any children of her own, White helped to raise Ludden's three kids from his previous marriage. The two remained married until Ludden's death in 1981. 
In June 2012, White opened up about Ludden being the love of her life and never dating anyone seriously after his death. "When you have the best who needs the rest," she told CBS News. "It was very special. But that doesn't keep you from having somebody and going out and having dates and ... Robert Redford never calls."