The Untold Truth Of Tony Goldwyn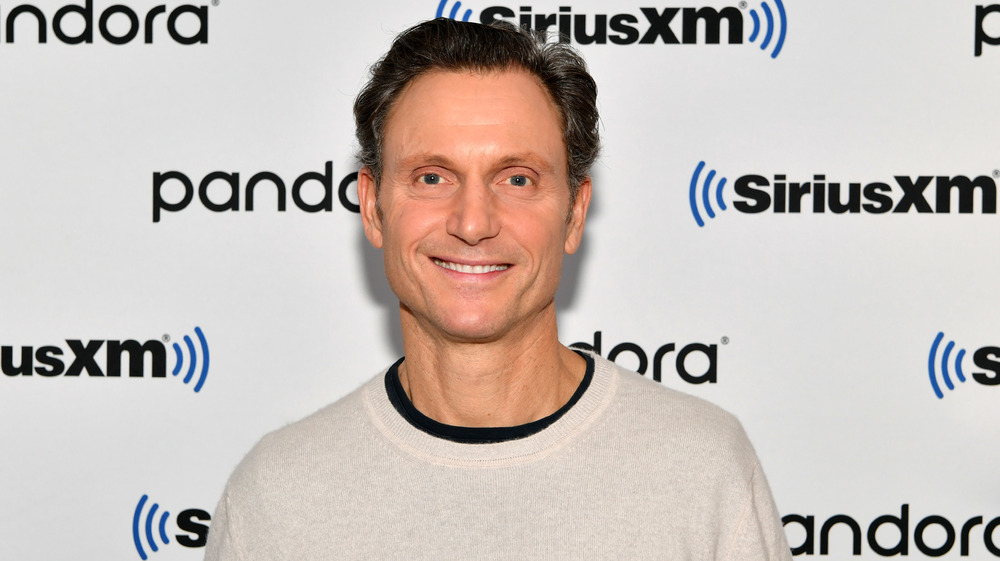 Slaven Vlasic/Getty Images
If anyone knows a scandal, it's Tony Goldwyn, former star of, well, Scandal. On the Shonda Rhimes hit, Goldwyn played President Fitz, an unhappily married head of state, desperately in love with Olivia Pope, his political advisor — very scandalous.
OK, enough Scandal jokes. Though he may play a scandal maker on TV, Goldwyn's personal life is remarkably ordinary. In real life, Goldwyn is a happily married father of two. He met his wife in his early 20s, and today the two make up one seriously impressive Hollywood power couple. See what me we mean? Not exactly a scandal maker.
Goldwyn's proclivity for the quiet life doesn't mean he's the quiet type, though. Politically, Goldwyn is quite active. In fact, in 2021, Scandal fans were delighted by the news that Goldwyn would be joining the virtual presidential inauguration parade in January to celebrate Joe Biden's election. Even better was the news that he wouldn't just be a part of the parade; he'd be hosting the entire event. Other celebrities slated to join include Jon Stewart and the New Radicals, per The Hollywood Reporter.
So you know, Goldwyn is a quiet guy who likes to get involved in politics, but what else do you need to know? Read on to find out.
Tony Goldwyn is good friends with his Scandal costar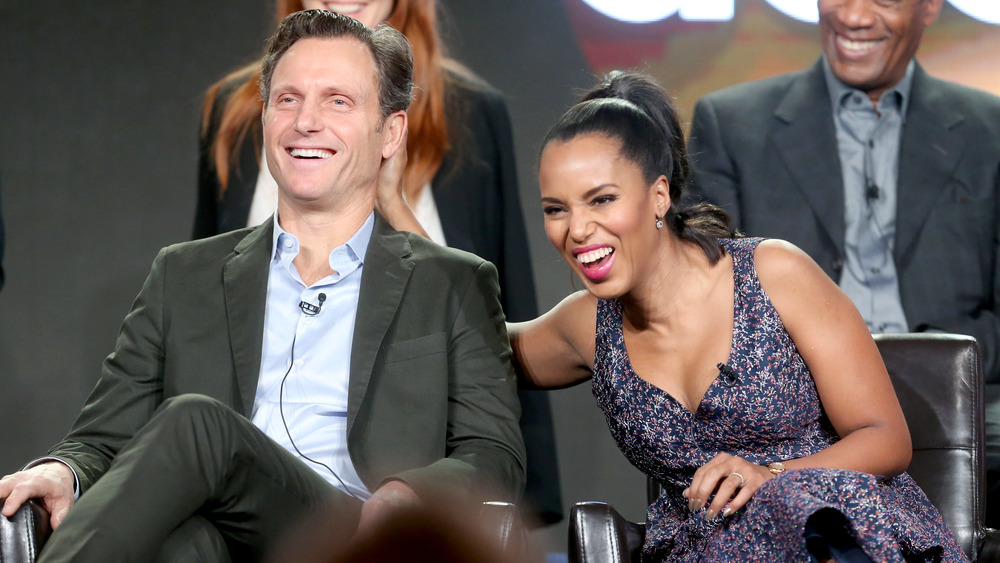 Frederick M. Brown/Getty Images
Scandal fans rejoice: it turns out that Tony Goldwyn and Kerry Washington are just as close off screen as they are on screen ... OK not like that, but they're still good friends. Goldwyn and Washington hit it off right away and grew to be the best of friends.
They are so close that Washington once described the more intimate scenes between their respective characters as "weird" due to their friendship and the friendship between their spouses. "We have such a mutual respect for each other," Washington said at a Sirius XM event in 2015, "and we're very clear about our boundaries; what each other's comfortable with and uncomfortable with. So, there's also a nice level of trust that you can knock it out and move on," she added, as reported by Entertainment Weekly.
Though Scandal has come and gone, Goldwyn and Washington still find time to hang out. Case in point, he surprised her at the premiere of her 2018 play, American Son, and snapped a quick selfie with a congratulatory caption.
Goldwyn and Washington still share a love of the TV show that made them famous. In a since-deleted Instagram Live, Goldwyn told his co-star the theme music still makes him emotional. "That music, it still makes me cry when I hear that," he reportedly said, per The Daily Mail.