Inside Roger Goodell's Top Scandals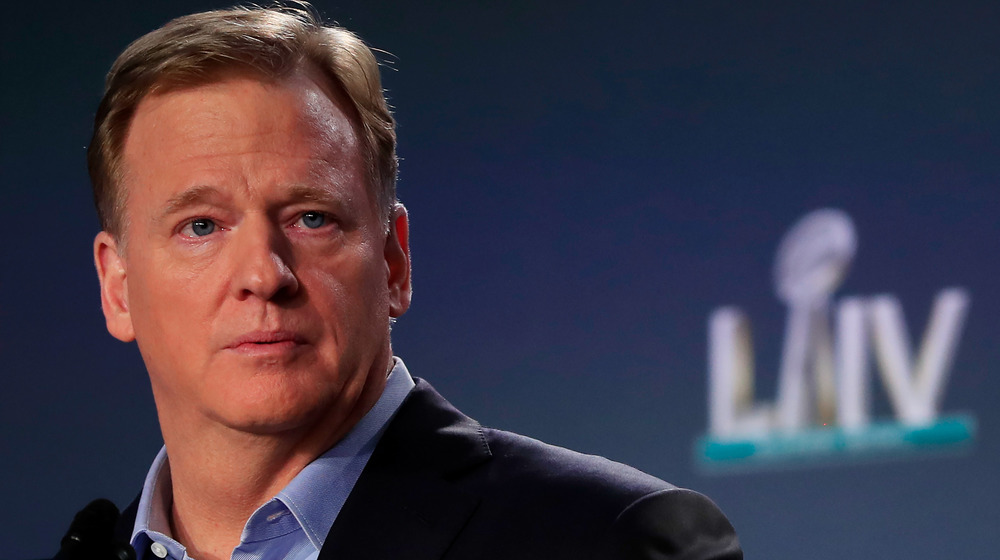 Cliff Hawkins/Getty Images
Roger Goodell has been dubbed the most powerful person in sports by Sports Illustrated, and it's hard to argue the decision. Since becoming commissioner of the NFL in 2006, the New York native began implementing new policies to mold the league to meet his vision. According to Bleacher Report, Goodell's goal for the league was to "protect the integrity of the game while making it safer."
Some of his first changes to the NFL included a code of conduct for players and a new penalty for helmet-to-helmet contact, per Bleacher Report. Tennessee Titans cornerback Adam 'Pacman' Jones was suspended shortly after the new code of conduct was implemented in 2007 for his questionable personal activities, including multiple arrests and pending charges for a shooting in Las Vegas in which he was involved, per Reuters. "We must protect the integrity of the NFL," Goodell said in a statement at the time. "The highest standards of conduct must be met by everyone in the NFL because it is a privilege to represent the NFL, not a right."
While Goodell seemed to have good intentions behind his new rules, he did not always follow through with his policies, which resulted in widespread backlash from football fans. Let's take a stroll through Roger Goodell's top scandals.
Roger Goodell was forced to change his ruling in Ray Rice's scandal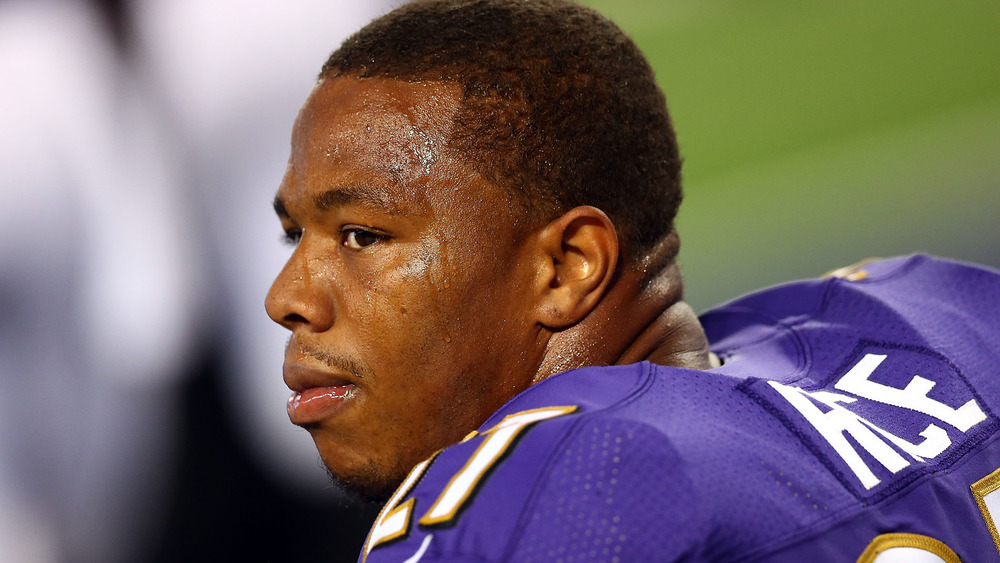 Ronald Martinez/Getty Images
Possibly the biggest Roger Goodell scandal that comes to mind took place in the wake of Baltimore Ravens running back Ray Rice's assault of his then-girlfriend (now-wife) Janay Palmer. While at the Revel Casino in Atlantic City, N.J. in 2014, Rice and Palmer became embroiled in a fight, which resulted in the football star punching Palmer and knocking her out, per video obtained by TMZ. The video shows Rice dragging Palmer's unconscious body out of the elevator. Rice was later arrested and charged for assault, per The Baltimore Sun. 
Prior to the video surfacing, Goodell approved of Rice enduring a two-game suspension for the altercation. However, after TMZ showed the surveillance video, Goodell was heavily criticized for giving Rice a "slap on the wrist" for his actions. "It sends a message to young women and to men that it is okay to do this, and the consequences will not even be a slap on the wrist," Judy Harris Kluger, an executive director for a New York-based organization that helps survivors of domestic abuse, told Newsday in 2014. Goodell cracked under pressure and suspended Rice from the NFL indefinitely.
People aren't buying Roger Goodell's support for Black Lives Matter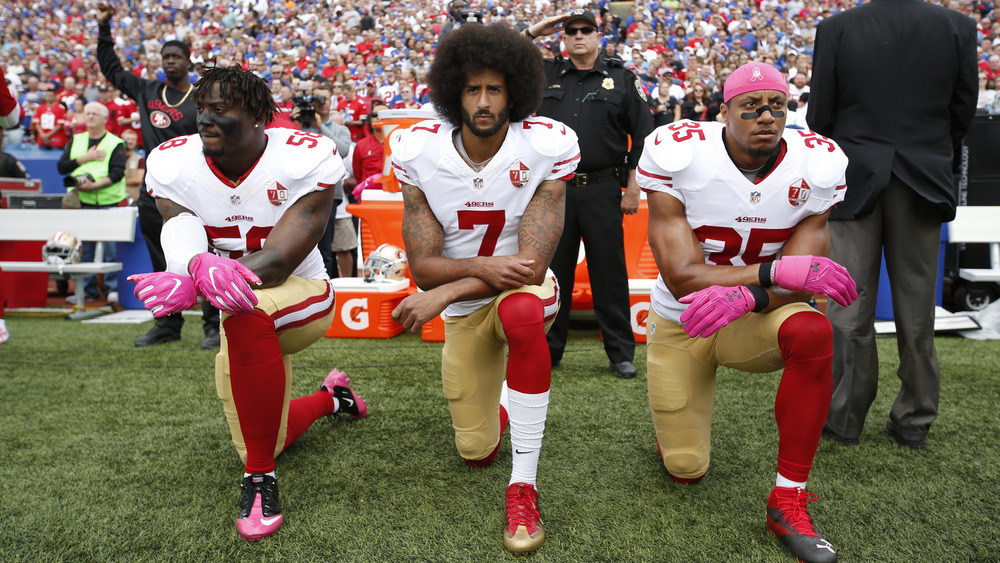 Michael Zagaris/Getty Images
Colin Kaepernick was seemingly forced out of the NFL after he protested racial injustice and police brutality in America by kneeling during the traditional singing of the "Star-Spangled Banner" before a preseason game in September 2016. Prior to kneeling, Kaepernick told reporters that he was "not going to stand up to show pride in a flag for a country that oppresses black people and people of color."
He continued to protest during the season along with some supporters, but received fierce criticism for his actions. Even Roger Goodell said he did not "necessarily agree" with the form of protest, per AP News. Following the season, Kaepernick opted out of his contract with the San Francisco 49ers, and was never signed to an NFL team again. 
While there were mixed emotions about the topic in 2016, several events since have caused many organizations, including the NFL, to speak out on social injustice and police brutality. Following the reignited Black Lives Matter movement in America after George Floyd was suffocated in the hands of police, the NFL released a statement of solidarity with those who stand with the movement. Unfortunately, the statement was too little too late, and fans came after Goodell for being hypocritical for not caring when Kaepernick first protested. Goodell has since admitted to wishing he listened to Kaepernick.