How Much Is Roger Goodell Worth?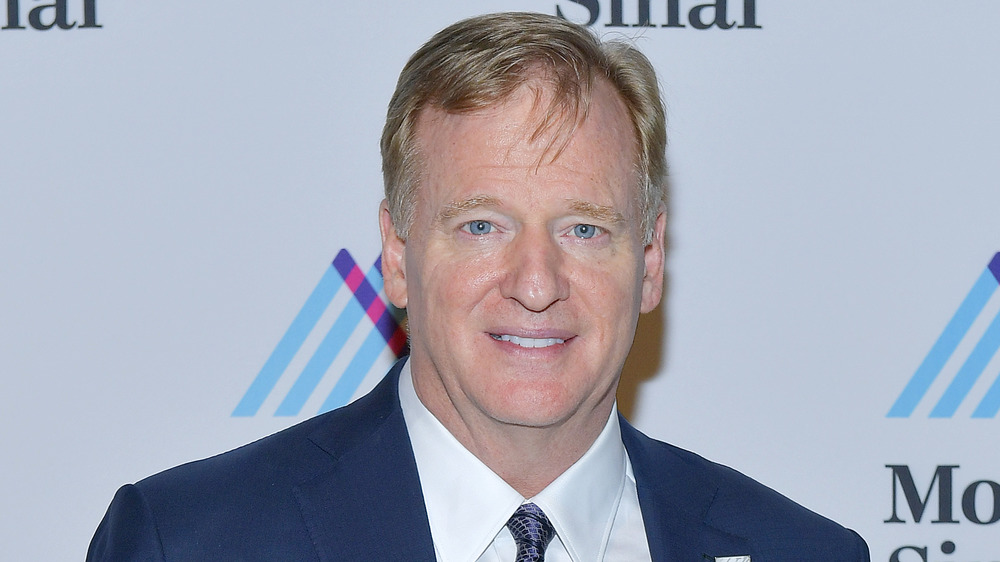 Roy Rochlin/Getty Images
Sitting as the most profitable sports league in the world, the NFL is an undeniably strong American brand with loyal fans who will show up to games in rain, snow, and even during a pandemic. Behind the NFL is commissioner Roger Goodell, who took charge in 2006 after working his way up the corporate ladder from his first position in the company as an unpaid intern, as reported by his Celebrity Net Worth profile. Since landing the role and becoming arguably the most powerful man in sports, he has focused on his mission to "protect the integrity of the game while making it safer," according to Bleacher Report.
However, Goodell's time as NFL commissioner has been met with a considerable amount of backlash from NFL players and fans alike. Possibly his most notorious criticism came from his handling of Ray Rice's NFL career after TMZ released a video of him punching his then-girlfriend unconscious. More scandals include his handling of 2015's "Deflategate" and of Colin Kaepernick's kneeling protest. 
Despite the public's unfavorable opinion of him, there's no doubt that he has done wonders for the league financially. While commissioner, ESPN extended its "Monday Night Football" deal with the NFL, which totaled $15.2 billion, through 2021, per The New York Times. If he's making the NFL that much for one night of football each week, it's easy to think how much the NFL — and Roger Goodell himself — brings in annually. Keep reading to find out how much Roger Goodell is worth.
Roger Goodell makes the most out of anyone in the NFL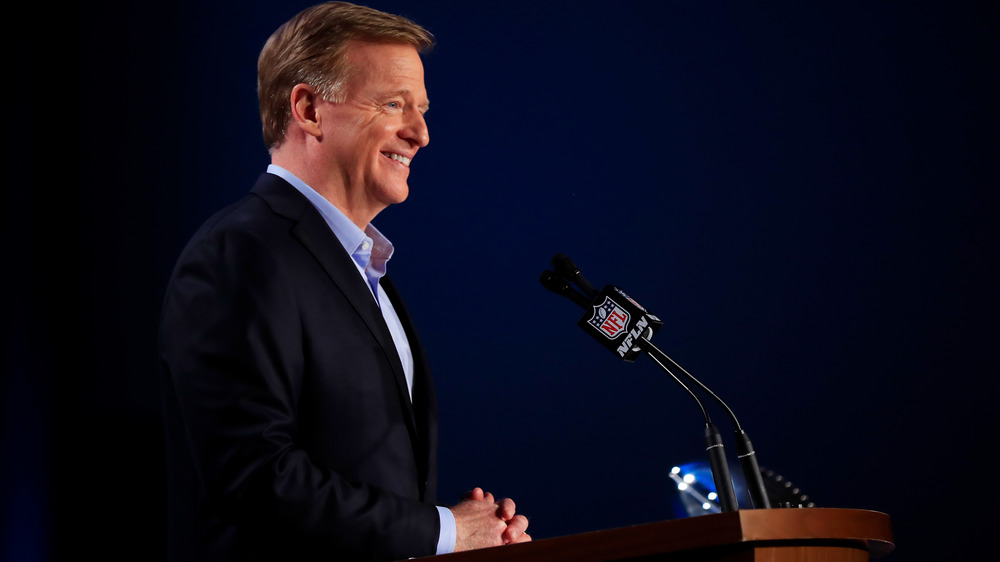 Cliff Hawkins/Getty Images
Unsurprisingly, as head of the NFL, Roger Goodell makes the most out of any employee of the league — including players. According to Forbes, he signed an extension with the NFL in 2017 which gave him a hefty $40 million per year paycheck, with the clause that he must reach certain goals that were not outlined publicly. By the time he finalized the new deal, the publication estimated that he had made about $212.5 million during his first decade as commissioner. In comparison, the most popular and most valuable players don't make that much on a yearly basis from the NFL. According to Celebrity Net Worth, six-time super bowl champion Tom Brady's annual salary is $30 million, Green Bay Packers quarterback Aaron Rodgers makes $20 million, and New Orleans Saints quarterback Drew Brees rakes in $22 million each year. 
According to Celebrity Net Worth, Goodell has a net worth of $175 million. However, that may be dropping in the future considering he gave up his entire NFL salary for the 2020 – 2021 football season due to paycheck cuts and furloughs throughout the league as a result of the coronavirus pandemic, per USA Today. However, considering he already has over $100 million in the bank, it seems like he can weather the pandemic.