Kourtney Kardashian And Scott Disick Are Living Together Again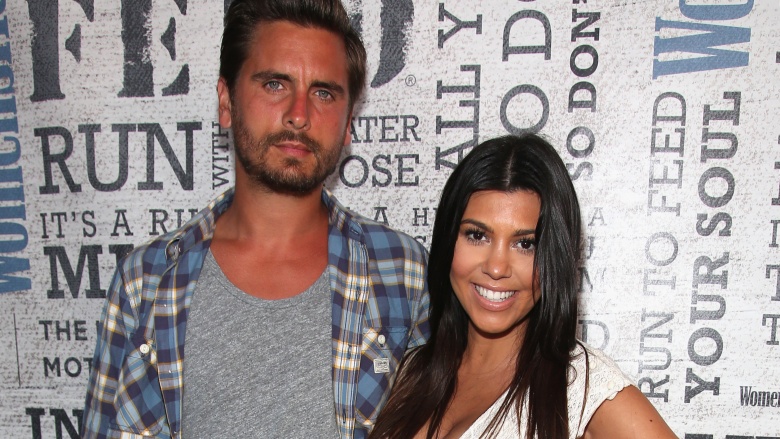 Getty Images
Stop us if you've heard this one before: Kourtney Kardashian and Scott Disick are back together.
A source told People that the very on-again-off-again couple have reunited for the umpteenth time and are currently living together. More so, Kardashian, 37, "seems very happy" with Disick, 33. The pair are so happy, in fact, that they're considering adding to their brood, with the source noting that Kardashian "definitely wants four kids."
The couple currently share kids Mason, 6, Penelope, 4, and Reign, 23 months.
An insider told Us Weekly, "Scott has been staying at Kourtney's house with her and the kids for the last few weeks. He has really cleaned up his act and been well behaved. Kourtney is always skeptical about how long it will last, but she has been very encouraged to see how much he has been trying." The source added, "They are planning to do everything together over the holidays with the kids and will see what happens. For now, they are taking little steps in the right direction."
The reconciliation didn't come easily for Disick. Kardashian reportedly dumped him in July 2015 after he was busted partying and cozying up to ex Chloe Bartoli. Kardashian previously told Cosmopolitan, "The idea of having my family together is amazing, but it's not the way things ended up. They may end up there. I'm not sure. To me, it's in God's hands. If it's meant to be, then things will line up." She added, "We definitely tried for a long time. But relationships are exhausting! Being able to focus on the kids and me right now is good. We say to each other all the time, 'I'm the coolest ex-girlfriend/baby mama you could ever ask for!'"
A weekend away in Cabo San Lucas, Mexico, may have helped speed things along for the couple.
"Scott set it all up and [it] was a way to try and make things work again with Kourtney," an insider told People. "He surprised her and whisked her away on this trip." Another source added that the pair seemed "very close and happy" while on their getaway.