How Joe Biden's Dog Got His Own Presidential Treatment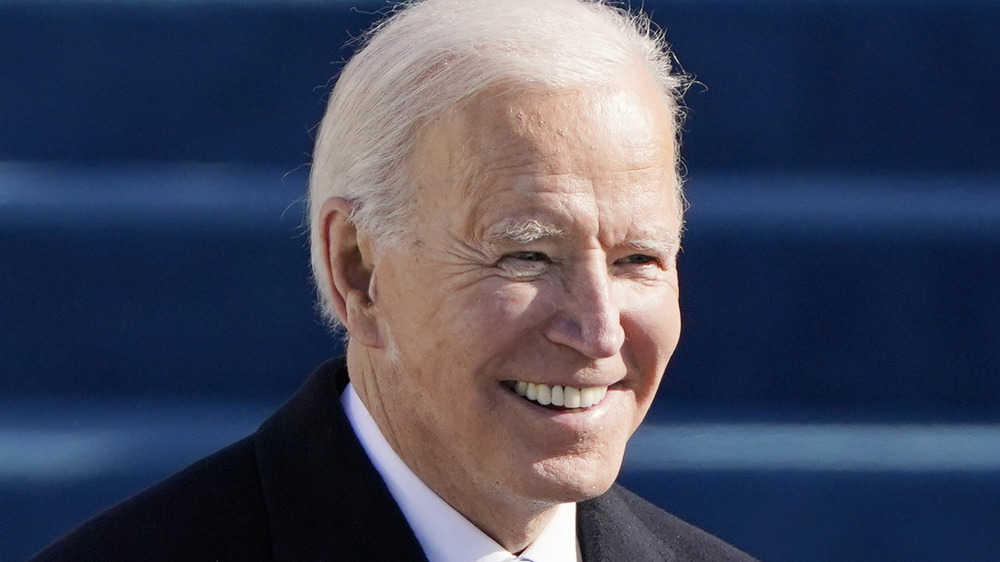 Pool/Getty Images
Major Biden, one of President Joe Biden's two German Shepherds, is one of the few rescue dogs to ever grace the inside of the White House, per Harper's Bazaar. He and President Biden's other dog, Champ, are the first canines to set up residence at 1600 Pennsylvania Avenue since President Barack Obama's Portugese Water Dogs, Sunny and Bo, left in 2017. And according to ABC News, Champ himself — who has been with the Bidens since 2008 — is well-acquainted with the White House, having lived there during Biden's two terms as the vice president to President Obama.
Major, however, has not yet lived in the White House. The rescue pup, adopted in 2018 by the Bidens from the Delaware Humane Association, will be a breath of fresh air in a long line of presidential dogs acquired from breeders. As CNN pointed out, Major will not be the first rescue dog to belong to a sitting President. According to the LBJ Presidential Library, President Lyndon B. Johnson's daughter found and rescued a mixed-breed dog at a gas station in 1966, giving that lucky mutt the honorable title.
Nevertheless, Major is still the first rescue canine representative of the Oval Office in a while. Read on to find out the touching way in which he received his own White House welcome.
Major Biden had his own 'indoguration' ceremony
In honor of Major Biden's move into the White House, the Delaware Humane Assocation (DHA) threw a virtual "indoguration" on Jan. 17, 2021, according to People. The Zoom-hosted event was a fundraiser to raise both money and awareness for the plight of shelter dogs like Major. The executive director of the DHA, Patrick Carroll, told The New York Times, "[Major] shows the real possibilities for what could happen for all the great dogs who need homes out there." 
The virtual celebration — which highlighted Major's triumphant story from being a young shelter puppy to a presidential pet — was attended by over 7,400 people, including celebrity guests like singer Josh Groban. It also raised over $200,000 for the DHA, reported People. "It means everything to us because it shines a light on the work we do," Carroll said during the fundraiser. "It shows that shelters are a wonderful place to adopt." According to the magazine, the DHA plans to use its donations to help strained pet owners maintain the care of their animals throughout the coronavirus pandemic as well as continue to find shelter animals their suitable homes.
As for Major himself, his presence in the White House and by President Biden's side at public events will surely go a long way to promote the adoption of pets from shelters!