This Is Why Twitter Is Comparing Kamala Harris, Michelle Obama, And Jill Biden To Destiny's Child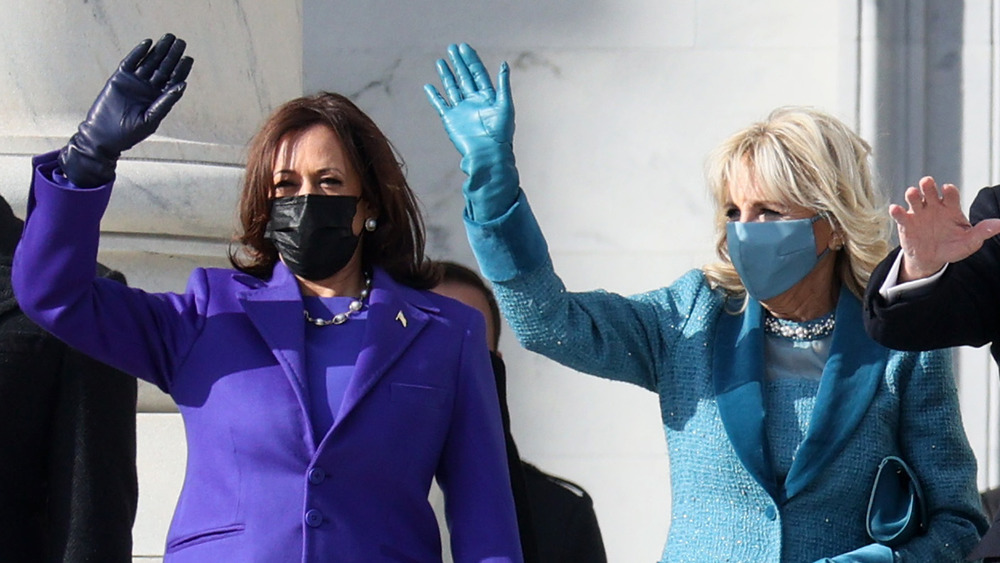 Joe Raedle/Getty Images
Say my name, say my name... and by that we mean, Madame Vice President Kamala Harris, first lady Dr. Jill Biden, and former first lady Michelle Obama.
The leading ladies of the 2021 inauguration had fashion connoisseurs' tongues wagging all over social media as each of them donned strikingly similar head-to-toe monochromatic lewks. While Harris looked royal in a purple dress and coat, Biden opted for an "ocean blue wool tweed coat and dress by Alexandra O'Neill," as reported by Vanity Fair. Not to be outdone, Obama arrived in a wine-colored sweater and pants combo designed by Sergio Hudson topped with a cashmere coat in the same color. She accentuated the polished look with a gold belt neatly wrapped around her waist. 
Immediately, onlookers had questions. Did they plan to wear similar outfits? Was Tina Knowles called in to dress them like she used to do for the iconic girl group Destiny's Child? (Never forget those legendary coordinated outfits that always achieved the perfect balance of cohesiveness without being too matchy-matchy.) And lastly, does this fierce trio really share a group chat, cleverly titled "Democracy's Child?" Many Twitter users seem to think so. Keep reading after the jump to find out why!
Jill, Kamala, and Michelle channelled Beyoncé, Kelly, and Michelle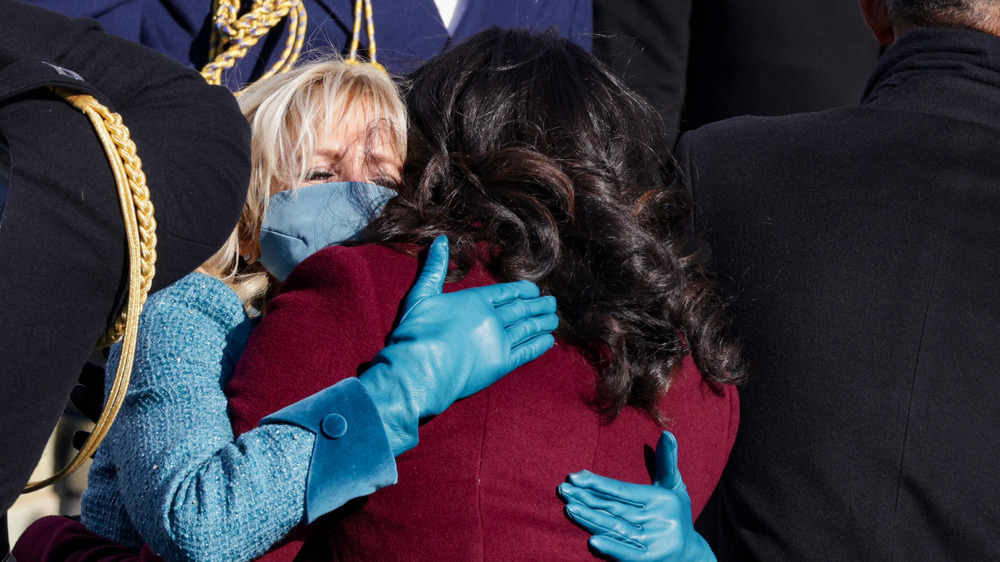 Alex Wong/Getty Images
After bearing witness to the ladies of the hour and their coordinating fashion statements, one Twitter user seemingly couldn't help himself. Replying to images of Madame Vice President Kamala Harris with Jill Biden and former President Barack Obama with former first lady Michelle Obama, the tweeter wrote, "visions of their group chat named 'Democracy's Child.'" Ah-ha! Maybe that's how they turned up wearing similar fashions! Can you even imagine Harris sending out a message instructing her girl squad members to wear pink on Wednesday, a.k.a. Inauguration Day? We can only WISH for that kind of magic! 
Another user tweeted a reply to a photo stating that if they had kids they would "tell them this was 'Destiny's Child.'" Fair enough... One well-meaning Twitter user compared the trio to the Jonas Brothers (they share a love for jewel-toned ensembles) and was immediately corrected. "Destiny's Child," another user jokingly chided back. 
Another Twitter user, however, quoted Elle Woods in an effort to honor the history that the three women made on inauguration day. "Michelle Obama, Kamala Harris & Jill Biden really said, 'what, like it's hard?'" she penned in the tweet. Take that Warner!
While it's quite the honor to be compared to the formidable Destiny's Child group or the fearless fictional character that is Elle Woods, something tells us these women need not be compared to anyone else at all. They are powerful enough all on their own.