Sonia Sotomayor's Inauguration Day Gaffe Is Causing A Stir
Paul Marotta/Getty Images
Kamala Harris made history at the Jan. 20, 2021 Inauguration Ceremony as the first woman to be sworn in as the Vice President of the United States. She is also the first person of color to be vice president, in addition to being the first Black American and the first Indian American to serve in the role, according to the BBC.
Harris was sworn in as vice president by America's first Latina Supreme Court Justice, Sonia Sotomayor. Harris chose Sotomayor to administer the oath because she viewed her as "an ideological sister who has journeyed the same path, littered with familiar obstacles, to mark a turn in the direction of the country," as reported by CNN. The outlet also revealed that Harris was "inspired by Sotomayor's legacy."
Although Harris and Sotomayor's only exchanged a few words before the former held her hand to the bible and recited the oath, viewers watching couldn't help notice the latter committing a gaffe on stage. Here's what happened. 
Sonia Sotomayor mispronounced Kamala Harris's name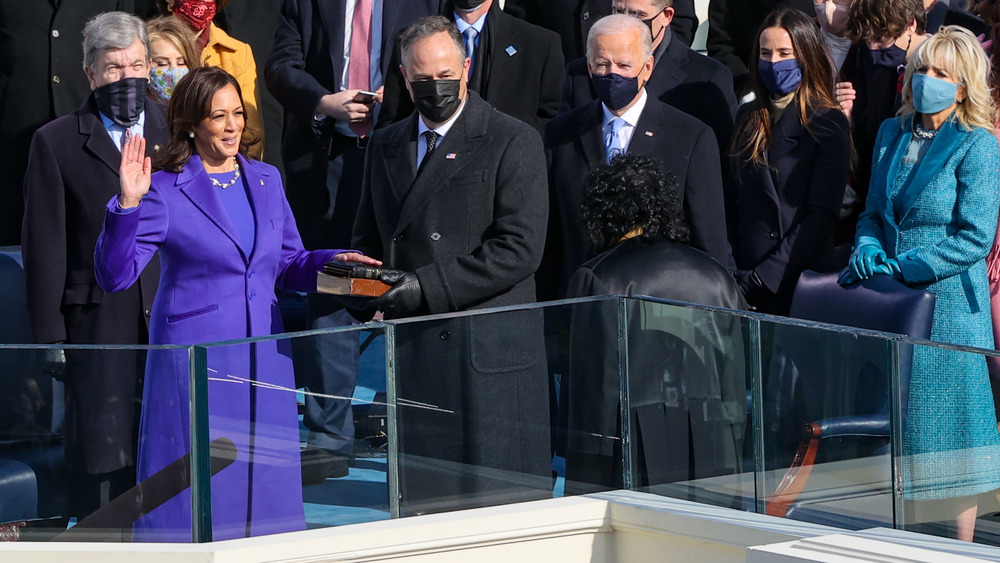 Alex Wong/Getty Images
During the swearing of the oath, Justice Sonia Sotomayor mispronounced Vice President Kamala Harris' name. The Supreme Court of Justice pronounced Harris's name as "Ka-ma-la" instead of the correct pronunciation of "Comma-la." Twitter users were rightfully shocked by Sotomayor's mistake, as she too has been the victim of many name mispronunciations throughout her career, per The Los Angeles Times.
"Who let Sonia Sotomayor get up there and mispronounce Kamala Harris's name when swearing her in?" A user asked on Twitter. Former Fox News anchor Gretchen Carlson was equally flabbergasted about the mistake and tweeted, "But Sotomayor mispronounced Kamala's name!"
"Kamala" means "Lotus" in Sanskrit (via Behind the Name) and represents Harris's identity as a strong woman. "The symbolism is that the lotus flower sits on water, but never really gets wet," Harris explained at a book event in 2019 at George Washington University, per The Washington Post. "Its roots are in the mud, meaning it is grounded. One must always know where they come from."
This isn't the first time that politicians and prominent figures have gotten Vice President Harris' first name wrong.  Harris' unique name has troubled many pronouncing it which is why she takes any chance she gets to educate others on how to correctly pronounce it. During an appearance on The View in 2019, for example, Whoopi Goldberg committed the same gaffe that Sotomayor did. "It's 'Comma-la'," Harris said. "Just think of a 'comma' and add a 'la'."