Why Mitch McConnell's Words Riled Up Democrats And Republicans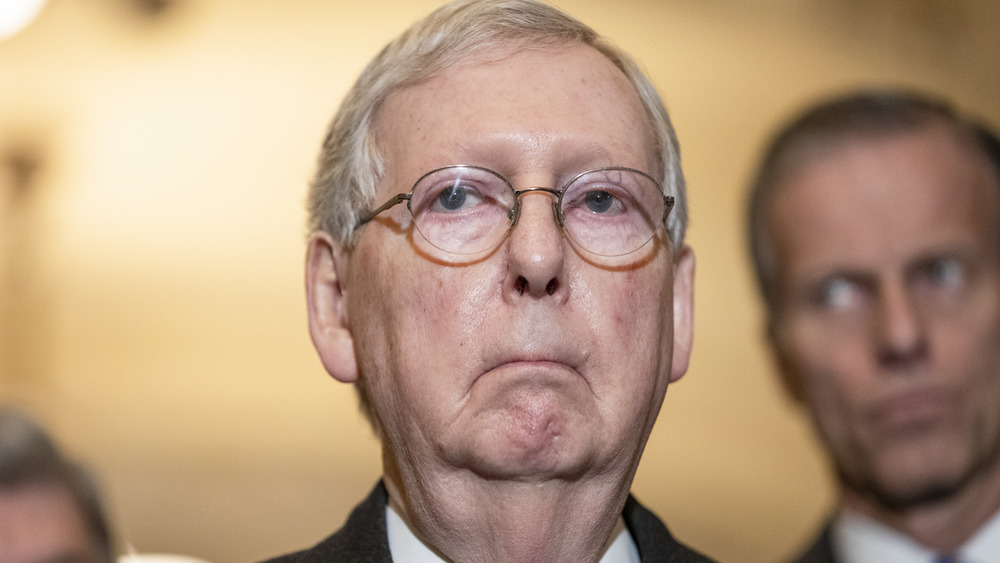 Samuel Corum/Getty Images
In the hours before and after Joe Biden was sworn is as the 46th president of the United States on Jan. 20, 2021, it looks like Senate Minority Leader Mitch McConnell may have managed to throw some subtle shade at the Democratic party and rile up some members of the GOP. 
During an address given by McConnell at the U.S. Capitol rotunda while presenting both Biden and Vice President Kamala Harris with a special gift from the Senate ("specially designed glass vases featuring the White House and U.S. Capitol" per Newsweek), the Kentucky congressman purportedly used his moment to allegedly take a dig at House Speaker Nancy Pelosi – a well-known Democrat. The day before the inauguration, the Kentucky senator verbally blasted former President Donald Trump too. It's not every day you get to see a career politician rile up both parties in quick succession. Keep reading to find out what McConnell had to say. 
Mitch McConnell's dig at Nancy Pelosi showed Senate pride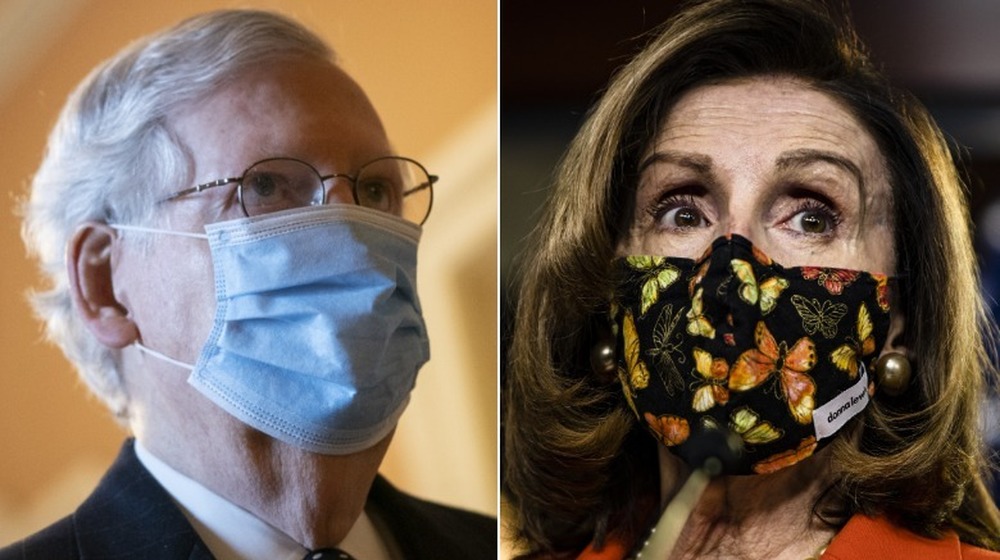 Drew Angerer, Samuel Corum/Getty Images
During a special gift-giving ceremony led by Senate Minority Leader Mitch McConnell following the inauguration of President Joe Biden, CNN anchor Jake Tapper, who was present during the proceedings, said McConnell delivering a not-so-subtle remark directed at House Speaker Nancy Pelosi. Tapper also explained why he believes the Kentucky senator's comment was meant to be a barb.  
Tapper tweeted: "McConnell with some House shade, noting that not only are Biden/Harris 'a son and daughter of the Senate, they skipped the House altogether. Side-eye to Pelosi." Pelosi is the Speaker of the House of Representatives, which means that McConnell's remark was perhaps a dig at the fact that the current president and vice president of the United States were, per their career backgrounds, products of the U.S. Senate. 
According to Newsweek, while McConnell may have been throwing some shade (perhaps in fun; perhaps not) at Pelosi, he seemingly wasn't taking a swipe at the new president and vice-president. As the media outlet noted, McConnell later referred to Harris, who served as a senator for California, as his "very distinguished former colleague." 
Mitch McConnell might be turning his back on former ally Donald Trump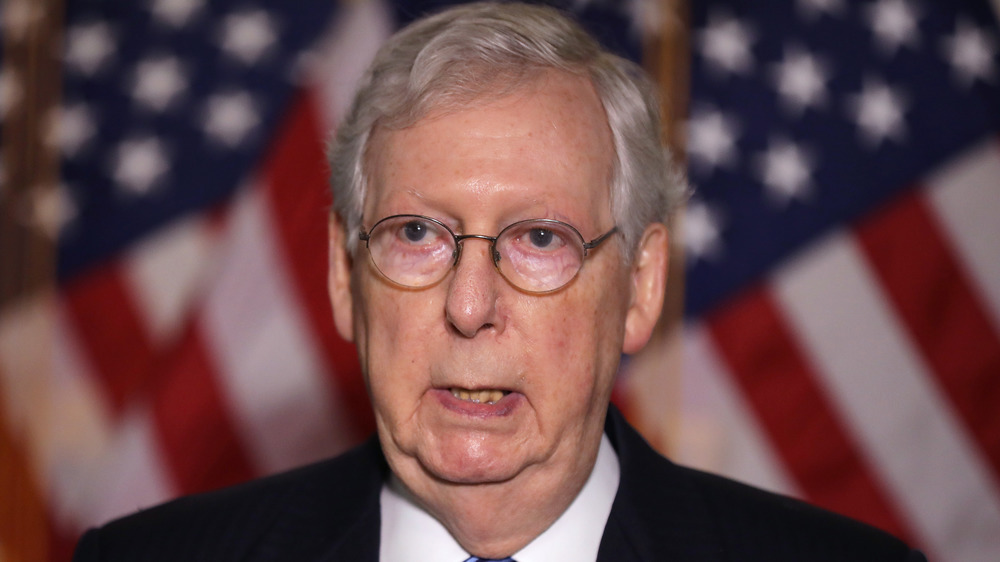 Chip Somodevilla/Getty Images
While Sen. Mitch McConnell seemingly took the time to publicly chasten his congressional nemesis, Democrat and House Speaker Nancy Pelosi, it looks like the Republican lawmaker is also being viewed as a sort of turncoat by supporters of both Donald Trump and the GOP. The reason rests on an entirely different set of remarks McConnell made less than 24 hours before the Jan. 20, 2021 inauguration of President Joe Biden. McConnell reportedly addressed former President Trump and his second impeachment proceeding, which is ongoing at the time of this writing. 
As The New York Times reported on Jan. 19, 2021, McConnell called Trump's inaction during and following the deadly insurrection at the Capitol Building on Jan. 6, 2021 one that was "provoked by the president" after Trump "fed [his supporters] lies" at a rally held by his camp immediately preceding the event. McConnell, one of the latest of Trump's formerly tried-and-true allies to breakaway from the former president, was then met with criticism by Republican voters and die-hard MAGA-ites. It also marked the first time McConnell has publicly expressed such negative opinions of the ex-president.