Nick Cannon Expecting A Baby While Mariah Carey Reels From Her Breakup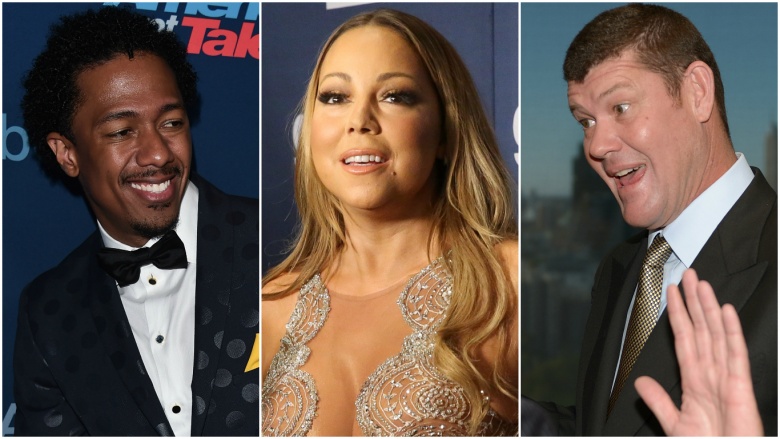 Getty Images
Mariah Carey and Nick Cannon are both moving on from their exes, but in different ways.
Cannon, 36, announced on the Breakfast Club on Nov. 17, 2016 that he's expecting a baby. "God said, 'be fruitful and multiply.' I'm doing the Lord's work," he said. "Everybody get a baby! I'm passing them out."
The baby is with beauty queen Brittany Bell, 29, whom dated Cannon briefly on-again-off-again in early 2015. Us Weekly reports that Bell is about six months along and that she and Cannon are no longer together, and haven't been for quite some time.
Cannon also revealed on the radio show that he had no idea that ex Carey, 46, and her fiancé, James Packer, broke up—even though it's been dominating the headlines for more than a month. "I thought they was [sic] working it out," he admitted. "I'm on a need-to-know basis. As long as my kids are good."
Meanwhile, Carey and Packer, 49, are so done that the billionaire reportedly was cut completely from the trailer of her upcoming reality series, Mariah's World, even though the teaser shows the songbird trying on wedding veils. A source told Page Six that Packer was supposed to appear in the first six episodes of the show, but that his team demanded he be removed from all the footage. However, a rep for Packer called the claim "inaccurate," but didn't elaborate.
Sources tell Entertainment Tonight that Packer is also dead-set on ruining Christmas Queen Carey's favorite festive time of year.
"[Packer] is causing Mariah severe emotional distress especially at such an important time of her life," an insider said. "He knows she is the queen of the holiday season and she knows he's trying to ruin it for her." How? By stalling on split negotiations, trying to get back the $10 million engagement ring that he gave her, as well as leaving her to pay for a home they shared. "His lawyers have tried to get the ring back," the source said. "They're insisting she give it back...She doesn't want to give it back...He left her with a pile of expenses. He abandoned her with a house full of staff and had to pay for that security."
On the bright side, someone who is in the teaser for her show? Carey's backup dancer and potential new beau, Bryan Tanaka, who is described as having "a huge crush" on the "Infinity" singer. Here's hoping this romance works better than her last two!