The Real Reason The Police Are Investigating Kellyanne Conway And Claudia Conway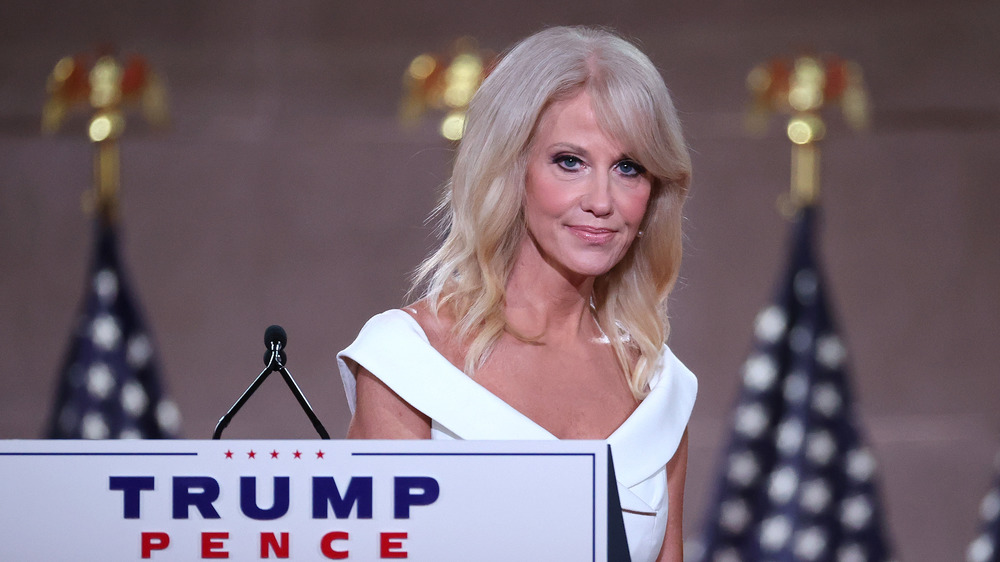 Chip Somodevilla/Getty Images
Police visited Kellyanne Conway's house on Jan. 20, 2021 after Claudia Conway, her teenage daughter, accused her of abuse in a series of videos. TMZ reported that this was a welfare check and that the family was still under investigation.
The police were contacted after Claudia posted a series of TikToks on Jan. 19, 2021, which show a woman who appears to be her mother — former senior advisor to President Trump — hitting and swearing at her. The off-screen voice also berates her for talking about her COVID-19 diagnosis and tells her "You're lucky your mom's pro-life," according to The Sun. (This video has since been made private.)
As Vox reported, Claudia made a statement explaining her motivation for posting these clips: "I have hundreds and hundreds of videos just like that and I thought it was important, because as a woman who has such power in this country, I don't think people really know how she is."
Following the police visit, Claudia posted a video of her mother talking to a cop and commented, "like I'm not even kidding if any of you live in this area come pick me up," as per Vox. Kellyanne can be heard in the background talking to the police about family therapy and Claudia's TikTok fame. The police officer then suggests taking away her phone and internet access.
This isn't the first time the Conways have attracted serious attention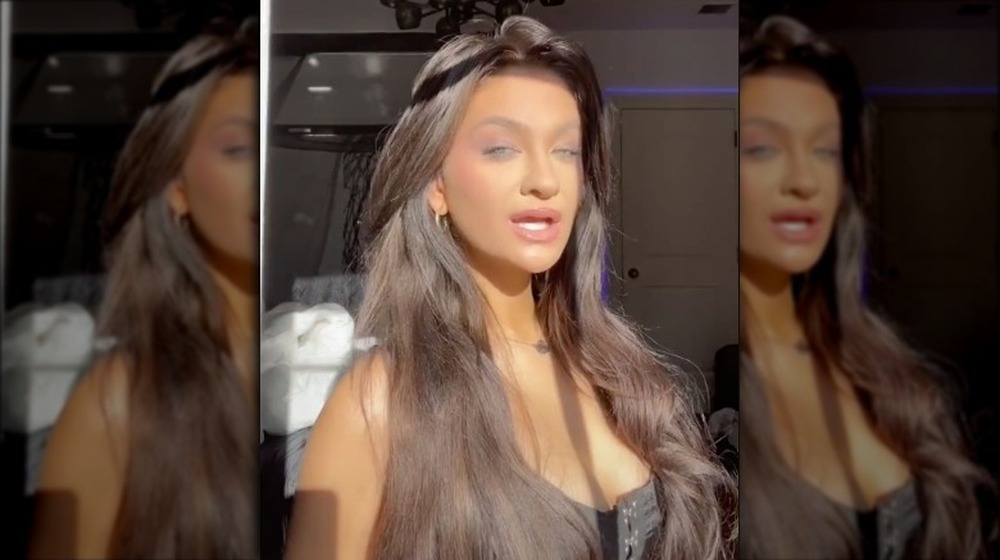 Claudia Conway/TikTok
Over the past year, Claudia Conway has repeatedly made headlines and caused a commotion in Trump's inner circles through her TikTok account, where she openly criticizes her mother. Kellyanne Conway was a senior advisor to Donald Trump during his presidency, previously ran his campaign in 2016, and publicly coined the term "alternative facts" while defending him.
She resigned in August 2020, as Bustle reported, hours after Claudia announced that she was seeking legal emancipation. After the news reached the media, the teen tweeted "y'all love to twist everything," claiming that she wasn't getting emancipated due to her mother's job but because of "years of childhood trauma and abuse."
As per The Sun, Claudia claimed in a TikTok video that her mom "had her arrested for 'fake assault charges'" that same month.
According to OK! magazine, Claudia also claims that her dad, George Conway, has walked out on their family. George is a longtime critic of Trump and co-founder of the Lincoln Project, a conservative committee that was formed to prevent the former president's re-election.
If you or someone you know may be the victim of child abuse, please contact the Childhelp National Child Abuse Hotline 24/7 at 1-800-4-A-Child (1-800-422-4453) or contact their live chat services at www.childhelp.org/hotline.