How Kellyanne Conway Really Feels About Trump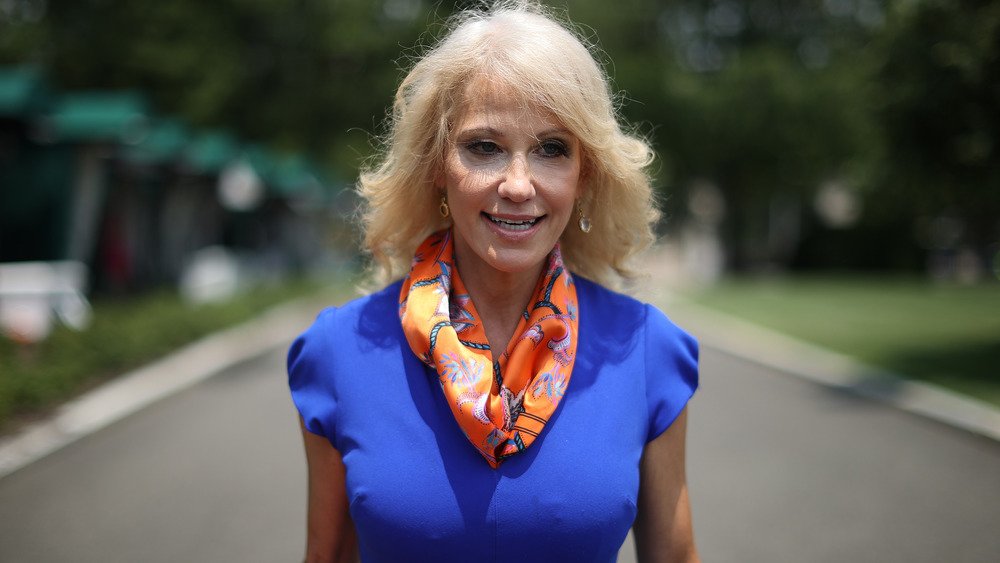 Chip Somodevilla/Getty Images
Loyalty is Kellyanne Conway's middle name — even if it means a little public scrutiny here and there. The former White House counselor is doubling down on her support for President Trump as he prepares to leave office after a scandalous term. In an interview with Bill Maher in January 2021, Conway says she believes that the Trump administration has implemented policies that are in the best interest of the people. "Remember, a lot went right... You can't deny that people are better off," Conway said on Real Time with Bill Maher. "The real disappointment for people like me is that the last two months weren't spent mostly talking about the accomplishments."
The former political consultant, who tested positive for COVID-19 in October 2020, emphasized the improvements she believes her former boss made in office, including an increase in energy jobs, getting people out of prison, and alleviating poverty. Despite Conway leaving the White House in August 2020 to focus on parenting her four children, she still looks at the "good that was done" by the Trump administration. "I'm happy that I worked for a president who kept the Oval Office door open for many of us. We could go in and express ourselves," she continued. "I think any woman in the workplace who is heard by her boss and has a seat at the table should really appreciate that." Although she's undoubtedly supportive of Donald Trump, Conway does have one critique to offer.
Kellyanne Conway condemns the U.S. Capitol riots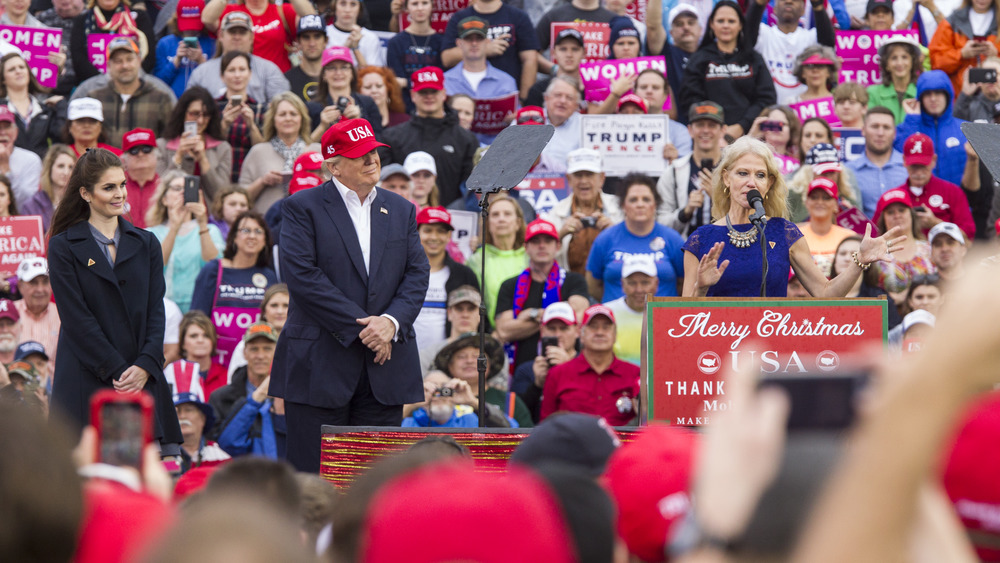 Mark Wallheiser/Getty Images
Kellyanne Conway is Team Trump all the way, but she doesn't always agree with certain ideas of her former boss. After rioters stormed Capitol Hill on Jan. 6, 2021, Conway took to Twitter to share her thoughts on the deadly event. "Sad. Angry. Disgusted. These are the feelings that wash over those of us who witnessed the mayhem and marauding yesterday at the U.S. Capitol," Conway wrote in a Jan. 7, 2021 statement on Twitter. "The thugs from yesterday are responsible for their actions. They don't represent the millions of Trump voters, or the massive 'MAGA' movement; they insult them." 
On the January 2021 episode of Real Time with Bill Maher, Conway reiterated her condemnation of the Capitol Hill riots. "Last week was horrible. I made that very clear. Last week was inexcusable, disgraceful," the former White House executive said. "Justice is being swiftly served." Nonetheless, Conway still believes that Trump's legacy will "survive it all."