Here's How Much Kellyanne Conway Is Really Worth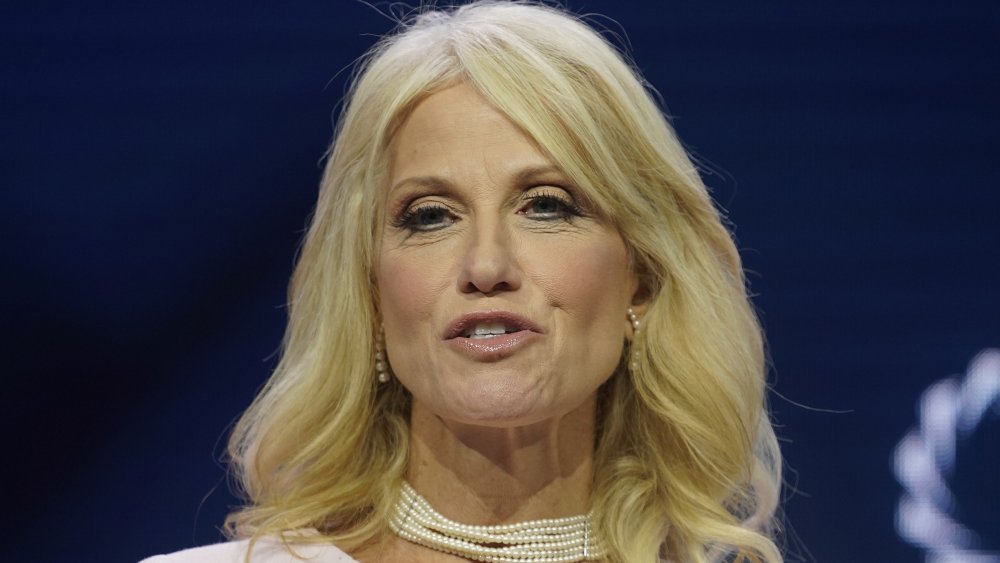 Riccardo Savi/Getty Images
We may receive a commission on purchases made from links.
Few staffers can say they've lasted as long in Donald Trump's White House as Kellyanne Conway. After joining the campaign in August 2016, the sometimes polarizing political figure became the "first female campaign manager to win a presidential race," per CNN. After the victory, she pivoted to an adviser role, per Buzzfeed News. According to the outlet, she was also "a fixture on TV throughout Trump's first term, relentlessly defending the president and the administration."
While, as of this writing, Kellyanne is slated to speak during the third night of the 2020 Republican National Convention, according to ABC News, her marathon tenure in Trump's administration seems to be coming to and end. "The past four years have allowed me blessings beyond compare," she said in a statement, per BBC, announcing she was stepping down at the end of August 2020 to focus on her family. "[George and I] disagree about plenty but we are united on what matters most: the kids."
The same day his wife announced her impending departure, George Conway took to Twitter to share that he was leaving The Lincoln Project, "a group formed by anti-Trump Republicans," per CNN. George noted that he was stepping away to "devote more time to family matters." Kellyanne and George's departures come in the midst of daughter Claudia Conway's push for emancipation.
Despite the ups and downs in her political and personal life, Kellyanne Conway has managed to make a name for herself and earn quite a bit of money in the process. Let's take a look at the political adviser's net worth.
The departing Trump staffer is worth tens of millions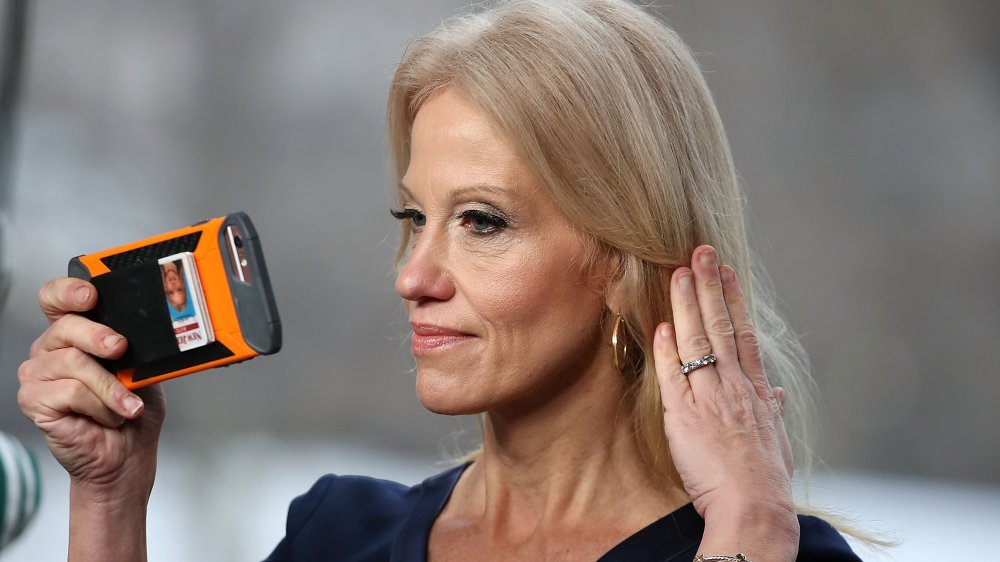 Mark Wilson/Getty Images
According to Celebrity Net Worth, Kellyanne Conway is worth $39 million.The outlet noted that the political commentator — who has appeared on Fox News, Good Morning America, and more — earned $900,000 in 2016 alone. It's worth noting that's the same year she helped Donald Trump get elected. 
That being said, she's enterprising elsewhere, too. In 1995, she founded her own polling firm, The Polling Company. In 2017, Kellyanne sold the firm and while, per Politico, the "terms of the sale were not disclosed," she had previously "estimated the value of her 100 percent stake ... at $1 million to $5 million." Kellyanne also wrote a book back in 2010, which surely helped add to her net worth, as well.
While Kellyanne's net worth might be impressive to some, it seems that her daughter couldn't care less how much money her mom has in the bank. On Aug. 22, 2020, Claudia Conway tweeted: "my mother's job ruined my life to begin with. heartbreaking that she continues to go down that path after years of watching her children suffer. selfish. it's all about money and fame, ladies and gentlemen." In this case, it seems that the saying "money can't buy happiness" just might be true, after all.