George Conway: What You Should Know About Kellyanne Conway's Husband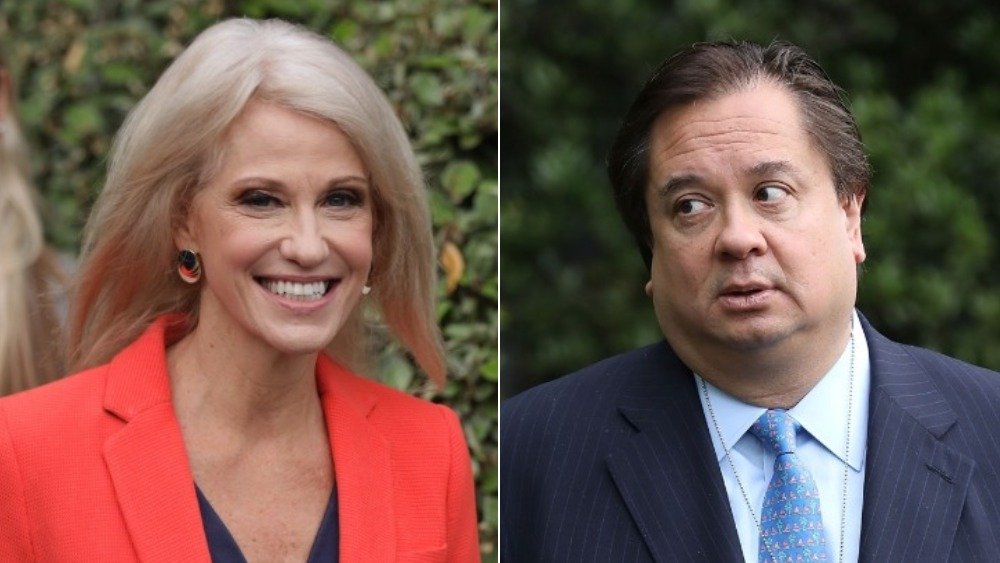 Alex Wong, Chip Somodevilla/Getty Images
Kellyanne Conway, a counselor to Donald Trump, made headlines on Aug. 23, 2020 by announcing that she was leaving the White House. "I will be transitioning from the White House at the end of this month," she said, according to CNN. Kellyanne's reason for stepping down was to focus on her family and spend more time with her children. She added, "For now, and for my beloved children, it will be less drama, more mama."
In Kellyanne's announcement, she also mentioned her husband, George Conway, was stepping down from his duties as well. "George is also making changes. We disagree about plenty but we are united on what matters most: the kids," she said, according to Today. Why did Kellyanne say that she and George "disagree about plenty"?
Well, it just so happens that she was Trump's 2016 campaign manager and one of his longest-working aides, according to ABC News. Meanwhile, George, who has identified as Republican, so vehemently disagreed with Trump that he became the co-founder of the Lincoln Project — a group that was created in 2019 by current or former Republicans who are anti-Trump and want to prevent his reelection, according to Today.
No wonder Kellyanne said that they "disagree"! There's a lot to know about her dissenting husband and we've got all the details.
George Conway actually introduced Kellyanne Conway to Donald Trump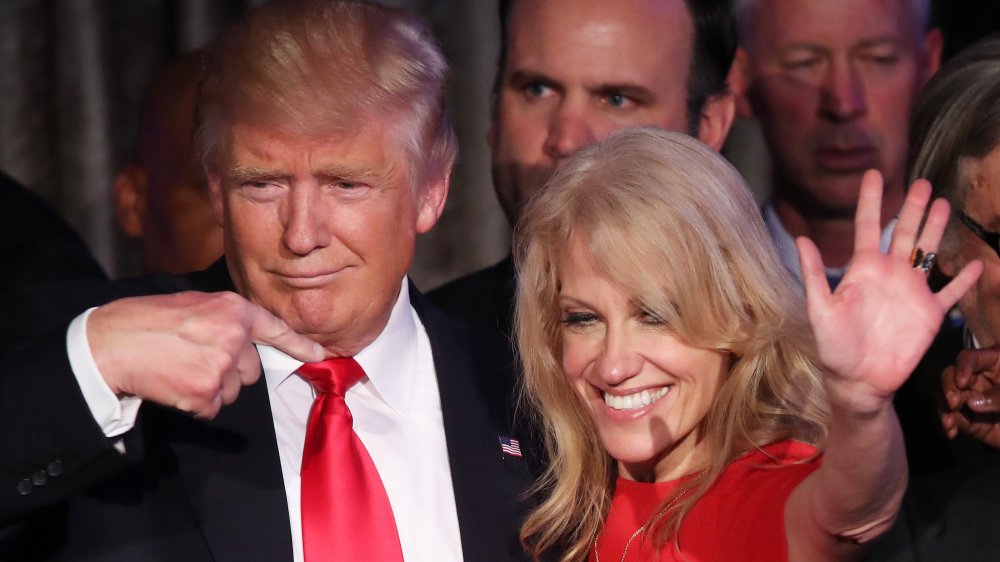 Mark Wilson/Getty Images
George Thomas Conway III grew up near Boston, Mass., and completed his undergraduate degree at Harvard and his law degree at Yale, according to the Philadelphia Inquirer. George rose to a certain level of national attention in the 1990s when he joined the legal team representing former Arkansas state employee Paula Jones when she sued then-President Bill Clinton for sexual harassment, according to CNN. While Jones' suit was dropped for a lack of legal merit, Clinton lied under oath about Monica Lewinsky during the suit and brought forward another, much more public case, per the New York Times.
According to CNN, George was monumental in the case as he "helped write the Supreme Court brief in the case that would establish a legal precedent for a sitting president to be sued in civil court." It was precisely at this time, when George was active legally and politically, that he asked his friend, Ann Coulter to introduce him to then-Kellyanne Fitzpatrick, according to the Washington Post. They married in 2001 with Kellyanne taking George's last name.
They moved into Trump World Tower in Manhattan. One day, at a condo board meeting, George defended the idea of keeping Donald Trump's name on the building. Trump was so impressed that he offered George a spot on the condo board. He declined, according to the Washington Post, but mentioned it to Kellyanne and she took the position. So, George inadvertently introduced Kellyanne to her future boss.
While Kellyanne Conway is a staunch Republican, George Conway went 'unaffiliated'
Spencer Platt/Getty Images
Early on in the presidency, George Conway was supportive of Donald Trump and his wife's role alongside him. According to the Washington Post, George actually cried over Trump's 2016 win. The outlet reported, "George was such an ardent supporter of the president, and so proud of his wife for her historic role as campaign manager, that he wept for joy."
According to CNN, in 2016, George was even considered for the coveted position of U.S. solicitor general. The outlet also noted it would've been a historic decision: "Conway, who is of Filipino descent, would be the first Asian-American solicitor general." But things quickly became divided; George and his wife took very different political routes. In March 2018, George switched from being a member of the Republican party to being "unaffiliated," per the Post.
George has documented his political movement on Twitter and creates quite a stir with his tweets, especially when readers note his ideological contrast to that of his wife. So when Kellyanne announced on Aug. 23, 2020 that she was stepping down, George also jumped on Twitter to give his final stamp of approval on the anti-Trump group, the Lincoln Project, saying: "So I'm withdrawing from @ProjectLincoln to devote more time to family matters. And I'll be taking a Twitter hiatus. Needless to say, I continue to support the Lincoln Project and its mission. Passionately."
While George and Kellyanne are stepping out of the spotlight, they still seem divided politically.