The Complete Transformation Of Kellyanne Conway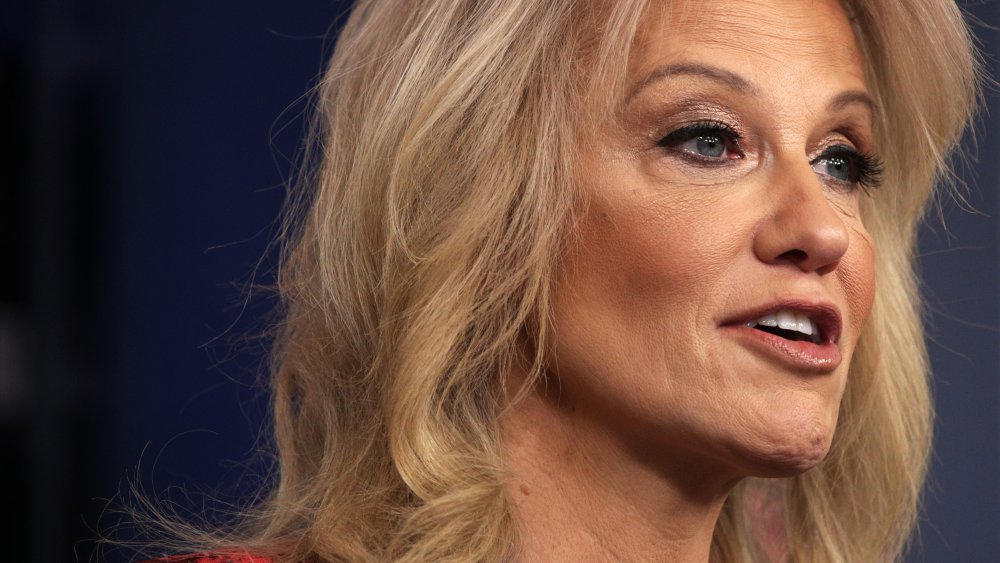 Alex Wong/Getty Images
Whenever senior White House adviser Kellyanne Conway makes an appearance, her remarks send shockwaves throughout the media, as reporters and pundits scramble to analyze her motives. However, after her latest Fox News segment, critics and viewers quickly turned to social media to express outrage — over her face. With glossy lips and contoured cheekbones, Conway barely resembled her normal self, sparking rumors that Donald Trump's longtime counselor might've gone under the knife.
"And here's me thinking elective surgeries were banned during the #COVID19 #TrumPandemic," Twitter's @MontyBoa99 wrote. "Honestly, shout out to the doc that did Kellyanne Conway's Botox and/or filler," @PlainBlaine added. "They did the Lord's work and did it well!" However, as @BettyBowers tweeted, we must stop judging women by how they look: "I despise Kellyanne Conway as much as anyone — even more than Jesus — but let's stop evaluating women for the way they look, OK? You mocked her for looking haggard and now you're mocking her for looking better. Talk about her lies, not her lines." 
The New York Post also noted that, when asked about her new look, Conway said she'd been "at the White House consistently throughout the pandemic and task force activities," perhaps in an effort to decry plastic surgery rumors without addressing her makeover directly.
Many social media users pointed out that women can do whatever they want to their bodies; Conway's face is no one's business but her own. Meanwhile, critics have bigger fish to fry with the presidential adviser.
Kellyanne Conway's look might've changed, but her rhetoric hasn't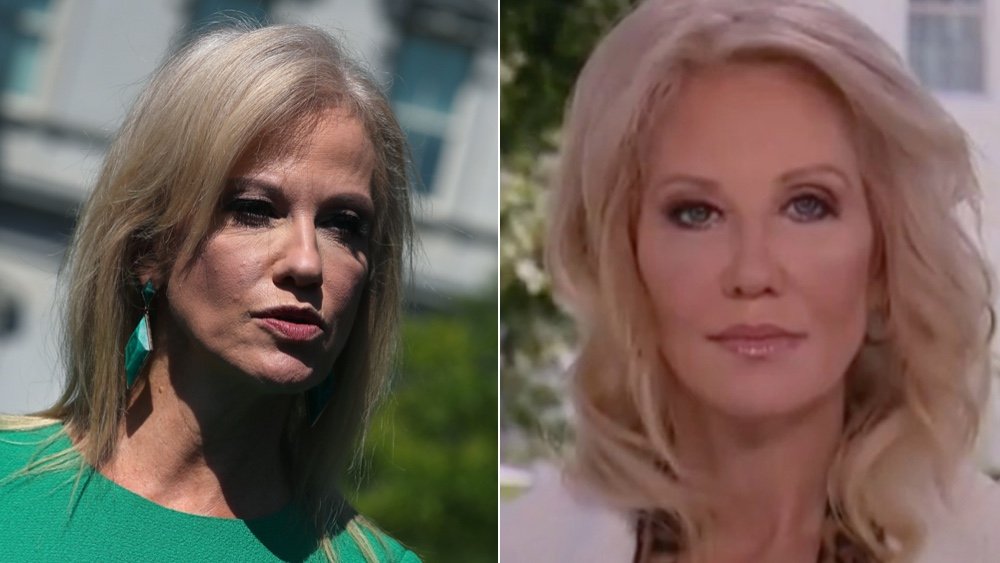 Mark Wilson/Getty Images, Fox News
As the Trump administration prepares for its return to the campaign trail, Kellyanne Conway visited Fox News again to assure attendees that these future rallies will follow safety precautions amid coronavirus concerns. 
"We've made incredible progress... we don't want people to be so afraid that they don't leave their homes, so afraid they don't reopen their small businesses, so afraid of the hypocrisy that exists — that it's OK if you are protesting about something and you're shoulder-to-shoulder with no mask, and it's not OK if you happen to go to a Trump rally," she told America's Newsroom. "[W]e shouldn't be COVID-shaming people, as the president has said, but we've been vigilant on this."
Outside the White House, Donald Trump's senior adviser added that, if anyone feels these gatherings are unsafe, they should simply stay home. Those who do attend, however, must sign a waiver that absolves the Trump campaign of any liability for those that might become sick after the fact.
"The president's campaign, I read, has taken precautions by giving everybody a mask, hand sanitizer, a thermometer check," she said (via Independent). "People are going to go if they feel comfortable going." Conway added, "We also know that people don't want to be locked down forever. We see them peacefully protesting. We see folks doing many things." 
Fingers crossed that the administration's safety measures are enough, as coronavirus cases are continuing to spike across the country.