Who Is DJ Spinderella Engaged To?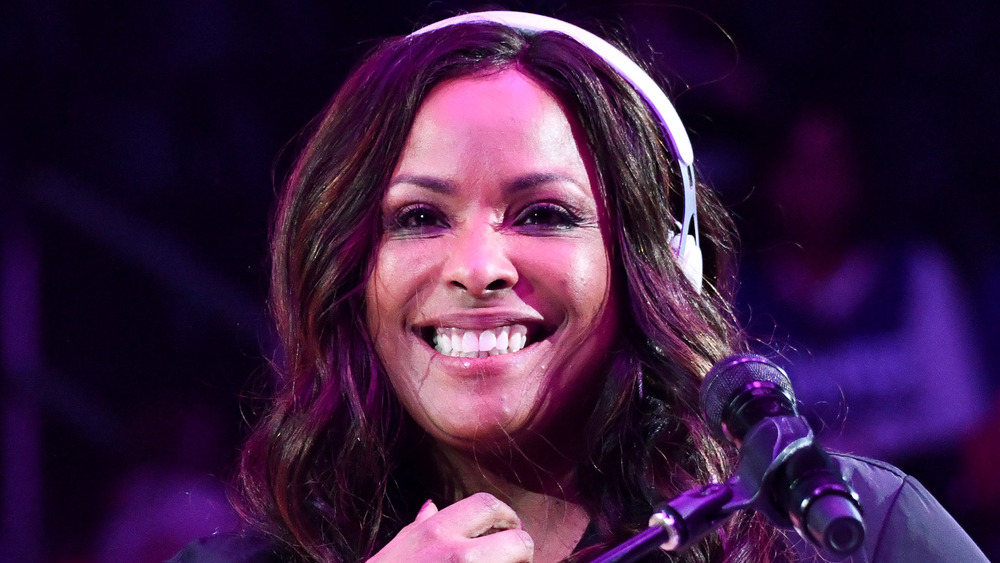 Allen Berezovsky/Getty Images
Before the City Girls became one of the hottest female rap duos in the industry, Salt-N-Pepa set the standard for female rap acts. The record-breaking group became the first female rap act to win a Grammy Award for Best Rap Performance by a Duo or Group for their 1994 single "None of Your Business," per The Cinemaholic. Additionally, the group became "the [first] female rap act (group or solo) to be certified gold or platinum" for their debut album, Hot, Cool & Vicious, per The Source. With several Grammy nominations, five albums and multi-platinum certifications from the Recording Industry Association of America, Salt-N-Pepa established themselves as the "first ladies of rap" — and looked great while doing it.
The group originally consisted of Cheryl "Salt" James, Sandra "Pepa" Denton and Latoya Hanson. However, Hanson was later replaced by Deidra "DJ Spinderella" Roper in 1987. The trailblazing rap group were active from 1985 to 2002, officially disbanding until their brief return in 2007. After the group's initial disbandment, they all pursued different endeavors. As for DJ Spinderella, she worked as a radio personality on "the now-defunct KKBT 100.3 in Los Angeles" from 2003 to 2006, per The Cinemaholic. Fortunately for DJ Spinderella — who, as of this writing, is still spinning in local Texas clubs and on her Red Wine Mix show — she's also found success in the love department.
DJ Spinderella is engaged to her longtime boyfriend
When DJ Spinderella isn't on the ones and twos, she's enjoying love and laughs with her fiancé. In February 2019, the former radio personality got engaged to her longtime boyfriend, comedian Quenton "Q" Coleman, per Ice Cream Convos. In a video posted on the blog's Instagram page, Coleman proposed to Spin around a group of her close friends and shared a kiss. Shortly after, in September 2019, the lovebirds did a pre-wedding photoshoot for an issue of Munaluchi Bride magazine.
Spinderella and Coleman first met at a strip club in Dallas through a mutual friend and ended up connecting over their astrological sign, per their cover story with the publication. The two later connected over social media after Coleman slid in Spin's DMs. "So I have a whoop-de-do for my birthday every August in Dallas. ... I was like, 'Hey, I'm turning — whatever I was turning ... Would you DJ for it, I hear you're a Leo," Coleman told Munaluchi Bride magazine. "And she was like, 'Alright, well call me and we'll talk about budget.'"
While the two haven't made it down the aisle yet, as of this writing, they say that blending their families has been going well. The DJ shares a daughter with former NBA player Kenny Anderson, per the Dallas Morning News. "We kind of came together a few years ago and we started to blend the family a few years ago," Spin told Munaluchi Bride magazine. "He's great with my daughter and he's great with our grandbaby."