Donald Trump Gets Some More Bad News In Florida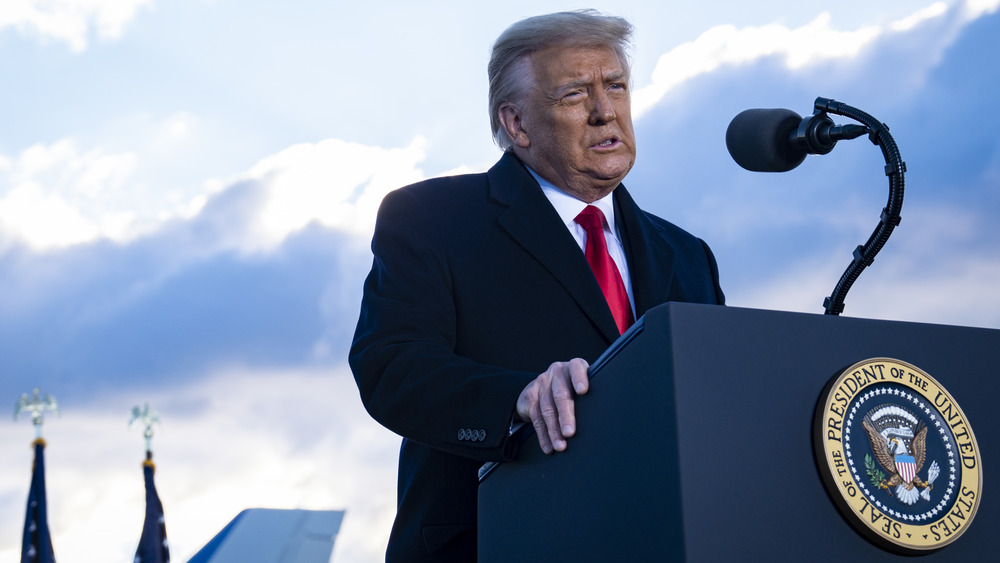 Pool/Getty Images
The end of 2020 and the beginning of 2021 have not gone Donald Trump's way. The former president lost his 2020 presidential re-election bid to Joe Biden on Nov. 7, 2020, which he then greatly protested, claiming widespread voter fraud had skewed the election results. Trump released a defiant statement following his loss, saying (per the Associated Press), "We all know why Joe Biden is rushing to falsely pose as the winner, and why his media allies are trying so hard to help him: They don't want the truth to be exposed." Presumably, this "truth" would be Trump's aforementioned allegations of voter fraud happening across the country.
As such, NBC News reported, Trump went on to file dozens of lawsuits in places his campaign suspected of fraud. Trump had submitted at least 57 cases to be reviewed by a court where most were either dismissed or withdrawn by Trump himself. No court had found any evidence of fraud, NBC News claimed in December 2020.
The negative media coverage only intensified for Trump on Jan. 6, 2021, when a group of Trump-supporting extremists protesting that day's certification of Joe Biden's electoral college victory by Congress stormed the Capitol building in Washington, D.C.. The rioters left chaos, destruction, and death behind them, per The Hill. The madness resulted in Trump making history, unfortunately for him, as the first president ever to be impeached twice.
But wait, there's more ... keep reading to hear the disappointing news that arrived for the former president from Florida in late January 2021.
Why did Palm Beach officials reject the idea of naming their airport after Donald Trump?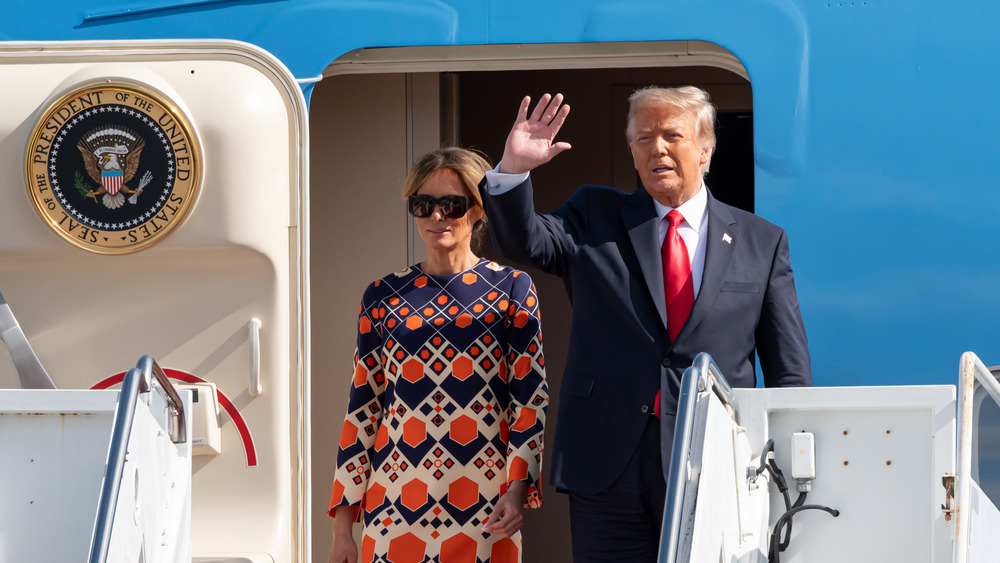 Noam Galai/Getty Images
With all the hotels and residential buildings around the world plastered with the name "Trump" on them, the Palm Beach International Airport will not be one of them, The South Florida Sun-Sentinel reported on Jan. 23, 2021. The idea, it may surprise no one, was originated by Donald Trump himself. In late December 2020, sources told The Daily Beast that the ex-president had asked about the paperwork involved in having an airport named after him. According to People, speculations arose that Palm Beach would be the likely locale for such an institution. 
Trump's alleged idea was backed by Christian Ziegler, the vice chairman of the Florida GOP. Ziegler told The Sun-Sentinel in December 2020 that he thought the airport should bear the former president's name. "How many times has Air Force One flown in there?" he posed to the outlet. In January 2021, however, three Palm Beach County commissioners, The Sun Sentinel noted, publicly rejected the idea of a Trump-named airport. Commissioner Melissa McKinlay told The Sentinel, "When people hear [Palm Beach], they envision our beaches, our equestrian sports, and in some cases our agricultural contributions. It is a lifestyle." 
This comes on the heels of reports, via Forbes, of Trump properties around the country either removing or disassociating from his name. Looks like Trump's troubled streak is continuing. 
What would it take to rename Palm Beach International Airport?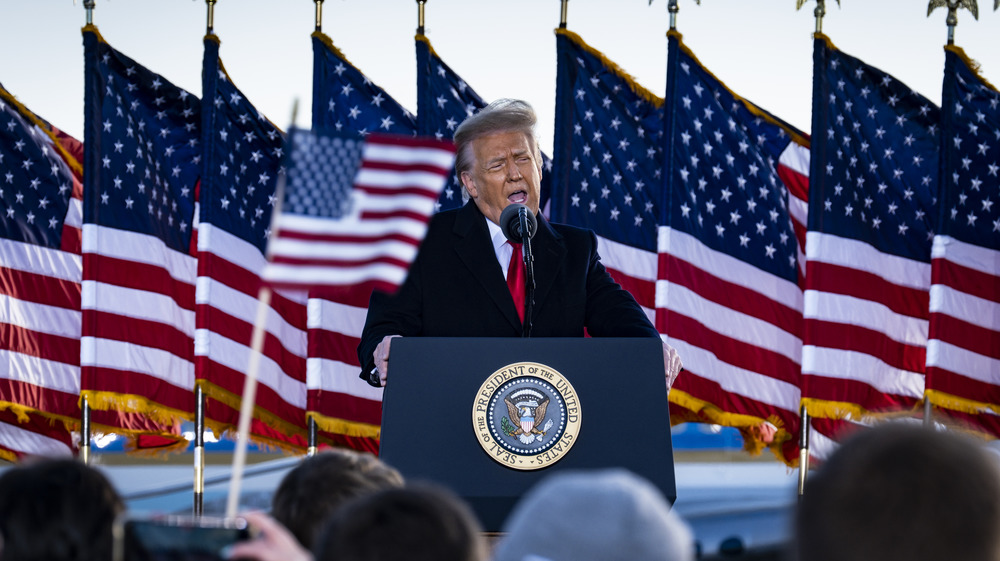 Pool/Getty Images
It's not rare to find U.S. airports named in honor of former presidents — take for example, New York City's John F. Kennedy Airport (JFK) and Springfield, Illinois' Abraham Lincoln Capital Airport (SPI), to name a couple. However, it seems that the actual naming process isn't cut-and-dry. When former President Donald Trump enquired as to what kind of "paperwork" was required for the process (per The Daily Beast), a spokeswoman for Palm Beach International Airport, Lacy Larson, was quick to note that "airport officials haven't received inquiries along those lines" (via The South Florida Sun Sentinel). "We have not researched the process of renaming the airport, so I am unable to speculate on that," she elaborated.
However, The South Florida Sun Sentinel hypothesizes that any kind of rechristening would need approval from the Palm Beach County Commission, which seems unlikely as "it is solidly controlled by Democrats." What is the next step for Trump, then? Well, the Daily Beast has documented Trump's desire to have pieces of infrastructure named for him, so perhaps Trump might have better luck with a highway or school than an airport? Then again, maybe not. "I imagine in a couple of years when there's talk about renaming [things] for him — Trump could be the outlier, the anomaly," Robert Watson, a presidential historian at Lynn University, told The South Florida Sun Sentinel on Jan. 23, 2021. "He generates such controversy that it's hard to imagine anyone wanting to touch it."