What Trump Was Doing During The Impeachment Vote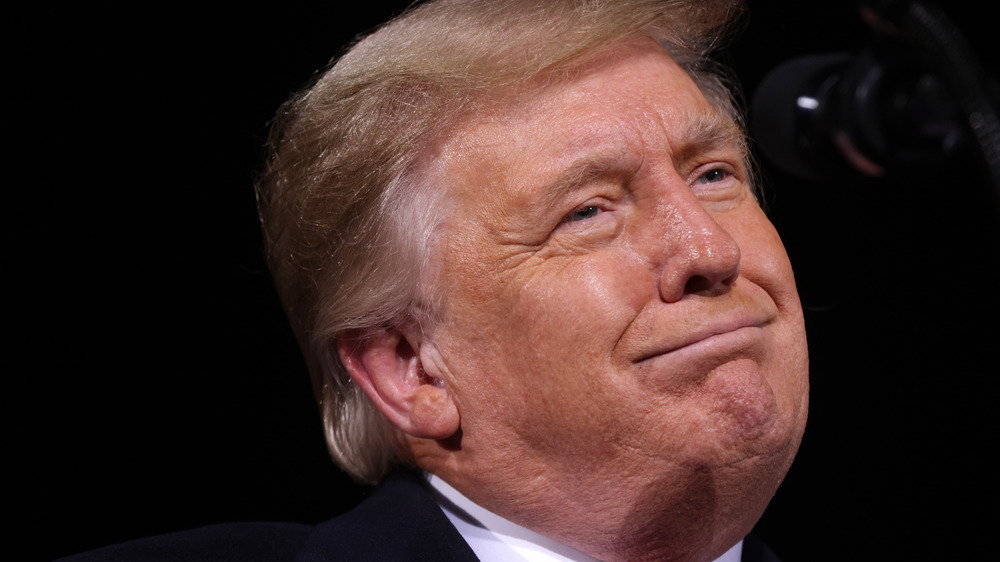 Alex Wong/Getty Images
On Jan. 13, 2021, just one week after the violent riots at the U.S. Capitol that left five dead, President Donald Trump became the first U.S. president ever to be impeached twice. According to The New York Times, this time, Trump was charged with "incitement of insurrection," referring to the call-to-action for his supporters at his D.C. rally just moments before the riots ensued. One incriminating statement he made was for his defenders to "fight like hell" for his perceived — and inaccurate — notion that election fraud won President-elect Joe Biden the presidency in 2020.
Though Trump took to Twitter during the attack on the Capitol, partially encouraging peace, he also declared his "love" for the mob, telling them they're "very special," as per CNN. (His account was permanently suspended two days later due to "the risk of further incitement of violence.") In fact, one House Republican, Representative Kevin McCarthy of California, voted to impeach because he believes "the president bears responsibility for Wednesday's attack on Congress by mob rioters. He should have immediately denounced the mob when he saw what was unfolding."
While this historic second impeachment will certainly leave a stain on Trump's time as president, he was reportedly busy awarding musicians during one of the most defining moments of his presidency.
Donald Trump was formally honoring country singers at the time of his second impeachment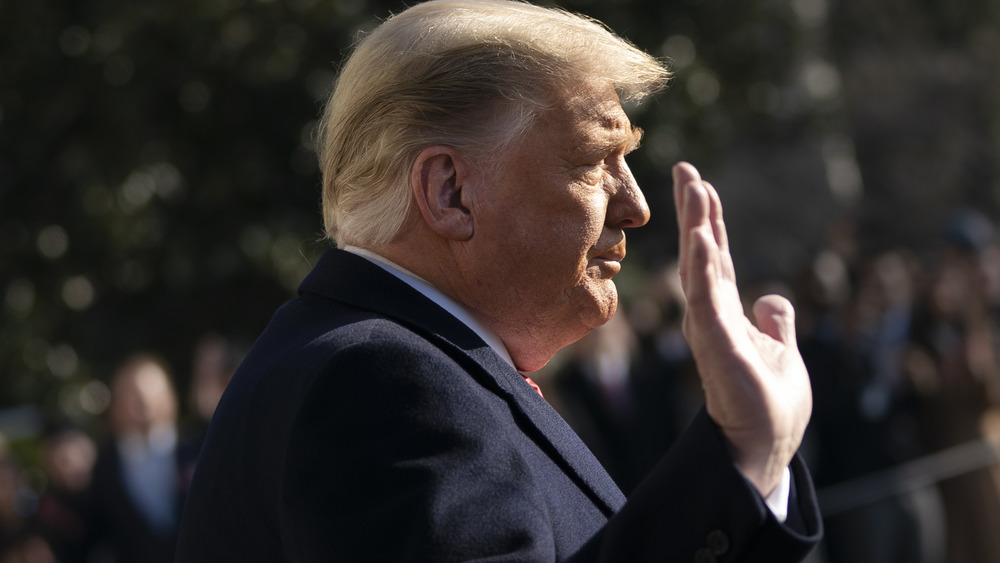 Drew Angerer/Getty Images
According to Bloomberg News' Senior White House reporter Jennifer Jacobs, sources revealed that Trump was "giving ... national medal of the arts" awards to country singers Toby Keith and Ricky Skaggs during the vote for his impeachment. Additionally, an "administrative official" confirmed that Trump was indeed granting these medals during that time, according to The Hill.
Both Keith and Skaggs had previously shown support for Trump. As per Billboard, Keith performed at the "MAGA" celebration the day before the president's inauguration in 2017. As for Skaggs, he sang Trump's praises to the Gossip Herald back in November 2016. "I love [Trump's] enthusiasm and his fighting spirit. He's not going to let anyone bulldoze over him because he's a bulldozer himself. Mr. Trump is someone who tears down and rebuilds," he explained, calling Trump "the right person."
While Trump's actions during his impeachment may be shocking, it's certainly not surprising that these are two artists to whom he would give National Medals of the Arts.
Donald Trump also handed out arts honors to three other people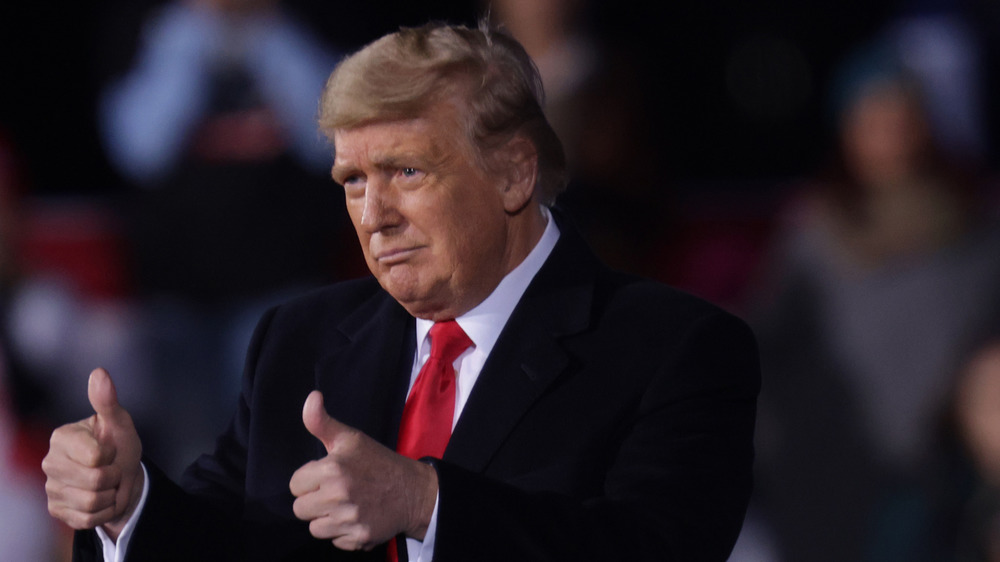 Alex Wong/Getty Images
But Donald Trump didn't stop at awarding Toby Keith and Ricky Skaggs with the National Medal of Arts, which he didn't give out during his first two years in office, per the Los Angeles Times. According to a White House statement, he also gave the medal to Nick Ut, Earl "Rusty" Powell III, and Mary Costa.
Ut was honored for his "decades of contributions to wartime photojournalism," according to the statement. The Pulitzer Prize winner, known for his Vietnam War image "The Terror of War," spoke to Newsweek about accepting the award, "despite some friends advising him otherwise." "I'm sure a lot of people are very upset with me for accepting the medal. But it's my personal life. I'm an old man now, so I'm happy the president gave me an award. I wanted to be here. For me, it's more about receiving an award from a president."
Another medal recipient, Powell, was the longest-serving director of the National Gallery of Art, according to the statement. He didn't seem to have any public statement about receiving the National Medal of Arts, "the highest award given to artists and arts patrons by the United States Government," per the White House, but Costa, an opera singer, was pleased. "To receive the National Medal of Arts is the ultimate honor of my career, and I am humbled that my joy of singing has been awarded in this special way," she said, per WATE 6.
The President didn't stop there when it came to doling out awards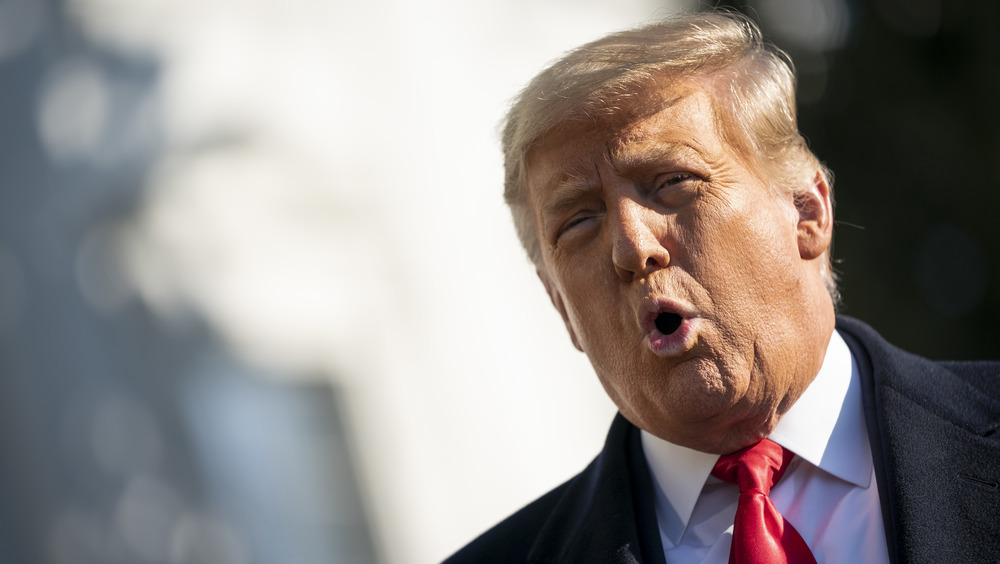 Drew Angerer/Getty Images
While the impeachment proceedings were taking place, Donald Trump also awarded the National Humanities Medal to two people and one institution, according to a White House statement: Kay Coles James, O. James Lighthizer, and The National World War II Museum.
James, president of conservative think tank The Heritage Foundation, was given the medal "for her intellectual leadership, devotion to our Constitutional principles, and steadfast commitment to opportunity for all," per the statement. Meanwhile, Lighthizer was honored "for his decades of work protecting thousands of acres of Civil War battlefields for future generations." Neither seemed to have a public remark about receiving the awards.
According to the White House statement, "the National Humanities Medal honors individuals or groups whose work has deepened the Nation's understanding of the humanities and broadened our citizens' engagement with history, literature, languages, philosophy, and other humanities subjects." While it's normal for presidents to give out awards like this, especially at the end of their terms, it generally doesn't play out with the backdrop of an impeachment.